Tri Talk: The Benefits of Selecting a Goal-Race and How to Find the Right One for You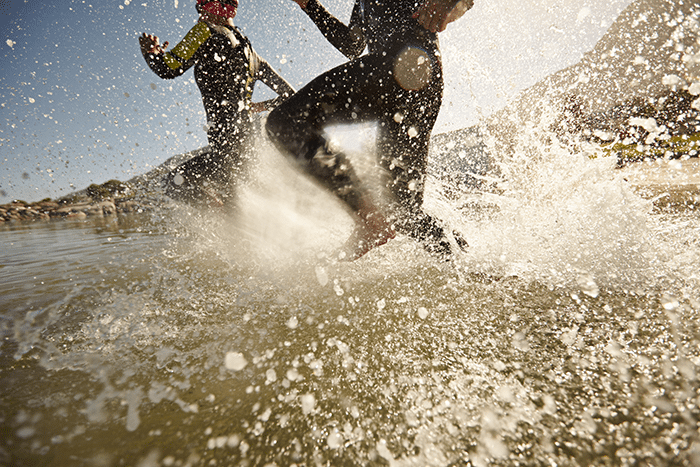 When I first got into racing triathlons, I made so many rash commitments when it came to signing up for races. My philosophy was: the more races the better – it will hold me accountable and keep me in shape. With this approach, I was doing three to four triathlons a summer; however, I was toeing the starting line of every race with a pit in my stomach wishing I hadn't signed up three months ago. I quickly learned that when you race more frequently, it's hard to see results in training. Hint: the weeks and weeks of training is what actually makes you faster and stronger; not crossing another finish line.
It took me signing up for a longer distance triathlon (IRONMAN 70.3 Steelhead) to figure out the success you can have with identifying one goal race to really commit to. For this one race, I fully dedicated myself to more than 16 weeks of training. This one race became a real investment (of energy, time and money).
Like any investment, you want to be educated before diving in so that your decision is the best possible option for you. Same goes for selecting that one goal race. There are many factors to consider when picking a race that will set you up for success, even before you begin training.
From selecting your first triathlon race, or signing up for your 100th, here are key factors to consider (and really think about) before committing to your goal-race for a season:
Location:
Especially in triathlon, location is something to think about for a variety of reasons; cost, travel, equipment transport, environment, etc. For your first race, I recommend keeping it local so you're familiar with the weather conditions, open water (temperature, waves and clarity) and the roads on which you'll be running and biking. It takes a lot less planning (and stress) to show up on-race morning to a place you're familiar with.
Once comfortable with racing, destinations can be fun but require incremental costs with shipping equipment and coordinating accommodations for the weekend.
Tip: destination race accommodations near the start/finish fill very quickly. If you're seriously considering a race that requires you stay in a hotel, book early otherwise vacancy is limited and prices increase exponentially!
 Timing:
In triathlon where you'll be swimming, biking and running, the time of year your race is plays a role in how you'll train and the equipment you'll need. In cooler climates (like Chicago), it's best for beginners to sign-up for a race later in the summer so you can train during the warmer months. Selecting a race in June will have you training indoors the majority of the winter and potentially require you to wear a wetsuit in the water come race-day. You'll also miss out on the opportunity to train in open water, which I'd highly recommend you do for your first few races.
Also think about what's on your schedule the weeks leading up to the race. If you have a long vacation planned mid-training cycle or you know the race is during your busy season at work, you might want to re-think the timing of your goal-race so you can maximize your training the weeks leading up to it.
Race Characteristics:
There are so many races and race series out there; think about what type of atmosphere you want on race-day. Looking for a fun, all-women environment for your first race? Check out the Esprit de She or Iron Girl triathlons. Trying to qualify for the USAT Age Group Nationals? Make sure your race is a USA Triathlon sanctioned event.
The race size can also have an impact on how things will operate on race-day. Looking for a low-key transition area? Find a race with 500 – 1,500 participants. If you want energy, spectators and pro athletes out on the course, identify larger events like the Transamerica Chicago Triathlon or Escape from Alcatraz Triathlon. 
The Course:
Lastly, the fun part about triathlons is that no two courses are alike – the two major things to consider are terrain and distance. Swims can vary from rivers to lakes to oceans; while the bike and run can be rolling hills, steep climbs or flat-and-fast. Distances range from sprint triathlons, which are great for beginners (¼ mile swim, 14 mile bike and 5K run), to ironman distance races for the extreme (2.5 mile swim, 112 mile bike, 26.2 mile run). Assess the difficulty of the terrain and the distance of the race before you commit to a training plan.
When you identify one race you'd like to complete, devise a training plan and show up on race-day ready to conquer your goal; the post-race celebration is that much sweeter! Active, TriFind and Racevine are a few great sites for helping you identify a race that is right for you.
*This season I'll be tackling the Wisconsin Milkman Triathlon (70.3) in Madison, Wisc.  June 19, 2016. I'm looking forward to sharing my training journey with aSweatLife! Anyone care to join me?