Find The Fun in Working Out With AIRobics
I like exercising, but I don't always consider it fun. I enjoy feeling athletic and like I've worked hard, but I usually can't wait for my workout to be over. Therefore, I'm always on the hunt for fitness activities that don't feel like actual work. My latest fitness adventure, AIRobics at Sky High Sports is a great example of that.
Sky High Sports is a large recreation center that offers basketball and dodgeball played on wall-to-wall trampolines. Participants can also sign up for open jump time (the website states an hour of jumping burns 1,000 calories), play in a foam pit, hit the arcade and hang out in lounge areas. It also offers AIRobics three times a week.
Drew led my Saturday morning AIRobics class that was made up of a tiny, fit looking woman, who has been taking the class for two years because she enjoys it so much and me. The class started at 9 am, which is before the trampoline park opens to the public, so there were no kids or adults, yelling, running or jumping around other areas of the center. Sweet silence.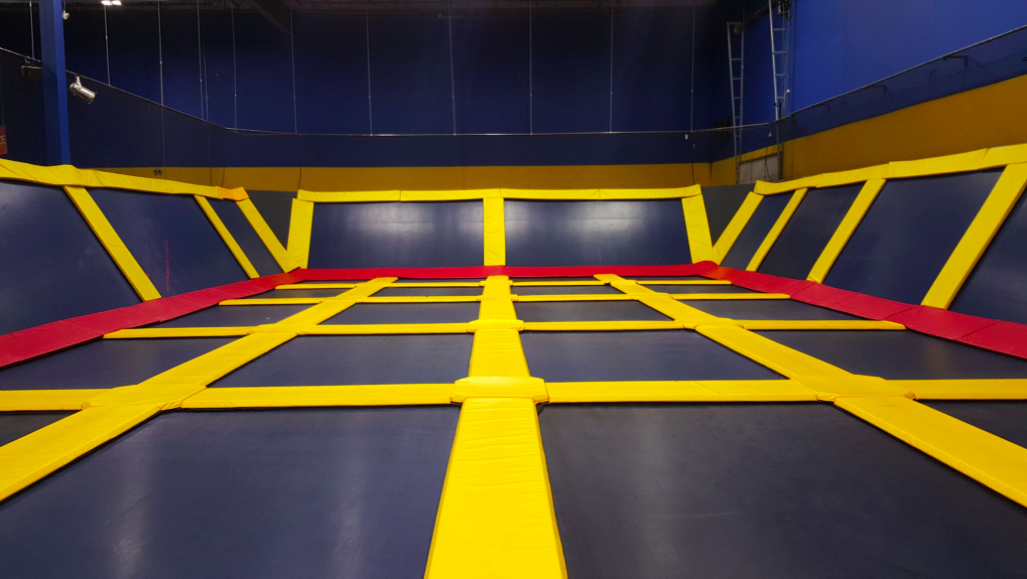 The class began with different types of jumps: starfish, low squats, legs in opposite directions, knees to the chest and just straight up as high as you could go. The automatic bounce of the trampoline made these maneuvers easier and a whole lot more enjoyable than doing them on the hard ground. I was sweating and out of breath from start to finish though, letting me know I was still working hard.
My favorite part of class was when we jumped from trampoline to trampoline, moving up one row and down the other. Since it was my first time, my momentum was all over the place. Sometimes I jumped with both feet, then I hopped from foot to foot, and a couple of times I had to do a little run in order to prevent myself from face planting. Regardless of how I accomplished it, my excitement could not be contained to one trampoline.
Upper body and core work were also incorporated, utilizing resistance bands, push-ups and planks. Doing crunches and Russian twists on a surface with forgiving material instead of a hard studio floor was so much better for my lower back, which usually gives me problems. And I don't think my core and arms have ever worked harder to maintain my plank position than while doing them on a trampoline.
The time flew by, taking me by surprise then the class ended. As I exited the jumping area to walk on the stable ground, my legs wobbled a bit. It took a few steps to feel normal again, but once I did, I left feeling tired, hungry and super happy – all signs of a good workout.
AIRobics is $8 a class with no pre-registration required. You must jump barefoot or wear grip socks, which they sell for a couple of bucks at the front desk.