Four Questions NOT to Ask Someone During Marathon Week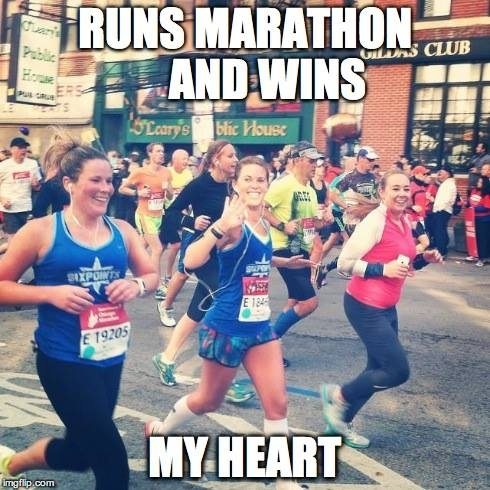 Chicago Marathon week is here, and even though you may not be running, you definitely have friends who are currently experiencing taper madness and general nerves as they get ready to toe the start line at Grant Park.
Of course, you want to be a supportive friend and show your interest in their marathon, but what you might not realize is that some of the questions you may be asking your marathoning friend are not helpful, and in fact, could be upping their anxiety levels. Please, for the love of Nike, stay away from these questions.
"Are you ready?"
Best case scenario, your friend has nailed marathon training for the past 16-20 weeks and has been living and breathing this race. However, as I'm all too familiar with, sometimes life happens and you can't get in your second 20 miler or you have a vacation in the middle of training.
And honestly? A marathon is incredibly hard to prepare for, and you never really "know" if you're ready. As Lorne Michaels once said of SNL, "The show doesn't go on because it's ready; the show goes on because it's 11:30." I don't show up to a marathon start line because I'm positive I'm ready – I show up because it's time to go.
Instead, ask "How are you feeling about the race?" It's more open-ended and doesn't send the runner into a panic at the mere thought of not being ready for the race.
"Are you going to do another one?"
Wait until I've finished this one, please. And then wait until I've stuffed my face with 3,000 calories, gotten a massage and gagged at my race photos. I need some time to heal before I commit to this again.
That's a lie. I signed up for my second marathon a mere few days after completing my first, and I actually signed up for my third a few days before completing my second. I am an idiot.
However, there's research that kind of explains why I'm an idiot. A psychological study found that runners found that marathoners forget over time just how much pain is caused by the missing toenails, cramping muscles, and upset stomachs; however, the extent of that "selective amnesia" depends on how much someone enjoyed themselves during the race.
Real life example: I loved almost every minute of the Chicago Marathon in 2014, save for 12 minutes of panic when I somehow didn't see the Mile 22 marker and was convinced I was running a 15 minute mile. I don't remember being that sore afterwards, and I believe I was walking pretty normally the next day.
However, after the unexpected hills and rain of the Lexington Marathon, I wasn't really elated when I hit the finish line. I was relieved, and frustrated, and pretty grumpy, and not really pleased with my time. I remember hobbling to the car barefoot, walking 20 yards behind my dad and friends because I couldn't keep up, and I remember laying on the couch the rest of the day, not eating or drinking anything and barely speaking except to ask my sister to bring me a straw for my bottle of water because it was too hard to lift the bottle to my lips without spilling. I was a treat, I'm sure.
Instead, ask your friend what they liked and disliked about the training process. Did they enjoy training with a certain group? Did completing long runs give them a sense of satisfaction? Did they get bored with running six days a week and wish they'd done more cross-training? These answers are more insightful than asking whether they'll ever do another marathon.
"How much do you eat every day?"
This question isn't particularly annoying (personally, I tend to eat the same things day after day, with the exception of long run days, and I don't follow any specific runner's diet).
However, you know what's a much better question? "What's your post-marathon meal going to consist of?"
Oh. Girl. I have been DREAMING of this meal for months. I think about this meal for miles on end during long runs, and I've tweaked and adjusted it more than my boyfriend adjusts his fantasy football lineup. The post-marathon meal is a feast, a tribute, a celebration and honestly, it could get pretty messy (you lose a lot of simple bodily movement abilities after running 26.2 miles).
Excuse me, I'm going to research where Cass and I will be eating after the Grand Rapids Marathon. Back soon.
"What will you do if you have to go to the bathroom?"
Either I'll go to the bathroom at one of hundreds of Port-A-Potties along the course, or I'll hold it. I know, shocking.
Instead, ask you friend … actually, don't. Stay away from asking about bathroom issues. You don't really want to know.
Other quick hitters from fellow experienced marathon runner Cass Gunderson that were too funny to leave out:
"Didn't Oprah run a marathon?"
"Aren't marathons bad for you?"
"What time are you going for?" (Legit question, but stressful – only ask this if you're very close with the person and have kept up with their training throughout)
"A marathon? That's like 13 miles, right?"
"So does this mean you can't go out on [night before race]?"