#Sweatworking Climbs its Way to Brooklyn Boulders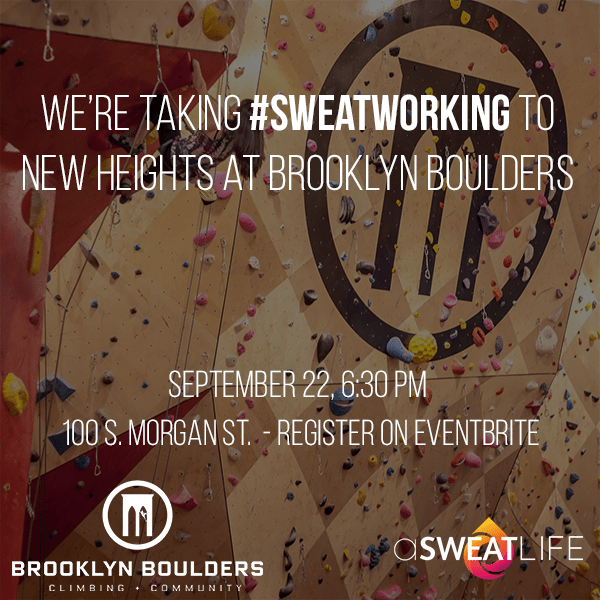 (Sign up for #Sweatworking here)
I remember learning to climb a rock wall at summer camp. Sweet, bearded Jeremy taught us the "three-point climb" and I channeled my budding 12-year-old crush into a drive to get all the way up the wall. Had to earn that high-five.
Rock climbing, it turns out, is a pretty intense workout – both physically and mentally. You're working to balance, push, pull and solve problems. In the city, though, it can be easy to write off rock climbing as something that people in the western states do.
Brooklyn Boulders opened its doors in the West Loop to an expansive 25,000 square foot facility with dozens of climbing routes, a shared workspace and rooms that look like the perfect spot for a birthday party (hint, Hubs) or brainstorming session. This huge climbing and community gym gives city-dwellers a place to get some work done, get stronger and conquer some fears.
Because #Sweatworking is one part about community and one part about making it less scary to try a new fitness experience, this is the perfect spot for our September event. We'll conquer two fears at once: heights and trying something new.
And when it's over, we'll grab some snacks, pick up our goody bags and hit the road.
What? Our goal is to make trying a new workout a little less scary and to bring together like minded people over fitness, so we work with gyms across the city to host #Sweatworking events where newbies know that they won't be alone. This September, we're heading to Brooklyn Boulders to scale some walls, try something called "bouldering" and learn a thing or two about grip strength.
We'll sweat, we'll mix, we'll mingle and we'll all leave with fantastic goody bags.
Where? Brooklyn Boulders, 100 S. Morgan St.
When? September 22 at 6:30 pm
Why? Because why not get in a good sweat and climb up something tall?
How do I sign up? Glad you asked! Sign up here.
See you there?
Let us know!
Did this post help you get closer to achieving one of your goals?