I may not be very hip or musically inclined, but one of my superpowers is making playlists for certain occasions. Got a party bus coming up? I'll make the playlist. Need music to listen to while you're getting ready for a wedding with other bridesmaids? I'm on it. Looking for new tunes that will distract you during a workout? I gotcha. They call me DJ KG. Really, they do.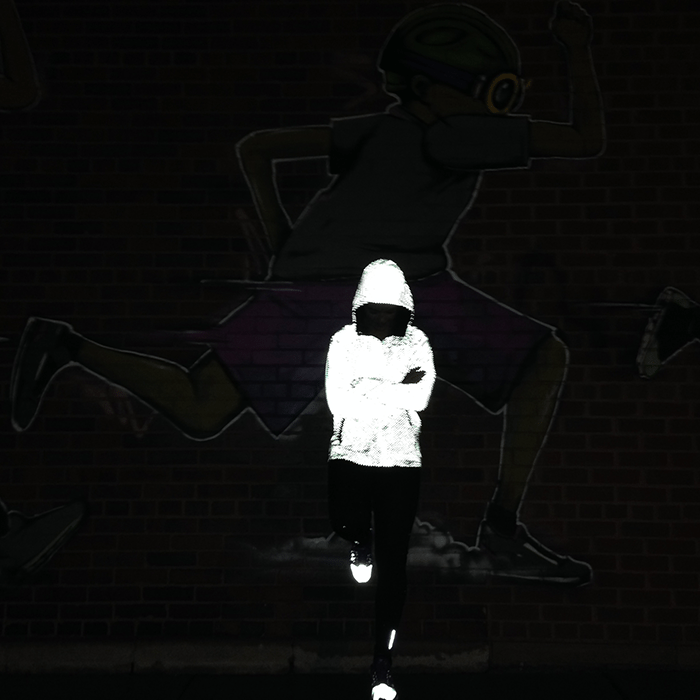 When it comes to running, however, I tend to listen to the same tunes over and over. Sure, I'll make playlists for big occasions like marathons or running challenges, but for the most part, I listen to the same few dozen songs. I don't have the time or energy to make a new running playlist every week, so I've learned to enjoy the familiar beats and tunes that carry me through my runs. I'm also a creature of routine, so that helps a ton.
But when Spotify announced their new Running feature, I knew that this was the musical godsend I never really knew I needed. Here's the rundown, according to the Spotify press release:
Every week millions of you lace up and hit the road to Spotify. Music is the perfect running companion but sometimes you need even more motivation to push on. That's why Spotify Running is all about helping you go the extra mile.We've combined the best music on the planet – recommendations based on your listening history, multiple-genre playlists and original running compositions written by some of the world's foremost DJs and composers – all tuned to your tempo and seamlessly transitioned to ensure you'll never miss a beat. Start running and Spotify will detect your tempo, matching the perfect music in time to your step – making you a harder, better, faster, stronger runner.
Well played with the "harder, better, faster, stronger" line, Spotify. Well played.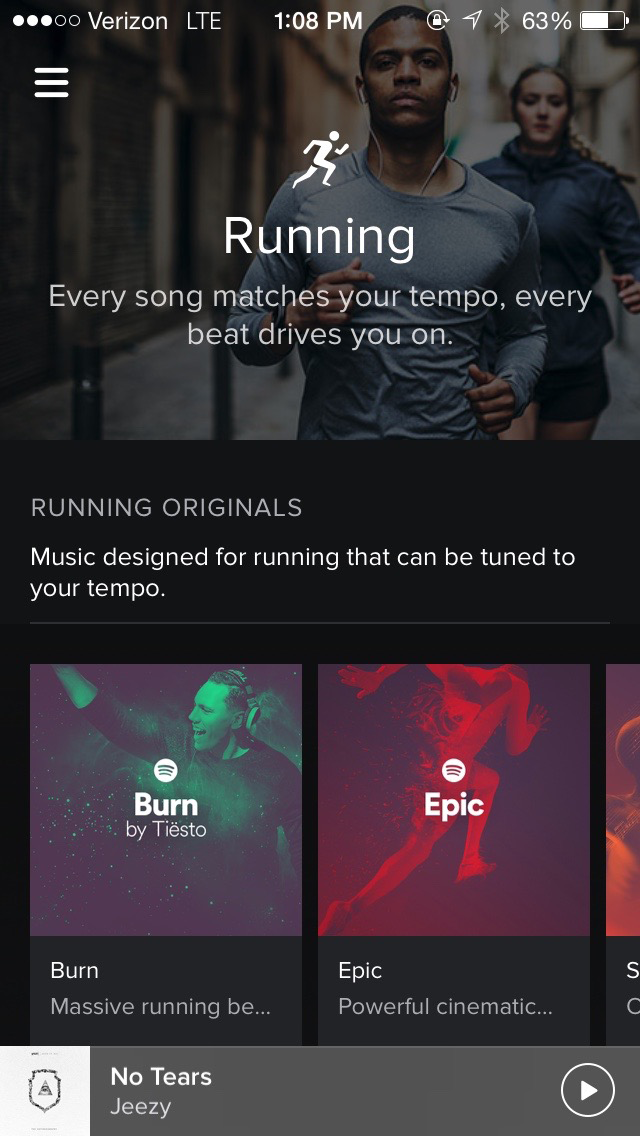 Seeing this news was just the post-marathon motivation to get me out the door and back to my normal running routines. After a couple of weeks of playing around with the Spotify Running feature, here's what I've discovered:
Be prepared to have quick fingers. Since Spotify and Nike+ Running aren't integrated (YET), it was a little tricky to figure out which order I should open the apps. I settled on opening the Spotify app first, and then switching over to Nike+ Running starting my run. One feature of Spotify Running is that it tells you to begin running, and then it detects your tempo and BPM (beats per minute) to choose songs appropriate for your pace. I found that opening that before the Nike+ Running App worked best; this way, you can also manually change the BPM with the least amount of tapping and sliding. Also, if you start your runs outside your home or office where your phone is still within range of your network's Wi-Fi, turn your Wi-Fi off, or else Spotify will take longer to get your music going since it's trying to connect to that network.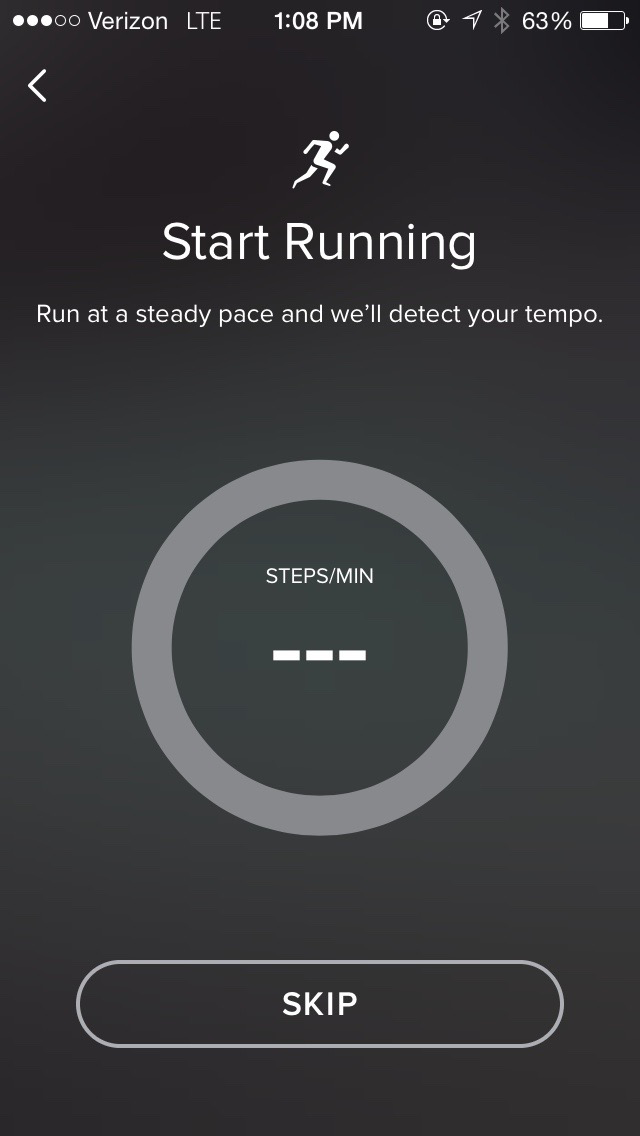 The tempo Spotify initially detects is the tempo it will stick with throughout your entire run – even if you slow down or speed up. This is great if you want to maintain a steady pace throughout your run and have music to keep you on track the whole time. It's also nice because if you pause to grab a drink or tie your shoes, your song choices don't slow to power ballads. Looking to do speed work or a progression run? You'll have to manually adjust your chosen BPM if you want the music to match.
Spotify knows me better than I know myself. For most of my runs, I chose the "Recommended For You" running playlist. On my first trial, I was thrilled to hear songs that I already listened to and ran to regularly as my first couple of tracks. From there, Spotify edged me into similar songs that I would probably like but maybe haven't listened to. The absolute highlight? When Spotify decided that my run needed the Spanish version of Beyonce's "Irreplaceable." I don't know what sent them in that direction, but I'm so happy about it.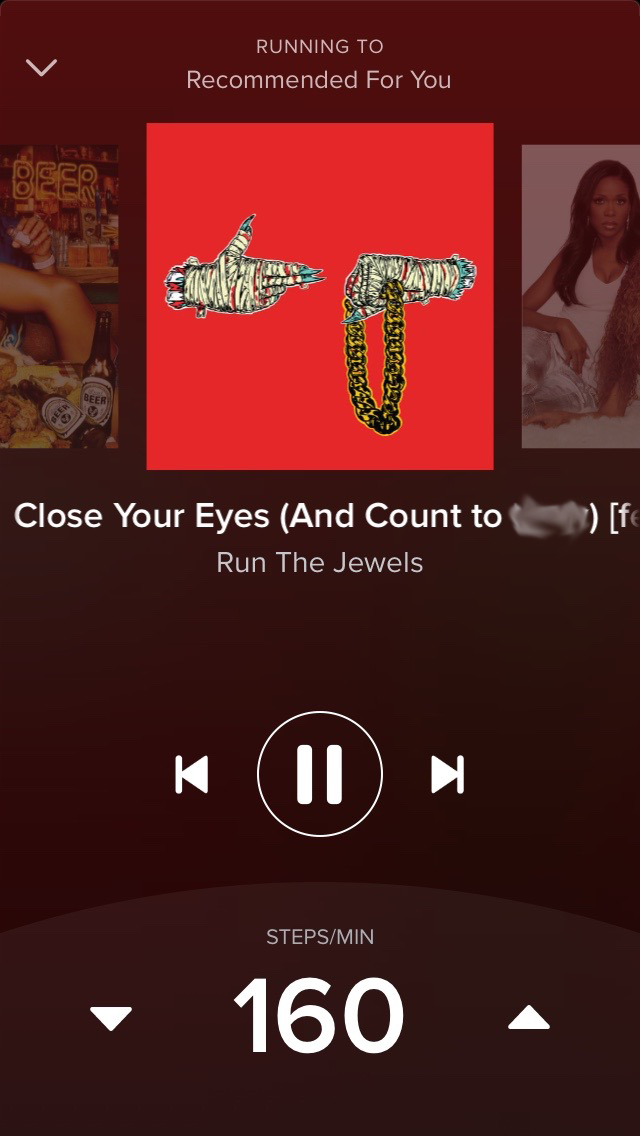 It's easy to switch tracks without missing a beat. One of my favorite things about Spotify Running is that it's a continuous mix, much like what you would hear in boutique fitness studios with their own custom mixes (or, you know, clubs). Each song blends into the next one. In the event that I didn't like a song, I could easily switch to the next one, and within five or so seconds, the current song would fade out and fade into a new song. Totally an underrated thing, but I loved not having any lag time between songs.
There's literally a playlist for everyone. Aside from the "Recommended For You" mix, you can choose from a variety of genres or moods to suit your run. From upbeat to indie to EDM to throwbacks to country and more, Spotify really covers all of their bases here. They even went the extra mile and created their own "Running Original" tracks, such as "Burn," which was created by Tiesto; "Epic," which features cinematic buildups;  "Seasons," orchestral tunes; and "The Chase," which they describe as stepping into an action movie. You can no longer use "I'm tired of all my music" to avoid going for a run. You just can't.
Thinking ahead, this would be a great way to pace yourself during a race. Just plug in the BPM that corresponds with your mile pace (personally, I've found that 175-180 tends to be around a 8:15/8:30 mile), and let your legs take control. (Note that you don't always have to start your run by running until the app detects your BPM; you can choose your own at the beginning by pressing "Skip")
Of course, there were a couple of kinks that interrupted my experience, but they were minor enough that it wouldn't discourage me from using the app again. I was less than impressed with the Throwback Hits mix, which started strong with "Genie in a Bottle" but then played more 80's classic hits than the 90's and 2000's jams I was expecting (hopefully the more I use the app, the more Spotify will learn my listening preferences); plus, after I skipped about 10 songs in a row, it took me back to the beginning of the playlist.
Also, make sure you realize that Spotify makes the playlist based on what you listen to – not necessarily what you listen to while running. Personally, my running and at-work playlists are pretty much one and the same, so this didn't bother me, but if you prefer death metal while you run and classical music while you work, you might need to adjust your expectations a bit.
Finally, and this is completely on me and not Spotify, I struggled with my breathing a bit during some of these runs. While it was easy for my feet to hit the 8-count beats, I usually breathe in for three counts and out for two, which doesn't really jive. I think this is something that'll get better with practice – any tips?
The Spotify Running feature is still rolling out to users, so keep an eye out for any Spotify app updates on your phone. As for me? I'll be running as often as possible in the hopes that I'll once again hear the Spanish version of "Irreplaceable."