Training for a Race Last Minute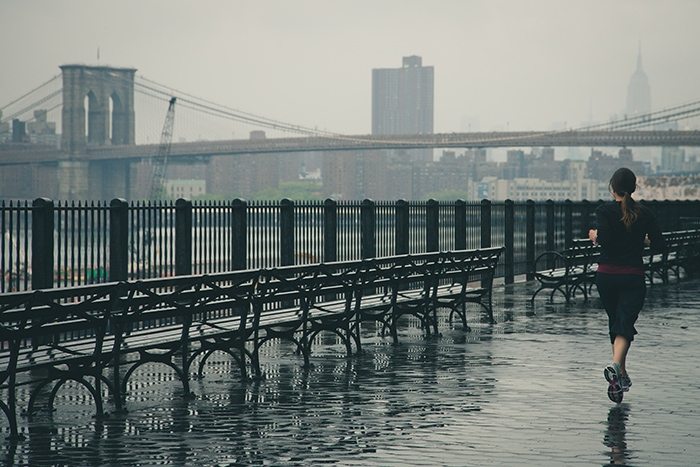 Kind of like cramming for a test, I had to figure out some last minute training for a race. I signed up for the Chicago Spring Half Marathon months in advance and planned to be out and running once the time came to put in the work. What's that saying about the best-laid plans …
Setback one: my outdoor training took a backseat to my indoor workouts
Instead of training for two months like I did with my first half marathon, I ended up concentrating on taking more high-intensity classes and weight training longer than I normally do through the winter. Maybe it's because winter lasts 166,546,874 days here in Chicago, but the running bug didn't seem to come back as early as I thought it would.
Setback two: new gear threw threw off my body and my training
I got fitted for new shoes since it was time for my old ones to be replaced. When I did start running outside, I realized that my body needed time to adapt to the alteration. Initially I ended up with cramps in my calves followed by shin splints that I perpetuated by sprinting on a treadmill in those HIIT classes.
As the race approached, I realized that I would have to try and cram a couple month's worth of  training into a severely condensed time frame. Some of the modifications that I made to my routine were:
Cutting back on any workouts aside from running – treadmill sprints were a no-no.
Easing back into running with a couple of shorter runs.
Preemptively icing my shins after my runs – I didn't have as much recovery time should they start to hurt again.
Picking up the training routine that I used for my last half marathon and doing one to two shorter runs and one long run per week.
Increasing weekly long runs by two miles instead of one – my last training plan had each long run increase by one mile per week. Since I didn't have the luxury of time, I planned to increase them by two miles per week.
I know I won't be as ready for this race as I could be, but my intention was always to run it for fun. As long as I'm able to finish it, I'll consider it successful for me. I know that there is a difference between the conditioning that comes from long distance running versus short term, high-intensity work, but I'm really crossing my fingers that at least some of my time at Sweat or Hardpressed will carry me across the finish line!
I am writing this post before the race this weekend, but by the time you're reading it, the race will be over it. If I survive it, be on the lookout for another post about what this "training" strategy has taught me. If not, learn from my mistakes and train smarter!