The Bodyweight Workout Ladder
(Disclosure: Nike Women provided the clothing for this shoot)
I'm about to jump on a plane again for a three-day trip for the day-job. That, of course, means I'm going to need to try to find a way to fit a workout in and this bodyweight workout ladder is the perfect way to get in a sweat.
Do you ever think back to what you thought responsible adult things would be like when you were younger? The difference between what I thought work travel would be when I was in college and what work travel really is? Laughable. An 18-year-old me pictured glamorous trips, flying business class and days that mixed work with a few hours here and there to catch some local flavor.
But in reality, work travelers rarely see the city they're visiting through more than a plane, cab or hotel window because they've got to make their time in whatever city they're visiting count.
When the hours get packed with work and the thought of getting to the hotel gym is a not-going-to-happen, a bodyweight workout is a great option. Efficiency and maximizing time is the key. The peak in squeezing a workout in? Doing your workout in a hotel room and hopping right into the shower when you're out of time.
Remember: you don't have to workout for an insane amount of time every day – you just need to do SOME activity on MOST days. Only have 20 minutes? 20 minutes is better than zero minutes.
This workout uses just two "props": your bodyweight and a modern amenity you'll find in most rooms – a wall.  We're doing a ladder workout, which means we're increasing reps each time we go through the moves and then coming back down in number. So you'll start by doing each move 10 times, then 20, then 30, then 40, and then you'll decrease by 10 each time until you're back at 10 reps.
Use a stopwatch to time how long this workout takes you to complete. You can come back to this same workout in a month and try to beat your time. Because, fitness.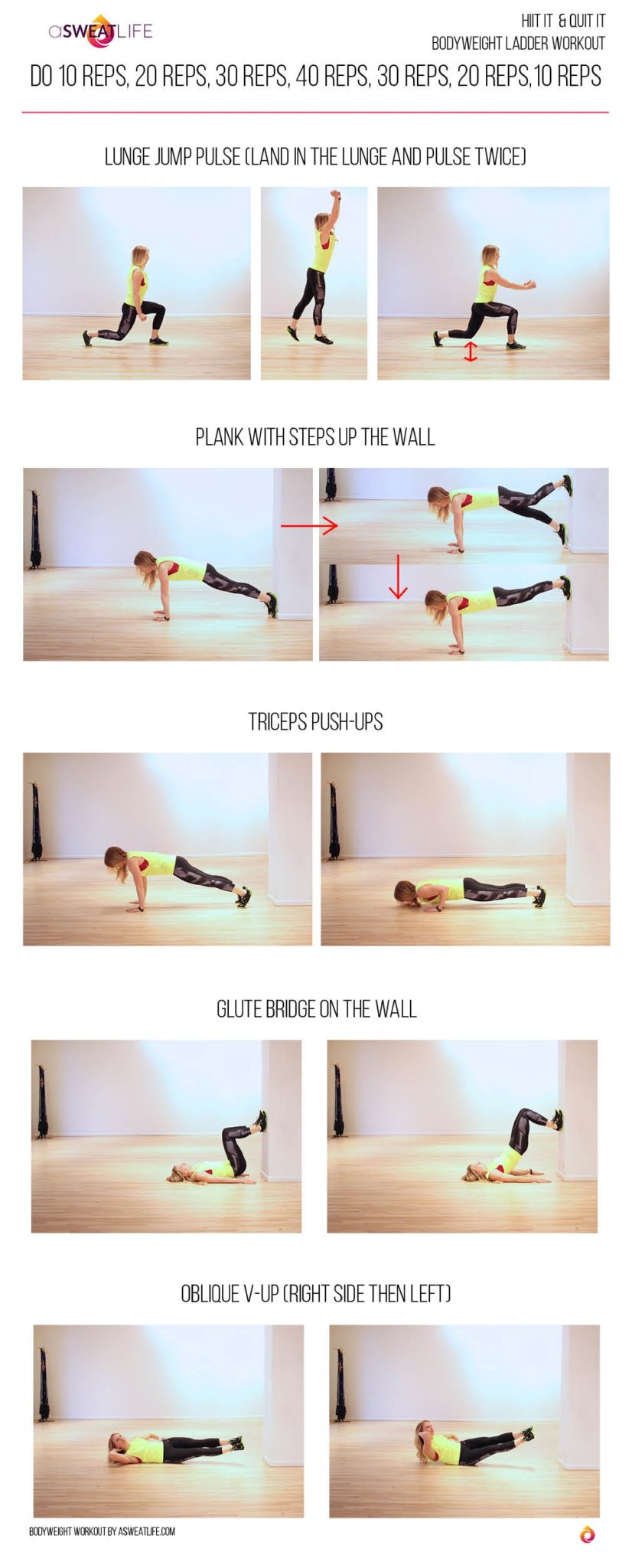 Lunge jump and pulse: In a lunge position, with your knees at 90 degrees, jump and switch the position of your feet and land in a lunge. Pulse the back knee down twice and repeat.
Plank with steps up the wall: Starting in a plank position with your feet against the wall, step your feet up the wall one-by-one and then back down again.
Triceps push-ups: In a narrow push-up position with your hands below your shoulders, lower your chest down towards the ground and push back up again. You can do these on your knees or toes (knees will be useful for the higher numbers in this ladder).
Glute bridge on the wall: With your hips under your knees, raise your hips up into a bridge and lower back down again.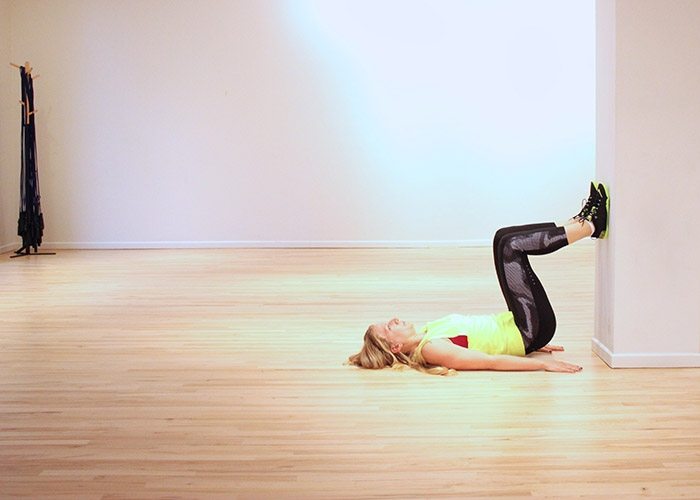 Oblique V-up: Keeping your weight on one … butt cheek, not your hip, lift your straight legs up slightly and well as your torso making your body into a "V" and then lower back down. To scale this move down, you can bend your knees in towards your chest rather than working with straight legs and you can also plant your bottom hand on the ground.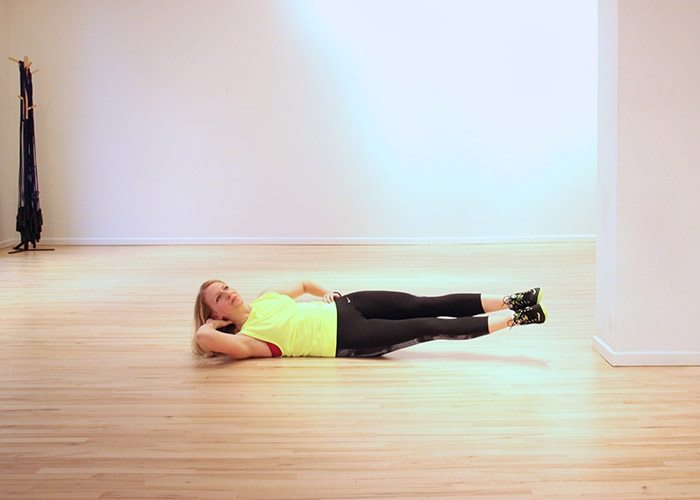 I've got on the Nike Free 1.0 Cross Bionic shoe, the Nike Epic Lux Printed Tight, the Nike Pro Fierce Sports Bra and the Nike Dri-Fit Knit Sleeveless.
(Disclaimer: This workout is not intended for the treatment or prevention of disease, nor is it a replacement for seeking medical treatment or professional nutrition advice. Do not start any nutrition or physical activity program without first consulting your physician.)