Performing Well When it Counts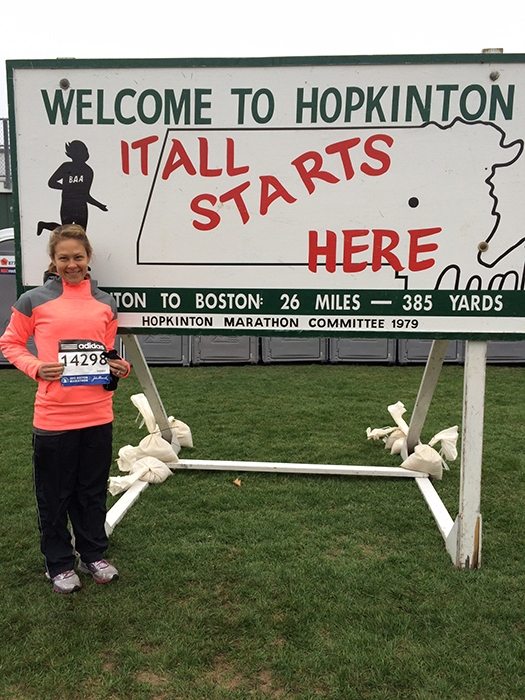 Last week, I got off a bus in the town of Hopkinton, Massachusetts, and set off to run the whole 26.2 miles back to Boston. Though the weather was downright awful—raining with a headwind the whole way—I ran my fourth Boston Marathon faster than the other three. I kept a consistent pace just a few seconds slower than I'd have aimed for in perfect conditions. And, I had a blast doing it.
Training through another tough Chicago winter undoubtedly helped me achieve these goals. So, too, did taking the advice of the sports psychology experts, coaches, and scientists I interviewed for this Runner's World article. Though the topic was how to run well at a big-city event like Boston, the tips they gave certainly apply to doing your best in any high-pressure situation, from a smaller race to a tennis match to the championship game in your work soccer league.
To nail it when you most need to:
Prepare precisely. Do everything you can to practice in the conditions you'll have to perform in. Run some practice races—or at least hit the lakefront trail mid-morning on a gorgeous summer Saturday—to get a feel for what it's like to sprint through a crowd. If you plan to have a cheering squad for the championship, see if they'll show up for at least one of your lower-stakes games. According to Sian Beilock, Ph.D., University of Chicago psychologist and author of the book Choke, having your friends and family present has a big effect on your mental game—you'll want to know what that feels like before it's all on the line.
Plan diligently. As the date for your event nears, start plotting out the logistics—and be super specific, regardless of how nerdy and high-maintenance it makes you seem to your non-athletic friends. How are you getting there? What time do you need to leave? What gear do you need to pack? What will you fuel up with, and do you need to buy it or bring it with you? Writing all this down into a pre-performance plan reduces anxiety and ensure you don't forget anything important, says Carrie Cheadle, M.A., a mental skills expert and author of On Top of Your Game. If you have to travel—like I did for Boston—consider mapping out the timeline of your entire week (I did!). Instead of wasting precious mental real estate on worrying about about whether you packed your BodyGlide or quadruple-checking what time the expo closes, you can stay calm and save your energy for your performance.
Instill self-confidence. That swagger pro athletes tend to show? It's no accident. Believing you're a fast runner or a strong lifter isn't enough to make it so, of course—you have to put in the work—but doubting yourself is a surefire path to failure. So, your preparation should also involve actively boosting your belief in your abilities. Cheadle says that throughout training, we can either "feed the athlete" or "feed the monster." If you choose a diet of realistic but positive statements about your capability to overcome obstacles, your inner athlete grows stronger and you more easily adapt to, if not thrive on, new challenges—whereas if you continually tear yourself down with self-talk about how bad you suck, the monster that wants to quit when things get hard or drops the ball with the game-winning run on third becomes more likely to appear in a crucial moment.
Focus when you need to … Whether it's maintaining a steady running pace (especially at the beginning of a long race, when it's all too easy to go out too fast and fade later) or returning a killer serve, sometimes you really need to tune out all the distractions around you and give 100-percent of your attention to the task at hand. Practicing this ahead of time (see the first point point) can help you get better at this when the stakes are higher. Cheadle made the excellent point that things like cheers, weather, and boos from the opposing team's fans don't actually actively draw our attention away—we make the conscious decision to get distracted and turn our eyes or thoughts toward them. For me, just recognizing I had a choice in tuning in or tuning went a long way in helping me ignore the noise (and the rain) and dial completely into what I was doing.
… but don't forget to take it all in. That said, choose key moments to enjoy the crowd cheering you on, the crazy runners in costumes, the thrill of pushing yourself harder than you thought you could. These moments elevate important games and races from just your everyday workout, and you can use them to power you through a tough spot or to help you celebrate your achievements.
Good luck and hope you crush all your goals this spring!