Six Reasons to Try Running in the Snow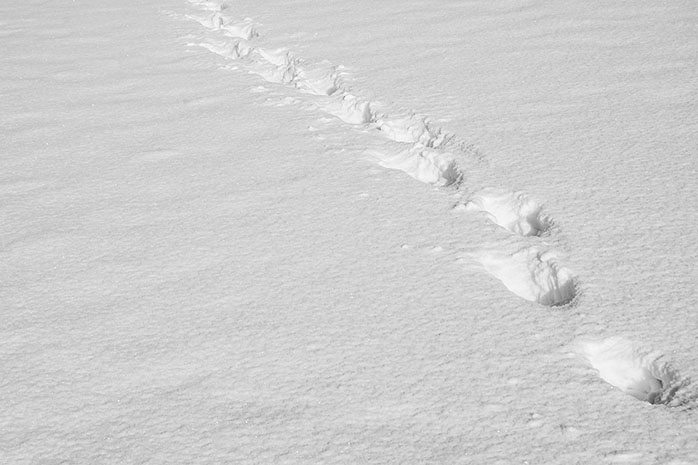 I'm in the midst of an identity crisis.
For my entire life, I have considered myself a Southerner, someone for whom 80 degrees and humid sounds like perfect weather, who chooses to say "y'all" over "you guys," someone who has accepted bug bites as just a part of life and who refused to apply to any colleges north of the Mason-Dixon line. But recently, I've discovered something about myself: I love running in the snow.
I know. It's weird. I'm mildly confused and surprised too. I absolutely did not plan on even tolerating running in the snow, much less enjoying it enough that I willingly subject myself to it a few times a week, even in the fifth-largest blizzard Chicago has ever seen. It's been a bizarre turn of events, but I've very much enjoyed it – and I think you will too, once you give it a try. Here's why:
It's a Great Workout
Running in the snow is kind of like running on the beach – you're fighting natural resistance with each step, which strengthens running muscles you don't normally use on the nicely paved lakefront trail. If you happen to cross some icy or wet surfaces, you're also forced to engage your stabilizing muscles in your legs, hips, and core, which benefits your strength and coordination even further.
Pace Doesn't Matter
When you're running through the snow and picking your way through slushed-up intersections (shoutout to Chicago for not plowing those very well), there's no way you're going to be hitting your 10K race pace tempo runs. And that's totally okay. For snow running, just getting out there and moving forward is workout enough. If you're dead set on hitting a certain pace, snow running isn't for you this particular run. If you're just trying to enjoy a workout for a set amount of time, proceed with snow running – and this fact makes snow running perfect for someone just starting out in running, thanks to the lack of pressure and expectations.
Your Mind Stays Occupied
When you're dashing through the snow (I've been holding that joke in for a long time, y'all), you have to constantly pay attention to exactly where your foot lands so that you don't have an epic wipeout. This focus makes the time go by much faster than a normal run when you're just pounding the pavement for seven miles.
It's the Closest Thing to Trail Running We'll Get in Chicago
The uneven surfaces and the new terrain mimics trail running in the city about as best as can be expected, and running in the snow has made me think that I might secretly be a trail runner at heart.
It's Super Goofy
I look ridiculous during most portions of my snow runs. I've figured out that instead of coming to a full stop at intersections and trying to carefully pick my way in other people's footsteps so that my shoes don't get wet, it's better to just hit them head on and bound as best as you can through the slush, keeping your knees high and steps light so that before you have a chance to trip, you're onto the next step. This makes me look kind of like Bambi or Phoebe from Friends. I imagine that it's pretty hilarious to witness.
You Feel Like A Badass and Develop Mental Toughness

I have seen roughly four other people during all of my snow runs so far, and as we pass each other, we share a weird kind of half-nod, half-salute acknowledging that yeah, we are the only ones crazy enough to try running in these conditions. Drivers and other walkers are also pretty confused at my presence on the sidewalks and in the crosswalks. I can't really blame them, but it's such a cool feeling to know that I'm doing something 99.9% of the city is completely unwilling to do. If you can get in your training runs despite the weather, you're going to be that much tougher come race day.
Clothes dry. Wet socks are temporary. But the glory of running for an hour in the snow? That lasts forever.