The Lunch Bunch: Sweet Potato and Eggplant Curry Recipe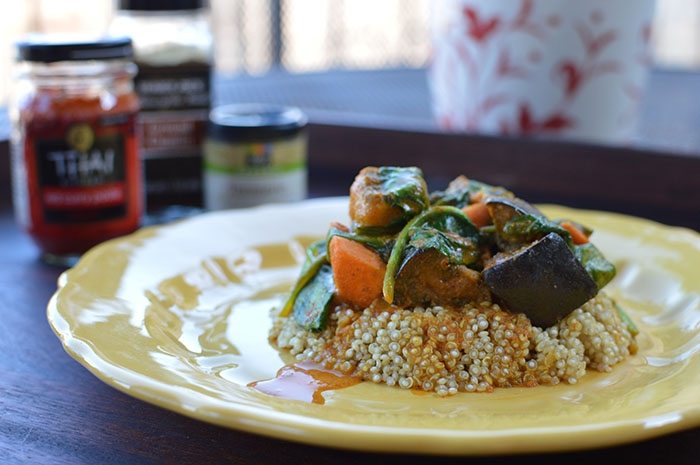 Full disclosure, I've never made curry before this meal. I really wanted to go outside the box and experiment with flavors that I enjoy, but have yet to incorporate into my own recipes. Initially I was very nervous about failing at this Sweet Potato and Eggplant Curry Recipe, but it turns out that curry can be oh so simple! I had to reconnect with some of the spices at the very back of my pantry, but was excited to bring them out for this beautiful and delicious creation. Let's just say that those spices will be staying within reach from now on!
One of the biggest downers for me when it comes to Thai curries is how hard they can be on the digestive system. At a restaurant, this dish can be loaded with cream and sodium, which can cause major discomfort for anyone with food sensitivities. I personally would like to avoid that at all cost! Also, note that restaurants sometimes adds fish sauce to their curries, so be aware to ask your server about food sensitivities when eating out.
For this week's lunch bunch, I've turned what could be a digestive nightmare into a very healthy and GI friendly meal! One of the more uncommon spices (or simply in my case, rarely incorporated) that I used in this recipe includes turmeric. This bright yellow spice helps give the curry it's colorful hue, as well as aids in fighting inflammation. I've also switched to LIGHT coconut milk, which is both 1/3 the calories AND fat as regular coconut milk. Now I know you may be thinking: "doesn't coconut milk still have a high fat content???" Good question. It's also great to understand that the fat content in coconut milk is made mostly of medium chain triglycerides, which are more easily converted to energy and are digested completely differently than standard fats in our diets. Long story short, in moderation coconut milk can have a lot of added benefit to your diet!
I've kept this dish vegetarian style by serving the curry over a bed of protein-rich quinoa, but go ahead and get creative when making lunches this week, meat or no meat! I'm excited to try this dish out over the course of a few days, as curry is know to become even MORE flavorful the next day after the spices have had time to infuse into the dish.
Another Lunch Bunch perfection to be had – just make sure your co-workers don't get too jealous when all those enchanting smells come wafting from the break room!
Grab your packing and prepping guide here.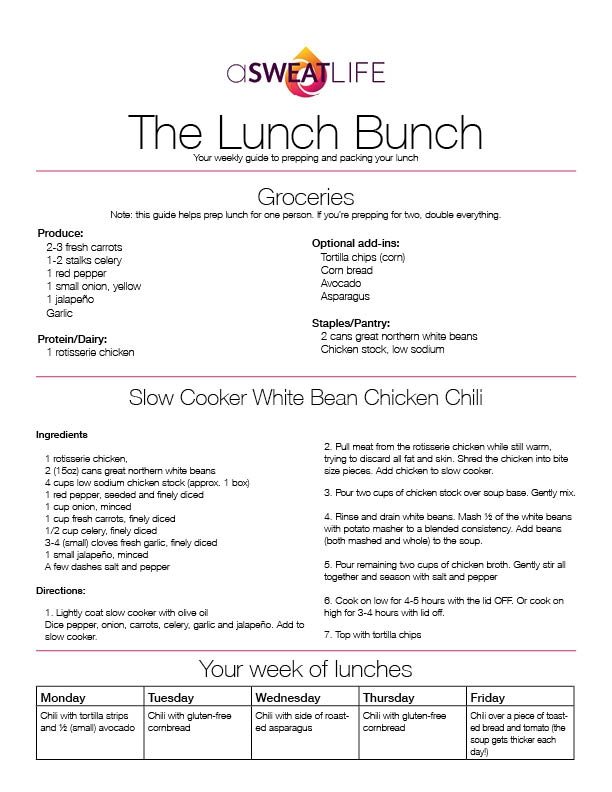 Ingredients:
1 can light coconut milk
1 sweet potato, peeled and cut into ½ to 1-inch cubes
1 large eggplant, cut into ½ to 1-inch cubes
Fresh spinach
3 green onions, finely chopped
¼ cup fresh basil, finely chopped
¼ fresh squeezed lemon juice
2 Tbsp. red curry paste (I used Thai kitchen)
1 tsp. turmeric
1 tsp. cumin
½ tsp. chili powder
½ cup quinoa, uncooked (yields 3 servings)
Dash of salt and pepper
1-2 Tbsp. Extra virgin olive oil
Directions:
Preheat oven to 400ºF.
Peel sweet potato. Cut both sweet potato and eggplant to ½ to 1-inch squares. Place in a large bowl, sprinkle with olive oil (about 1-2 Tbsp.) and a dash of salt and pepper. Toss to coat with your hands and spread pieces onto a baking sheet.
Roast sweet potato and eggplant for 15 minutes.
In a large sauté pan, heat coconut milk to a simmer.
Add the red curry paste, turmeric, cumin, chili powder and fresh lemon juice. Mix everything together until even consistency.
To the sauce, add the roasted eggplant, sweet potato, chopped green onion and basil. After 5 minutes, add the spinach on top and let wilt. Simmer for 15-20 minutes, stirring occasionally.
While curry is thickening, combine 2:1 ratio of water to quinoa. Bring to boil, reduce heat to simmer and cook until all liquid is absorbed and quinoa is fluffy.
Serve curry over the quinoa. Enjoy!