The Lunch Bunch: Healthy Sloppy Joe Recipe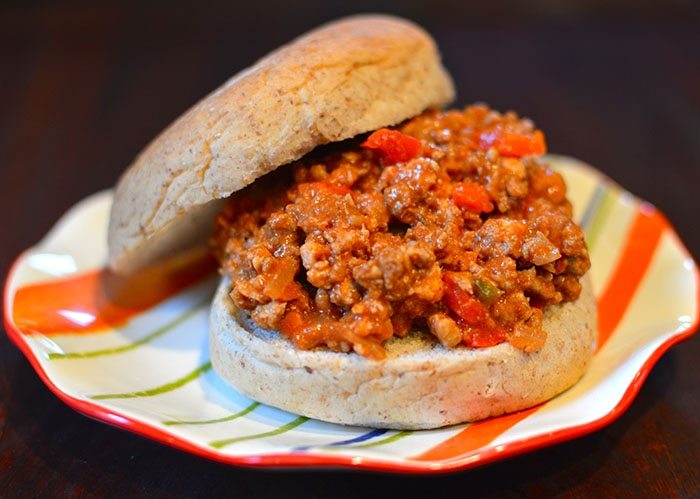 I woke up this past Sunday morning to gorgeous white snowflakes falling quickly down onto a completely snow covered street. Walking to the store for a few last minute groceries, adoring the glittering trees and preparing for a snowball fight … little did I imagine that the blizzard of the year had just started!
As the blizzard went down, I hope everyone had a warm, safe spot to watch the Super Bowl this past Sunday! Our power went out for a brief scare before we were expecting people over, but thankfully I already had this delicious childhood favorite cooking in the crockpot before our lights (and heat!) went out.
I love to rework old family favorites. This healthy Sloppy Joe recipe combines extra lean beef and turkey to give a perfect combination of juiciness and texture. The salt content is greatly reduced by using 'no salt added' tomato sauce, which is 90% less sodium than the regular version. Another great improvement is the decreased sugar content. The only sweetener in these Sloppy Joes comes from the sugars in the tomato sauce and (optional) BBQ sauce. I only added 2 tablespoons, or one serving, of Lillie's Q Smoky BBQ Sauce to the entire crockpot. This sweet, smoky flavor was the perfect end to the recipe! The nutritional value of these Sloppy Joes is way beyond the Manwich version my mom made when I was growing up … I loved them at the time, but still holding a slight grudge on that one, Mom.
My Lunch Bunch for this week served two great purposes – it was a party staple for the Super Bowl and successful lunch recipe! I won't be able to enjoy as many leftovers for lunch this week (I guess that means the recipe was a hit?!), but slow cooking saves valuable time for weekly meal prep and party planning. For lunch, try and mix this recipe up by serving over a bed of quinoa or wilted spinach (think of a chili bowl). You can even add pinto or red beans, adding fiber, to the Sloppy Joes and serve over brown rice with avocado for a Mexican style dish.
This meal will satisfy any comfort food cravings while surviving the snowstorm of 2015. J Good luck and get shopping! That is if your car isn't still buried in snow …
Grab your printable lunch planning and prepping guide here.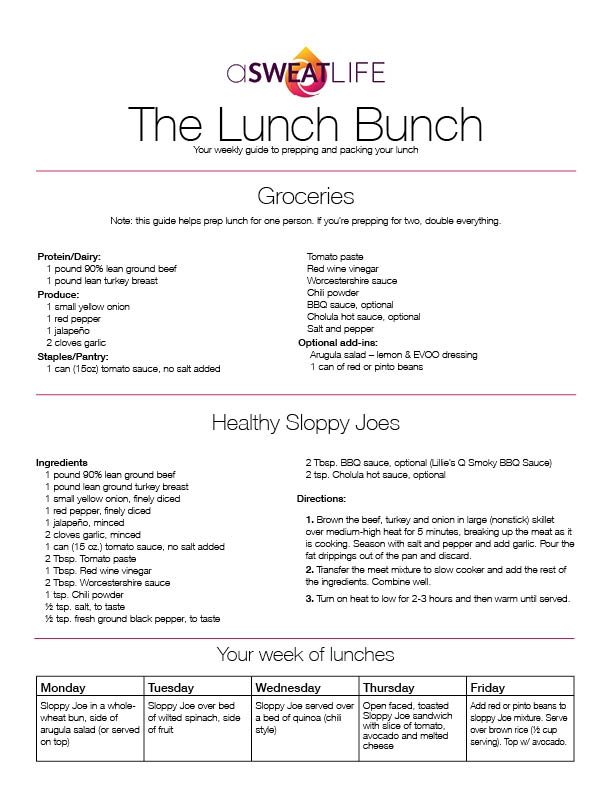 Grocery List:
Produce:
1 small yellow onion
1 red pepper
1 jalapeno
2 cloves garlic
Protein/Dairy:
1 pound 90% lean ground beef
1 pound lean turkey breast
Pantry:
1 can (15oz) tomato sauce, no salt added
Tomato paste
Red wine vinegar
Worcestershire sauce
Chili powder
BBQ sauce, optional
Cholula hot sauce, optional
Salt and pepper
Optional add-ins:
Arugula salad – lemon & EVOO dressing
1 can of red or pinto beans
Recipe:
Ingredients:
1 pound 90% lean ground beef
1 pound lean ground turkey breast
1 small yellow onion, finely diced
1 red pepper, finely diced
1 jalapeño, minced
2 cloves garlic, minced
1 can (15 oz.) tomato sauce, no salt added
2 Tbsp. Tomato paste
1 Tbsp. Red wine vinegar
2 Tbsp. Worcestershire sauce
1 tsp. Chili powder
½ tsp. salt, to taste
½ tsp. fresh ground black pepper, to taste
2 Tbsp. BBQ sauce, optional (Lillie's Q Smoky BBQ Sauce)
2 tsp. Cholula hot sauce, optional
Directions:
Brown the beef, turkey and onion in large (nonstick) skillet over medium-high heat for 5 minutes, breaking up the meat as it is cooking. Season with salt and pepper and add garlic. Pour the fat drippings out of the pan and discard.
Transfer the meet mixture to slow cooker and add the rest of the ingredients. Combine well.
Turn on heat to low for 2-3 hours and then warm until served.