The Lunch Bunch: Kale and Brussels Sprout Salad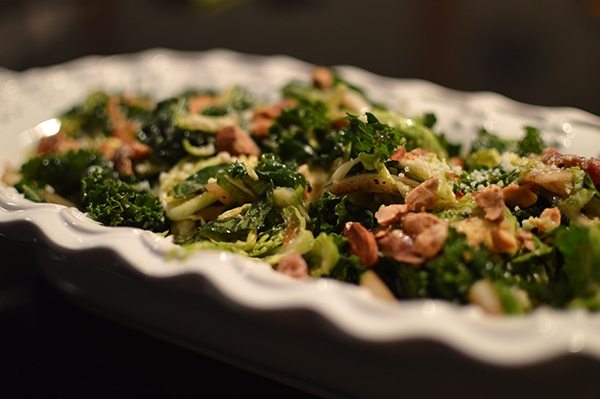 A few Sundays ago, I met one of my good friends for a long overdue brunch. I've always leaned toward the lunch part of brunch … let's be honest, there's a reason I write these blogs! I'm sensitive to eggs and don't have a taste for sweets in the morning, so overall I'm a hard customer to please.
We went to Blue Door Farm Stand on Artmitage. I immediately fell in love with the chalkboard writing, vintage décor and café ambiance. The ingredients are fresh and top quality from local farms and markets. I ordered their Brussels and Kale salad and they had me hooked! I knew that I better learn how to recreate a similar dish immediately or I'd be burning a hole in my wallet pretty quickly from frequenting the café. Thus I give you this week's recipe, inspired by Blue Door Farm Stand – Kale and Brussels Sprout Salad. 🙂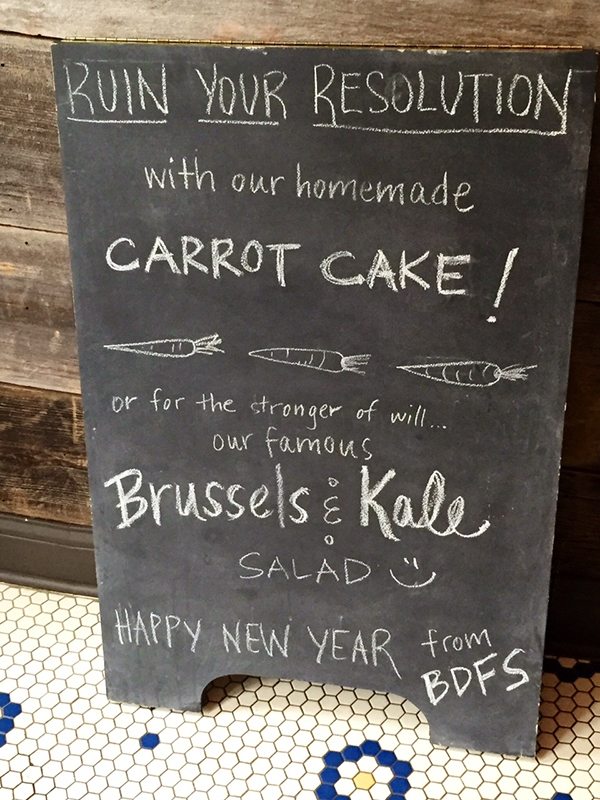 Salads make for the best food prep because you can make a big batch of the dressing and have this on hand to add throughout the week. This particular salad has a perfect balance of bitter and sweet that really goes well with a variety of toppings – if you're craving extra sweet on Monday, add some dried cranberries with the roasted almonds. If you like saltier flavors, like me, add a bit of prosciutto to give it another punch. Call me a Pintrest enthusiast, but even grab a few mason jars and stack this salad in the jars with the toppings of your choice for each day of the week. I promise your fridge will be glowing when you open the doors come Monday morning!
In my directions below, you will notice that I tell you to gently massage the kale with the juice of a lemon. Yes, I said massage. Weird, right? Kale, the king of green leaves, is known for that rough texture that allows us to cook and use it in a variety of ways. When we massage kale, we are beginning to break down the cellulose (the fibrous structure of the plant), thus making it easier to digest and not to mention, much less bitter. You can actually visually start to see this change as the leaves begin to soften, wilt and become a more vibrant green color.
The last big benefit of using this crazy green for our lunch bunch (other than me going on and on about it's incredibly high nutrient, antioxidant and fiber contents) again comes from its rough texture. Unlike other greens, kale will keep its texture for up to a week in the refrigerator, even after we break it down from massaging. No soggy leaves for us!
With all the nutrients from the kale and the detox benefits from the lemon juice, this is a perfect staple dish to add to your diet. However, if I'm being quite honest, nutritional benefits aside, I would eat this salad just for how delicious it is!
Happy Lunch Bunching! 🙂
Download your lunch packing and pre guide here.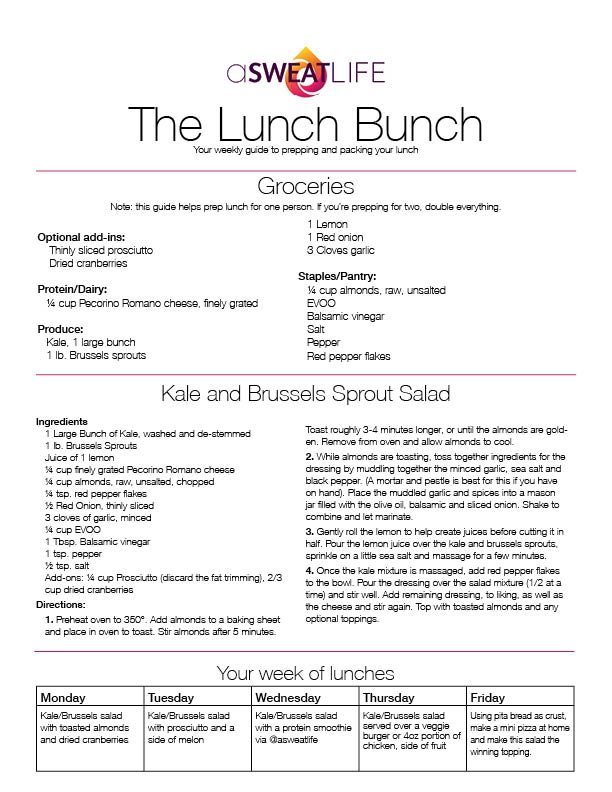 Grocery List:
Produce:
Kale, 1 large bunch
1 lb. Brussels sprouts
1 Lemon
1 Red onion
3 Cloves garlic
Protein/Dairy:
¼ cup Pecorino Romano cheese, finely grated
Pantry:
¼ cup almonds, raw, unsalted
EVOO
Balsamic vinegar
Salt
Pepper
Red pepper flakes
Optional add-ins:
Thinly sliced prosciutto
Dried cranberries
Recipe:
Ingredients:
1 Large Bunch of Kale, washed and de-stemmed
1 lb. Brussels Sprouts
Juice of 1 lemon
¼ cup finely grated Pecorino Romano cheese
¼ cup almonds, raw, unsalted, chopped
¼ tsp. red pepper flakes
½ Red Onion, thinly sliced
3 cloves of garlic, minced
¼ cup EVOO
1 Tbsp. Balsamic vinegar
1 tsp. pepper
½ tsp. salt
Add-ons: ¼ cup Prosciutto (discard the fat trimming), 2/3 cup dried cranberries
Directions:
Preheat oven to 350°. Add almonds to a baking sheet and place in oven to toast. Stir almonds after 5 minutes. Toast roughly 3-4 minutes longer, or until the almonds are golden. Remove from oven and allow almonds to cool.
While almonds are toasting, toss together ingredients for the dressing by muddling together the minced garlic, sea salt and black pepper. (A mortar and pestle is best for this if you have on hand). Place the muddled garlic and spices into a mason jar filled with the olive oil, balsamic and sliced onion. Shake to combine and let marinate.
Wash and dry all produce. Tear the kale into 1-2" bite size pieces, discarding the stems and place in a large bowl. Thinly slice the Brussels sprouts and add to the bowl.
Gently roll the lemon to help create juices before cutting it in half. Pour the lemon juice over the kale and brussels sprouts, sprinkle on a little sea salt and massage for a few minutes.
Once the kale mixture is massaged, add red pepper flakes to the bowl. Pour the dressing over the salad mixture (1/2 at a time) and stir well. Add remaining dressing, to liking, as well as the cheese and stir again. Top with toasted almonds and any optional toppings.