Finding Heat in Chiberia with CorePower Yoga
Despite being from the South, I wouldn't call myself a wimp when it comes to cold weather. I have the appropriate cold weather gear and I'm not afraid to use it. However, the first real cold spell of the winter has been a rude awakening, and it's gotten me dreaming of warmer weather and the days when I could wear a tank top to a workout (real talk, I had a dream recently that I had a sunburn and it was a wonderful dream).
In an effort to find our little bit of paradise in the midst of a winter wonderland, my roommates and I all signed up for CorePower Yoga's free week offer. Besides the fact that one of their studios is literally within eyesight of our apartment, doing heated yoga has never sounded so tempting as in "feels like -21" weather. Plus, I've never done hot yoga before. I've done a heated barre class with The Barre Code, but hot yoga has never really been something I've been dying to try. Throw "free" in front of any workout, however, and I'm sold.
So at 5:51am on Friday, January 2nd, my roommates and I bundled up and made the trek to CorePower Lincoln Park. We grabbed a set of light and heavy weights (3 lbs and 5 lbs), and quietly lay down in pre-class shavasana.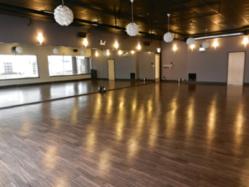 "This is great!" I naively thought to myself. "Laying down in a 95 degree room with 45% humidity is awesome. I could do this every morning."
And then our instructor walked in.
Let me be clear. My roommates and I knew we were attending "Yoga Sculpt," yes, and I'd heard someone describe it to me as "yoga poses with weights while hard-core rap plays over the speakers," but that just wasn't what I was expecting from my first heated yoga class. I don't know why. I'd been warned. But for some reason I was expecting a gentle flow that would leave me feeling rested and ready to take on the day. And while I left the studio feeling like a badass who could conquer the world, I definitely didn't get there via a gentle vinyasa.
Our instructor started us off slowly, with a few rounds of child's pose and chatarunga to downward dog. I was immediately sweating. 95 degrees in 45% humidity is no joke, and my rookie ass hadn't thought to bring a towel. Hot Yoga Tip #1: BRING A TOWEL. You will get slipperier than if you'd jumped into a pool.
From there, we moved into the meat of the workout. Over the course of the class, we did targeted exercises for arms, legs, and core, with cardio bursts in between. I would liken it to an NTC workout in a 95 degree studio- and for those of you who have done an NTC workout, you know that's pretty intense. Oddly enough, the cardio blasts were pleasantly refreshing- mountain climbers, burpees, and squat jumps can be pretty miserable, but at least we were creating wind around us to cool us off.
No doubt about it, this was a tough workout. Each part of my body was completely burned out by the time we finished that section, and I was frequently out of breath. It's a workout that would have been tough in a regularly-heated room, but completing it in 95 degrees added a whole other dimension to it. I regularly had the thought, "I am going to have to get amnesia to come to this class again."
One thing that my roommates and I figured out pretty quickly was that breaks were totally acceptable- nay, necessary. Especially as newbies to hot yoga, we rested when we needed it and drank copious amounts of water during the class (and throughout the rest of the day). So, Hot Yoga Tip #2: Breaks are okay. Do what you can with what you're feeling at the moment.
After an exhausting core set, we finally flopped on our mats for a final shavasana and stretching.  I was absolutely whipped, and my roommates and I walked out in a stunned silence. On one hand, I felt awesome: tons of endorphins, flushed cheeks, tired but loose, energized and completely thrilled about taking a shower. On the other hand, holy crap, that was hard.
So yeah, we went back. Hot Yoga Tip #3: A high-quality shower washes away any traumatizing memories of being uncomfortably hot.
Throughout the rest of our free week, my roommates and I made the daily walk to CorePower, and as the week went on, I both began to look forward to it and adapt to it. I would say that by the end of the week, my body had gotten a LOT more used to the hot temperatures. Also, CorePower's workouts are structured the same way, so it was easy for me to see improvements from class to class.
The other CorePower classes I attended during my free week were CP 1.5 and Hot Power Fusion. CP 1.5 (Intro to Heated Power Yoga) took place in a slightly heated room and was a beginner class that offered step-by-step instruction with a focus on alignment and doing the poses correctly. This is the class I would recommend that hot yoga newbies take right off the bat so that you're eased into the heat and the poses.
Hot Power Fusion took place in a heated studio at around the same temperature as the Yoga Sculpt class. I attended the candlelight Hot Power Fusion classes, and it was immediately relaxing to walk into a darkened, warm studio- the atmosphere was the perfect way to prepare your mind for the upcoming hour. Hot Power Fusion combined hot yoga and power yoga for an intense practice that I really believe helped me improve as a yogi. The poses focuses on strength and balance, and I think that my training at Hard Pressed really paid off in this class. Hot Yoga Tip #4: Yoga is just as much about strength as it is about bendiness- probably more.
Other things you should know about CorePower Yoga:
They have a ton of studios and a packed schedule of classes- you absolutely will be able to find something that works for your schedule.
Bring a water bottle. Use it.
Bring a towel. If you don't have a fancy yoga towel (which I don't), just use a bath towel. Use it.
Come early, especially to the after-work classes. There are no sign-ups for CorePower classes, so first come, first served when it comes to where you lay your mat, and it gets crowded.
Bending on a budget? Join their Studio Experience Team to get a discount on unlimited yoga for 1.5 hours of work a week.
Overall, taking advantage of CorePower's free week was a great way to hit the reset button for the new year. I was able to refresh my mind with each practice, and a few of the intentions the instructors set for each class really made an impression on me. One of those was to take pride in where you are in your practice at this moment, and I think that's a great thing to apply to every day life and wellness. No matter where you are in your journey to live a healthier (sweatier!) life, be proud of what you've already achieved, and take pride in your journey to a better you.
Let us know!
Did this post help you get closer to achieving one of your goals?