Your on-the-Road Resistance Band Workout
When I think about the holiday season, I think about a lot of miles covered by everyone across the country. More than 45 million people are expected to board a plane between Dec. 17 and Jan. 4. Yowza. That's a lot of people ripped away from their routines. Fear not. We've got you covered.
There are so many exercises you can do with bodyweight alone, but if you want a little bit of resistance and variety in your routine, bands and jump ropes are easily packed in a back pack or a suitcase. These bands
 and other sets like them are relatively cheap and can give you a range of resistance for your workout. I like a good speed jump rope
, but everyone has their own personal preference.
For a few of these exercises, you'll need a resistance band in a loop. You can either tie a long band in a loop or buy a resistance band that's already in a loop like these
.
Get ready for this resistance band workout. If you need a playlist, you can use the collaborative playlist being curated by the aSweatLife winter running team. Just make sure you listen to it with headphones so your parents don't hear the swears.
Here's your workout! You're going to do each circuit three times, with a one minute jump rope break between.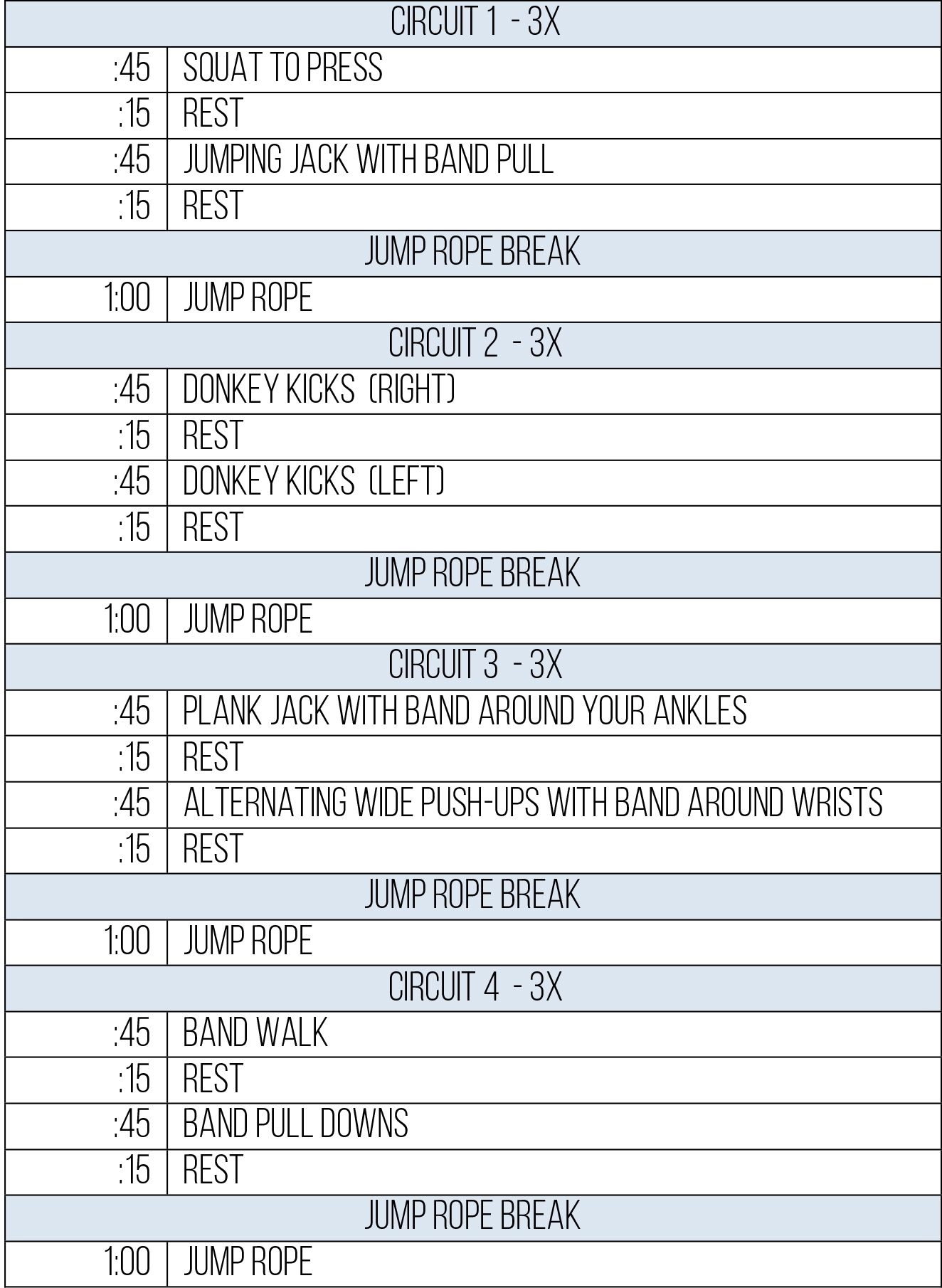 Squat to press: With the end of the bands in your hands, squat  and press at the top of that motion.
Jumping jack with a band pull: similar to a jumping jack, but with your hands in front of your chest, do a jumping jack. When your feet go wide, pull the band apart.
Donkey kicks with a band: on hands and knees, wrap the band around your working foot. Kick back and bend.
Plank jack with a band around your ankles: Either use a loop or tie a band so it makes a loop and place it around your ankles. While holding a plank, jump your feet in and out.
Alternating wide push-ups with band around your wrists: With that same loop around your hands, reach one hand out wide and do a push-up. Alternate sides.
Band walk: Place that loop back around your ankles. Keeping your knees bent, stay low and step your feet apart and back together. Take 3-4 steps in one direction then 3-4 steps back.
Band pull downs: starting with the band over your head and pull your band down to your shoulder level, keeping your arms straight.
(Disclaimer: This workout is not intended for the treatment or prevention of disease, nor is it a replacement for seeking medical treatment or professional nutrition advice. Do not start any nutrition or physical activity program without first consulting your physician.)
(Disclaimer 2: Sometimes we use affiliate links in posts and if someone buys something after clicking that link, we get a couple of cents. Blogging isn't free, party people.)