Lunch Bunch: Turnip the Beet with this Beet Burger Recipe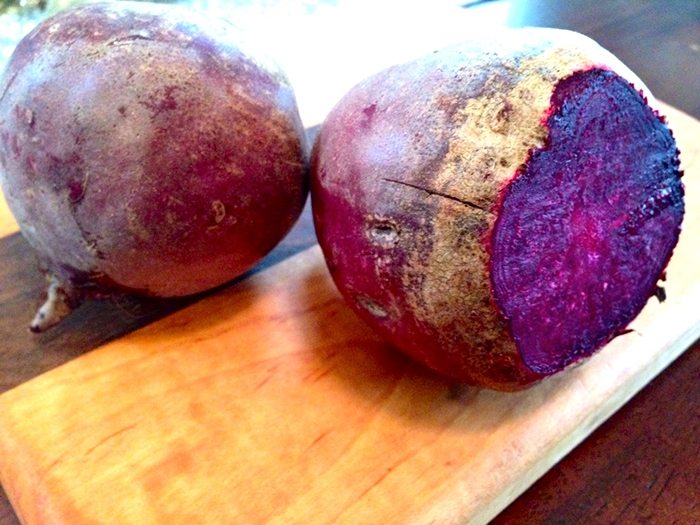 This recipe idea loosely came from my food experience back in my Australia days. One of my first food impressions was that Aussies loooove beets – beets on salads, steak sandwiches, beets on burgers and even pizza! What was all this hype?! Well, the Aussies have it right. Not only is this vegetable incredibly beautiful with its deep magenta hue, but it's also packed full of nutrition.
The pigment in beets, known as betalain, has strong antioxidant and anti-inflammatory properties. With all of the holiday parties coming up this month – this is a great staple food to fight off the winter cold and keep your immune system high! Beets support phase 2 detoxification. Simply meaning that the nutrients latch on to unwanted, toxic substances and help to excrete them from the body. It looks like these beets in this week's lunch bunch menu might even help get rid of those unwanted effects of the celebratory holiday champagne this month!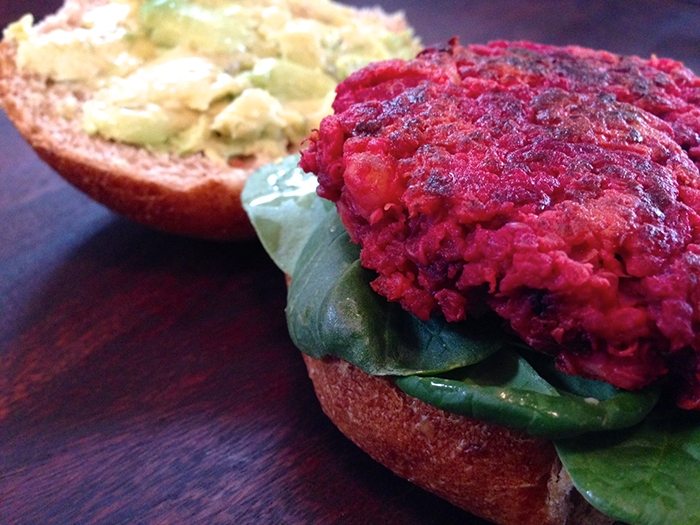 In this beet burger recipe, I used sweet potato to create a solid base for the burger and adds a lot of fiber to the meal. The beta-carotene from the vivid, orange color also provides one of the richest sources for Vitamin A. Lastly, I added quinoa to round out the recipe with a protein source. I promise this beet burger is going to fill you up and kill any burger cravings!
These beet burgers are simple, hearty, moist on the inside and crispy on the outside. And did I mention they contain only 9 ingredients?! This recipe will take only an hour of your time on Sunday and will give you plenty of options for lunches throughout your work week. Try my carrot slaw for a spicy kick or top with avocado for a gorgeous color contrast. Hey, I might even try these in a mini version for an upcoming holiday party!
Download your printable Lunch Bunch guide to help as you grocery shop and prep for a week of lunches here.
Ingredients:
5 cups raw beets, finely grated (1-3 large beets)
½ cup walnuts, crushed
1 sweet potato
1 egg
1 cup cooked quinoa
¼ cup onion, finely diced
1 tsp. paprika
1 tsp. cumin
½ tsp. garlic powder
Carrot slaw – sauté diced onion, jalapeno and shredded carrot in EVOO with salt and pepper
Directions:
Rinse sweet potato. Poke with a fork and cook in the microwave until tender, about 5 minutes. Set aside to cool. *If time allows, you can roast the sweet potato for 45 minutes at 375 degrees F in the oven.
Cook quinoa according to instructions (1/3 cup yields 1 cup cooked)
Rinse and peel beets. Finely shred with a grater. Place shredded beets into a large mixing bowl.
Crush walnuts until fine pieces.  I crush with a mallet in a sealed plastic baggie for easy clean up.
Peel the skin off the sweet potato and mash in a small bowl with a fork. Toss in the mixing bowl with the beets. Add quinoa, egg, onion, crushed walnuts, paprika, garlic, cumin to the beets. Stir well.
Form into patties and cook in a skillet, lightly coated with olive oil, over medium heat. Cook until brown on both sides – 5-7 minutes each side.
Makes 6-8 patties
Let us know!
Did this post help you get closer to achieving one of your goals?