Workout at Home on these Earlier Fall Evenings
As I get closer to my wedding (two days from now) I feel like all I'm doing is running from place to place. I'm always trying to pack as much into my day as I can, but when it comes to this wedding, there's much much more to pack into a day.
If you're moving at full tilt too or you're just having a I-can't-go-to-that-class-it's-dark kind of day, I get it. Sometimes a short and sweet workout is the best kind of workout for where you are in life.
Pack one into your day using only your bodyweight. Hotel room? No problem. Living room floor? Great. Sometimes a workout at home is exactly what you need.
Grab my playlist from this week to make this workout a serious party.

Here's your workout! If a minute feels like too much for you, cut each exercise down to :45.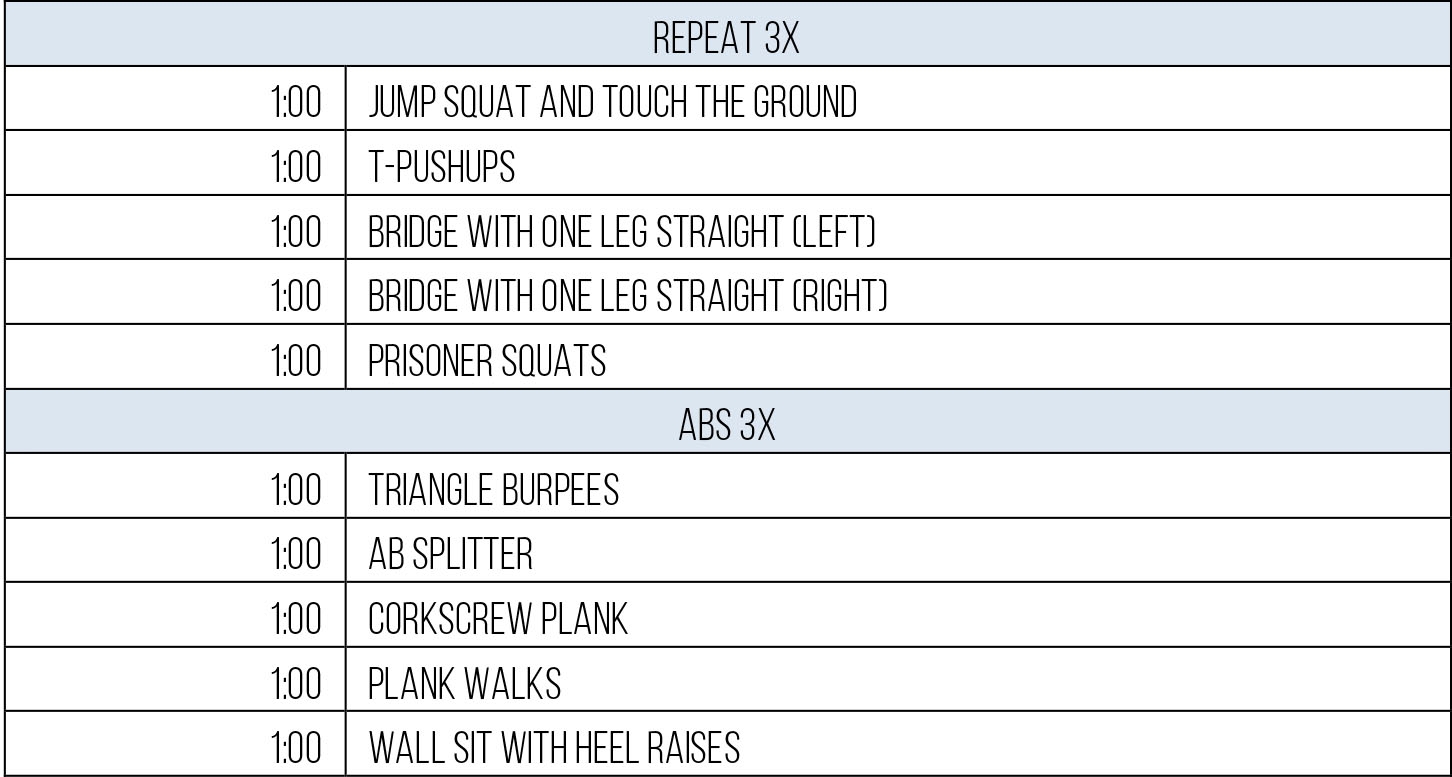 Jump squat with a touch to the ground: Start with a jump squat and reach down to touch the ground between each rep.
T push-ups: Do a full push-up, then move into a side plank, alternating sides. You can also do these on your knees.
Bridge with one leg straight: Keeping one leg straight and your knees in line, do a glute bridge.
Prisoner squats: This changes how your weight is distributed in your squat. Keep your hands behind your head in a squat while maintaining good form.
Triangle burpees: Instead of jumping your legs straight back, jump them to the side and alternate each time.
Ab splitter: With your legs a little wider than hip-width, reach up between your knees.
Corkscrew plank: In a plank position, twist your knee to the other side of your body. Alternate sides each time.
Plank walks: Move from planks on your hands to planks on your forearms and back up again, one arm at a time.
Wall sit with heel raise: You can only really do a wall sit with a grumpy face. Alternate your heel raises.
(Disclaimer: This workout is not intended for the treatment or prevention of disease, nor is it a replacement for seeking medical treatment or professional nutrition advice. Do not start any nutrition or physical activity program without first consulting your physician.)