Lunch Bunch: Vegetarian Stuffing Muffins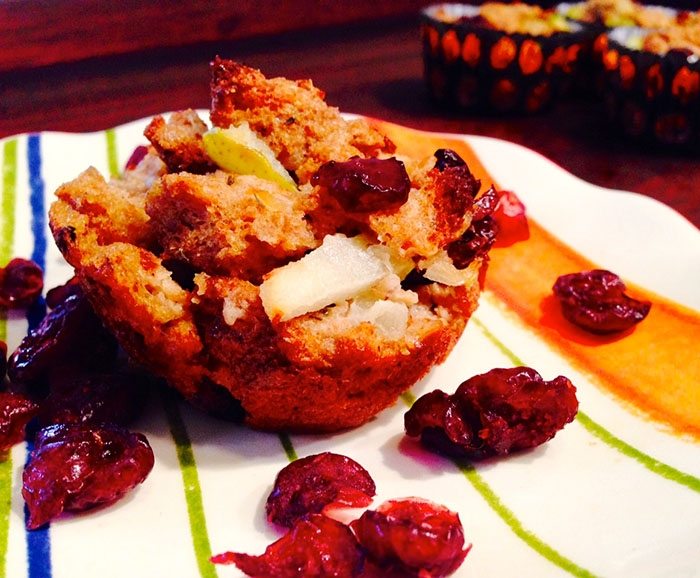 True life: I'm addicted to muffins. I could eat these things for breakfast, lunch and dinner. Luckily for me, my definition of a muffin doesn't always have to include the high calorie, oversized baked good that you see at most coffee shops. Though delicious, those darn things will probably fill ¼ of my needed calories for the day (not to mention the high fat and sugar content!). This dilemma inspired me long ago to learn how to bake all my favorite things in a healthy way. By doing this, I can enjoy the best of both worlds – great taste AND nutrition!
The focus of this week's lunch bunch is simplicity. This recipe has less than TEN ingredients! I had to experiment with the stuffing muffins ingredients a few times to get the recipe just right, but the time spent was well worth it. The beauty of muffins is that they can be used for that on-the-go breakfast, snack, or in this case – a sweet and savory addition to lunch. The stuffins are also convenient to freeze since they're made into a single serving.
My challenge for you this Sunday is to create your lunches with this side in mind. (No, I don't want you to simply be eating muffins all week!) A few questions to keep in mind:
Are you making your lunch for 5 days or just 4?
Do you participate in Meatless Monday?
Does your lunch need to be refrigerated?
How busy is your work week?
While grocery shopping on Sunday, you could go as simple as buying 2 chicken breasts in addition to the recipe below. Bake them with lemon and top with some smashed avocado and tomato (and a stuffin on side, of course!) to complete your lunch. If you REALLY do not have time, frozen veggie burgers do have a place in my freezer. On one condition, however – these veggie burgers must actually contain VEGGIES! It blows my mind that such processed, mislabeled products exist, but unfortunately the freezer isle is packed full of these deceiving "foods". This may be a whole other topic for another lunch bunch, so before I go off on a longer tangent, here are my two trustworthy favorites: Amy's California Veggie Burger and Dr. Praeger's California Veggie Burger. Both products are made with real ingredients, including vegetables and nuts, and are free of soy protein isolate and artificial flavorings. Again, top with smashed avo and side with a stuffin!
I really hope that these stuffing muffins give you inspiration for some healthy baking for the upcoming holidays. At the very least, this recipe should show you that some of the simplest recipes can also be the most satisfying! (Especially when they are guilt-free ). Now, get lunching!
Here's your weekly lunch plan. Down load the PDF here.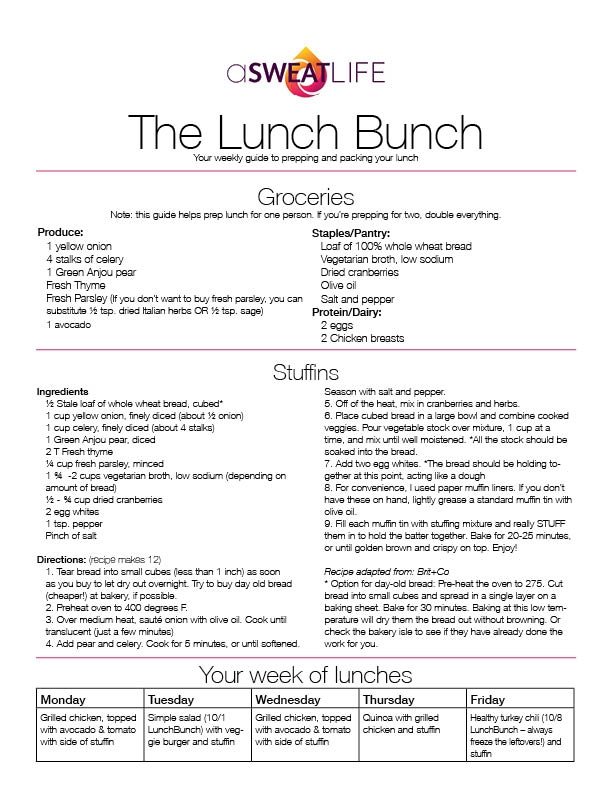 Grocery List:
Produce:
1 yellow onion
4 stalks of celery
1 Green Anjou pear
Fresh Thyme
Fresh Parsley (or dried herbs, see below)
Protein/Dairy:
Pantry:
Loaf of 100% whole wheat bread
Vegetarian broth, low sodium
Dried cranberries
Olive oil
Salt and pepper
Optional add-ins:
Recipe:
Ingredients:
½ Stale loaf of whole wheat bread, cubed
1 cup yellow onion, finely diced (about ½ onion)
1 cup celery, finely diced (about 4 stalks)
1 Green Anjou pear, diced
2 T Fresh thyme
¼ cup fresh parsley, minced

If you don't want to buy fresh parsley, you can substitute ½ tsp. dried Italian herbs OR ½ tsp. sage

1 ¾ -2 cups vegetarian broth, low sodium (depending on amount of bread)
½ – ¾ cup dried cranberries
2 egg whites
1 tsp. pepper
Pinch of salt
Makes 12 stuffins
Directions:
Tear bread into small cubes (less than 1 inch) as soon as you buy to let dry out overnight. Try to buy day old bread (cheaper!) at bakery, if possible.

Short on time? Pre-heat the oven to 275. Cut bread into small cubes and spread in a single layer on a baking sheet. Bake for 30 minutes. Baking at this low temperature will dry them the bread out without browning.Check the bakery isle to see if they have already done the work for you.

Preheat oven to 400 degrees F.
Over medium heat, sauté onion with olive oil. Cook until translucent (just a few minutes)
Add pear and celery. Cook for 5 minutes, or until softened. Season with salt and pepper.
Off of the heat, mix in cranberries and herbs.
Place cubed bread in a large bowl and combine cooked veggies. Pour vegetable stock over mixture, 1 cup at a time, and mix until well moistened. *All the stock should be soaked into the bread.
Add two egg whites. *The bread should be holding together at this point, acting like a dough
For convenience, I used paper muffin liners. If you don't have these on hand, lightly grease a standard muffin tin with olive oil.
Fill each muffin tin with stuffing mixture and really STUFF them in to hold the batter together. Bake for 20-25 minutes, or until golden brown and crispy on top. Enjoy!
(Recipe adapted from: http://www.brit.co/vegan-stuffing-muffins/)
Week of Lunches:
Monday – Grilled chicken, topped with avocado & tomato with side of stuffin
Tuesday – Simple salad (10/1 LunchBunch) with veggie burger and stuffin
Wednesday – Grilled chicken, topped with avocado & tomato with side of stuffin
Thursday – Quinoa with grilled chicken and stuffin
Friday – Healthy turkey chili (10/8 LunchBunch – always freeze the leftovers!) and stuffin