A Bodyweight Workout with HIIT, Arms and Abs
If you're in a hotel room right now (like I am) or if you're just trying to fit a quick workout in at home, this quick workout will help you get your fitness fix with a dose of arms and abs.
Turn on my party workout playlist to turn on some instant motivation.
Here's your workout.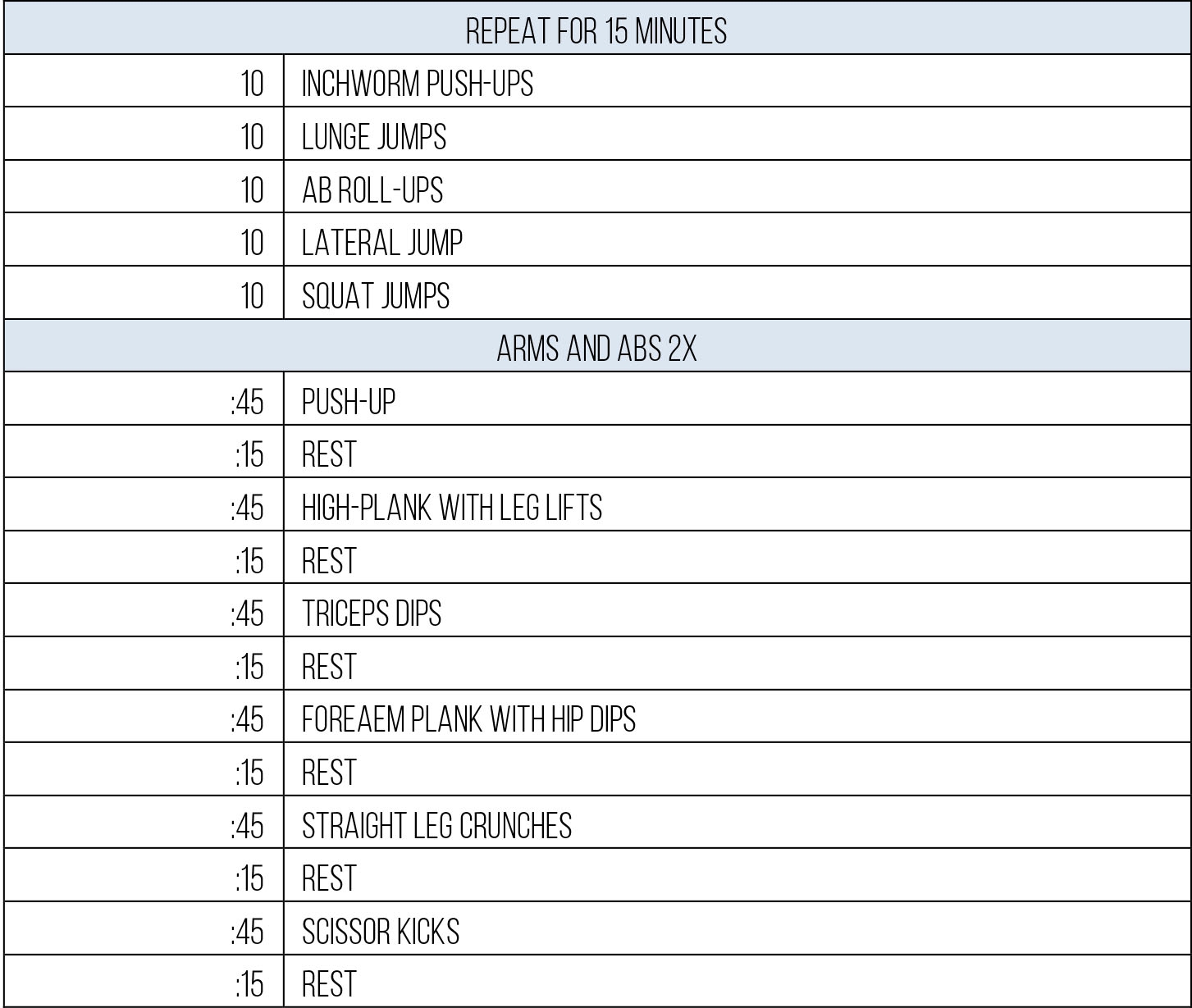 Inchworm push-ups: Crawl out from a forward fold to a plank and do a push-up when you get there.
Lunge jumps: Start in a lunge and alternate sides by jumping
Ab roll-ups: with control, roll up to touch your toes from a laying position and back town again
Lateral jumps: jump from side-to0side over an imaginary line on the floor
Squat jumps: start in a squat, jump and land lightly in a squat again
Push-ups: on your knees or toes
High plank with leg lifts: hold a plank and life one toe at a time with a straight leg. Alternate sides.
Triceps dips: With your fingers facing towards your butt, bend your elbows and straighten them
Forearm plank with hip dips: Holding a forearm plank and dip your hips to the side. alternate sides.
Straight leg crunches: with your legs straight in the air, crunch up
Scissor kicks: Leaning back on your elbows, switch kick your legs
(Disclaimer: This workout is not intended for the treatment or prevention of disease, nor is it a replacement for seeking medical treatment or professional nutrition advice. Do not start any nutrition or physical activity program without first consulting your physician.)
Let us know!
Did this post help you get closer to achieving one of your goals?