Chopped Salad Recipe for Healthy Home Entertaining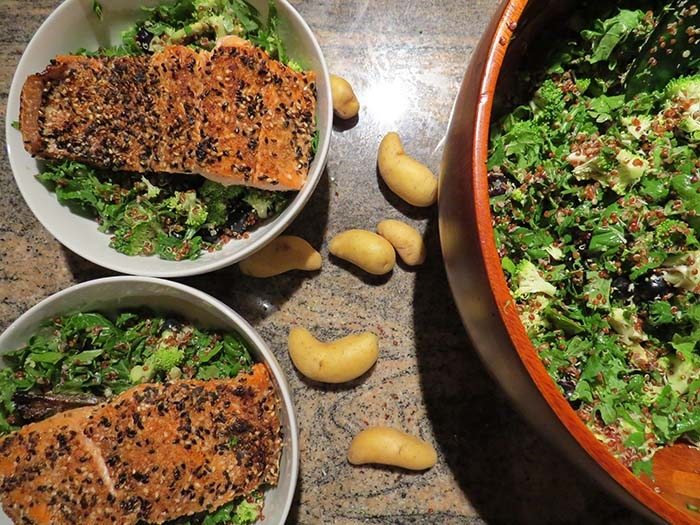 I love girls' night out. I usually try to coerce my girlfriends to go out as often as possible, which is usually about once a month. As we've gotten older and found ourselves much, much too old for whatever we were doing at the Houndstooth Saloon right out of college, our GNOs have turned into more of a dinner affair.
This year, my friends are in a lot of weddings – mine included and, you guys, this stuff is expensive. There was the bachelorette party in Nashville (a highly recommended location even if you're not a sash-wearing kind of bride-to-be), then the bridal shower and then the actual wedding. It's a financial drain.
So financially and health-wise, it makes sense sometimes to just entertain at home. I'm not saying all the time. Just sometimes.
A week ago, I had a girlfriend over and we made my favorite chopped salad recipe – a detox salad, which is not a detox in the juice cleanse kind of way, but it's just good, clean eating. The only real chopping you'll have to do will be kale and broccoli, so fear not, you won't be slaving over a cutting board.
I don't love salads most of the time because they're usually a pile of delicious stuff (meat, veggies, cheese, dressing) on top of a pile of boring stuff. By the time I'm done eating my way through the delicious stuff, all that's left is the boring stuff, which I immediately discard. Thus, defeating the purpose of the salad. A chopped salad gives you a taste of everything in each bite and all of that green, leafy goodness can come along too.
Salad Ingredients:
1 bag, pre-cut, pre-washed kale or 2 bunches
1 bag pre-cut, pre-washed broccoli
1 cup blueberries
2 cups cooked quinoa (I think red quinoa looks really pretty, but that's just me)
1 avocado
Dressing ingredients:
Juice of 2 limes
4 TBS olive oil (or your preferred oil)
1 tsp cumin
1 TBS Agave nectar or honey
Directions:
Step 1: Make 2 cups of quinoa (uncooked, it will be more like 1 cup), set aside to cool in your fridge or freezer (If you're in a pinch, but don't forget about it).
Step 2: Chop kale and broccoli into pieces that are small enough to not make you look like a weirdo when you try to put lettuce into your mouth. Approximately one square inch.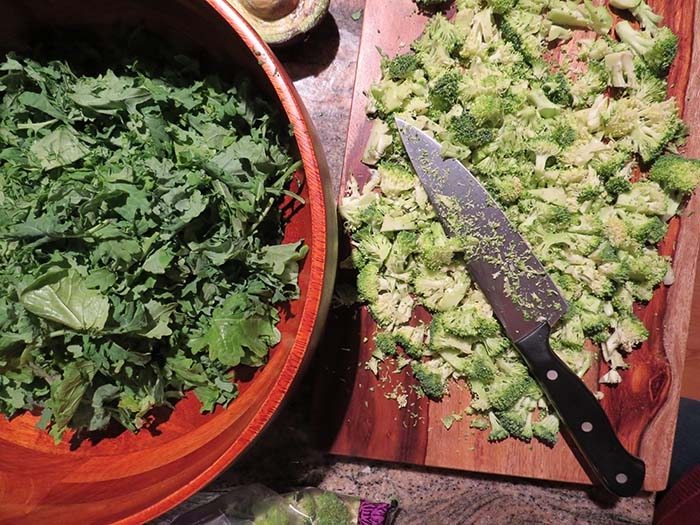 Step 3:  Wash blueberries and add to salad. Cube avocado and add to the mix.
Step 4: Add the cooled quinoa to your salad
Step 5: Mix together dressing ingredients. A cool trick my sister (or mom? … some female in my life) taught me is to microwave a citrus fruit you're about to juice for 10-15 seconds for greater yields. Toss everything together.
Step 6 (optional): Place your protein of choice on top of the salad. We made salmon.
Enjoy!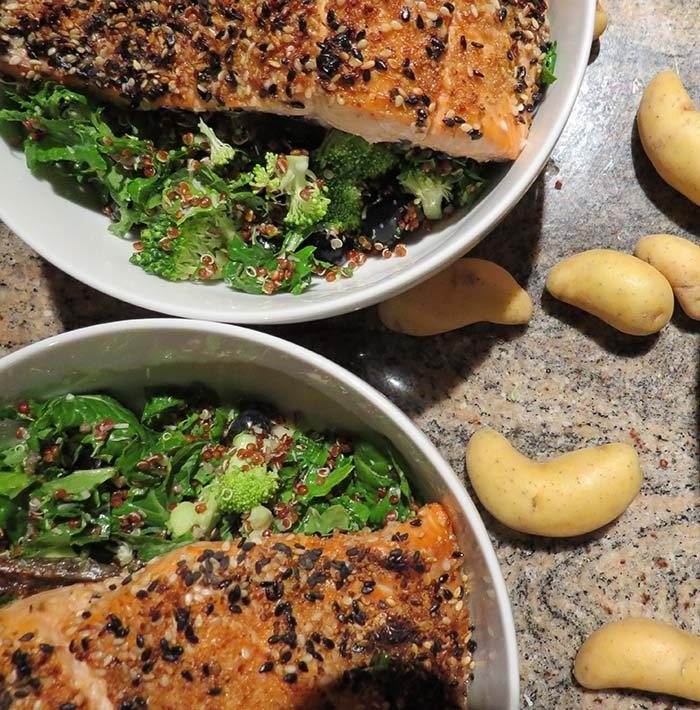 If you want, you call follow up dinner with Pumpkin smoothies (we did). (Recipe here)