Full Psycle Opens a New Chicago Cycling Studio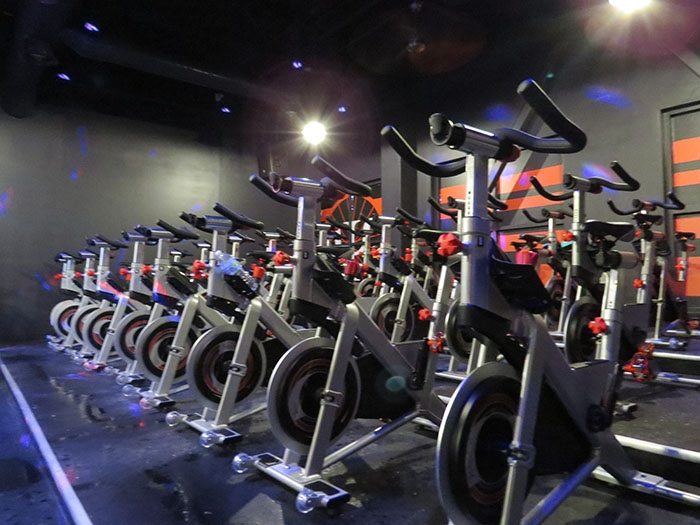 A new Chicago cycling studio with Orange County roots that promises to work you from head-to-toe, just opened its doors. After walking out of my first Full Psycle class completely drenched in sweat and absolutely spent, I can attest to that.
If you love spinning, it will give you everything you've come to look for in a class – standard clip-in shoes for everyone, great music, a challenging pace and motivating instructors.
Full Psycle also give you the data you need to track your progress over time. I get crazy over fitness data, whether that means wearing a wristband to see how many steps I've taken or knowing exactly how hard I'm working in class by glancing at a screen. Full Psycle's classes offer a constant stream of data. During your ride, you're able to watch your performance and push yourself to improve. You'll also get an email following your class with one compiled report showing how you performed, which you'll be able to chart and track over time. Again, I love data and yes, this is a nerd alert.
I burned 607 calories and went 19 miles, thanks for asking.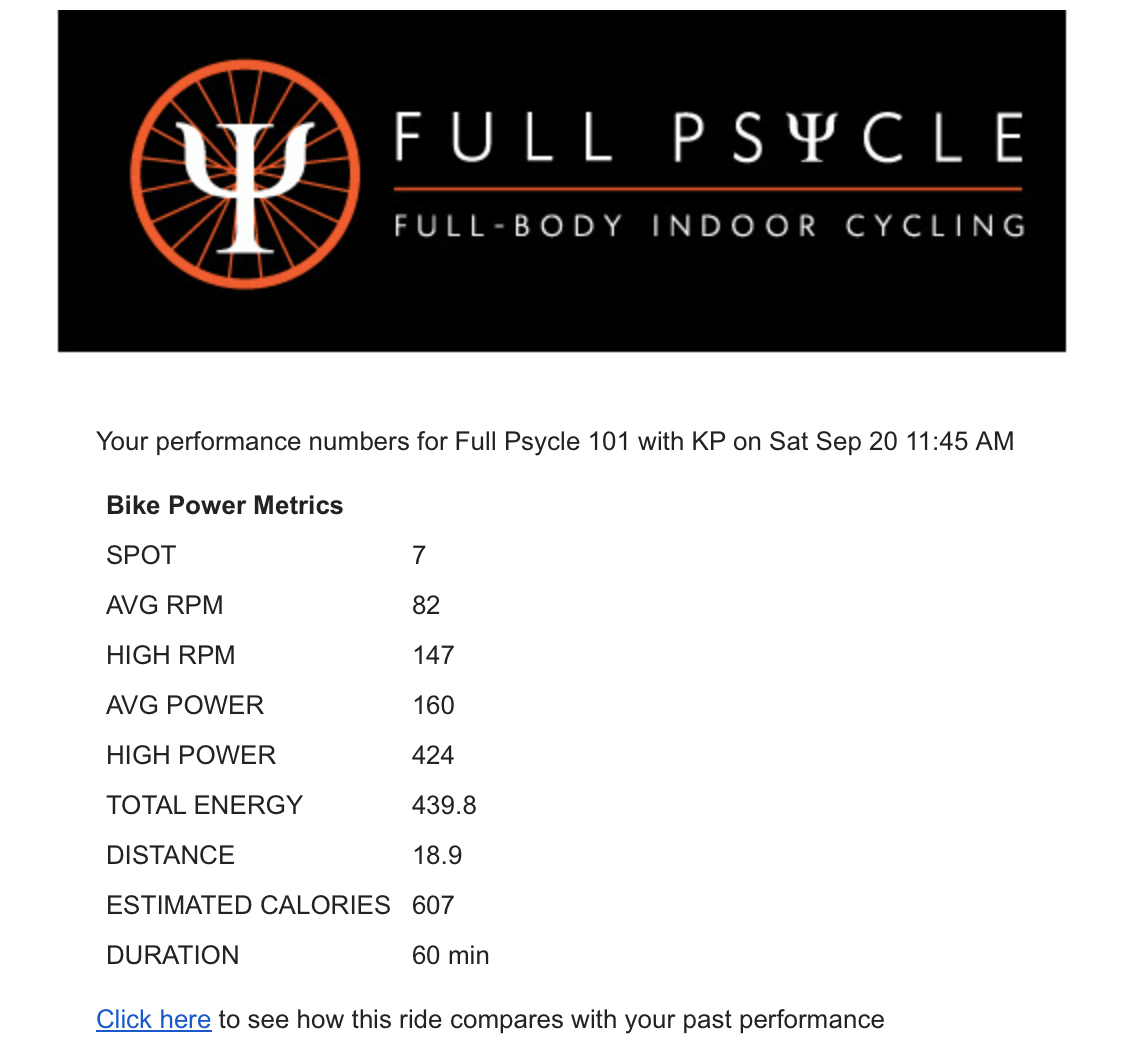 With the screens hanging up in class and all of that data floating around, there's also a fun way that Full Psycle uses that to bring the class together as a team. Instructors either break the room into teams or challenge the entire class to work together to achieve a single goal.  Team races take the rows in class and split them into teams and each team competes for the best average performance. When the class has a specific goal, the entire class is working together to hit a specific power goal – for example, if each person is capable of hitting a goal of 10 power points over the course of a minute, the goal for a class of 30 people would be to hit 300 power points in that same time. Team work makes the dream work.
But let's not forget about the upper body work. Throughout these classes, you'll find that you're doing a lot more with your arms, shoulders and upper back than you may have ever done in a spin class before. We spent one song going through pushups on the bike and another two using weights to really target the upper body.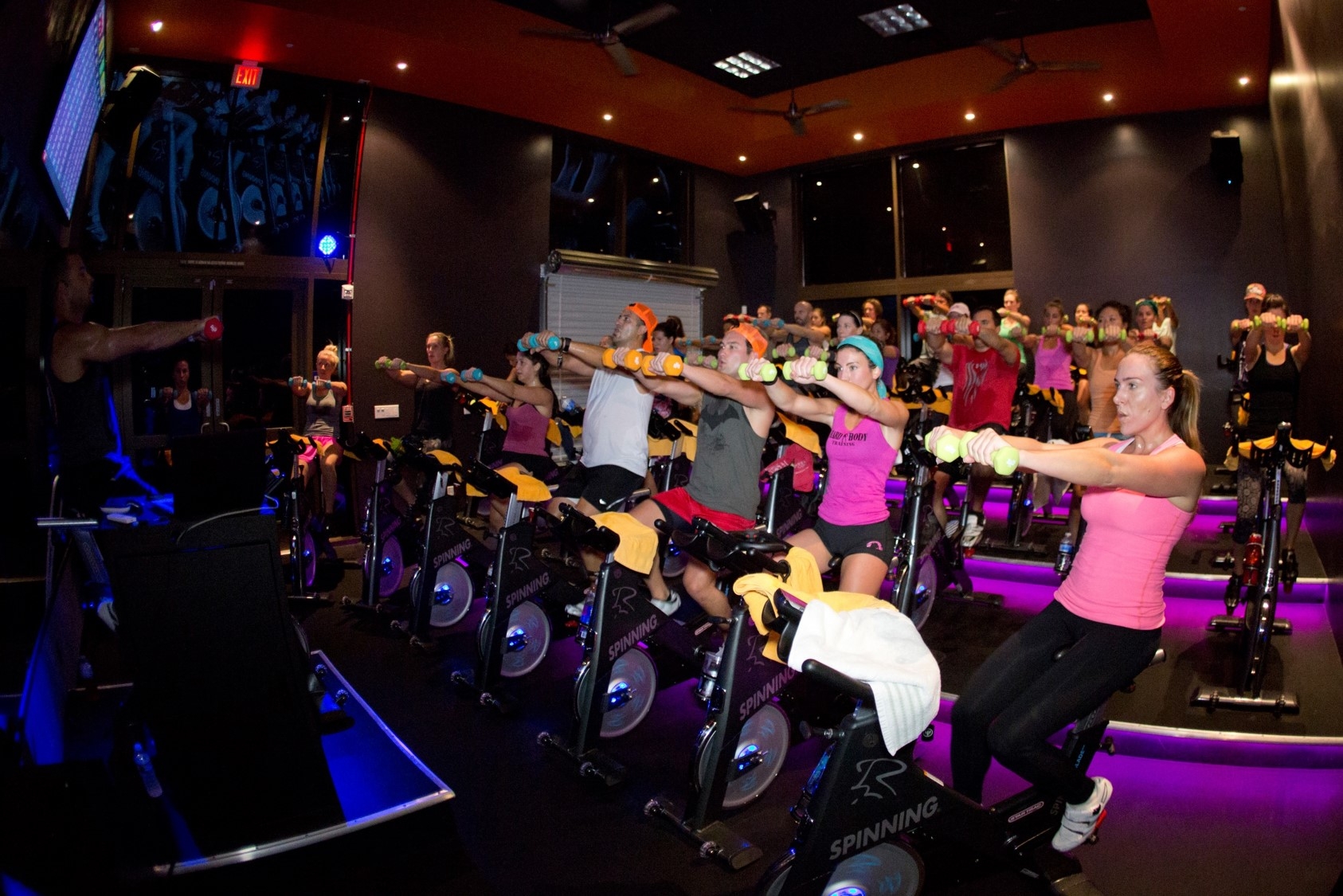 Get in there and give it a try. The regular schedule starts Monday, September 22. Reserve here.
Gym: Full Psycle, 2121 N Clybourn
Class focus: An indoor cycling class that works you from head-to-toe
Cost per class: 
$24 for a single class
$100 for a 5-pack
$195 for a month of unlimited classes
Let us know!
Did this post help you get closer to achieving one of your goals?