Chef Graham Elliot Running the Chicago Marathon for Smile Train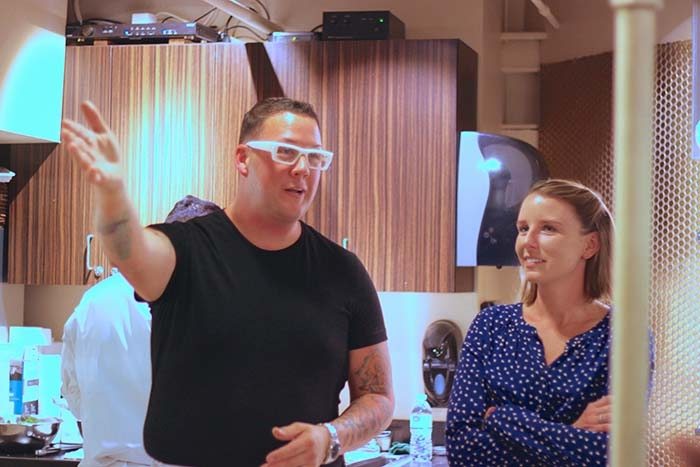 (Photos by Christiana Basso)
For Chef Graham Elliot running the Bank of America Chicago Marathon is about more than his  recent shift to a healthier lifestyle and his subsequent weight loss. His race, with his wife Allie Bowles by his side, will also benefit Smile Train, a charity that hits home for the couple.
But before Elliot could decide to run a marathon, he needed to choose a healthier lifestyle. If you've watched the past few seasons of TV show Master Chef, Elliot said that he was at his heaviest after years spent struggling with his weight.
"I just got to the point when we're doing Master Chef, especially with the kids and we're telling them, 'You've got to eat healthy. You've got to understand why food is the way it is.' And I'm sitting there at 400 pounds trying to tell them this," Elliot said.
After losing and regaining weight several times, Elliot elected to pair weight reduction surgery with healthy eating and exercise.
"I started running and [the other hosts of Master Chef] were very, very supportive of that," he said.
That's not to say that the other chefs, Gordon Ramsay and Joe Bastianich, aren't still trying to win, even off the set.
"They are the most competitive guys in the world … I'll be in the middle of them, and they're like, 'I ran 16 miles this morning,' and the other one will be like, 'Oh yeah? I ran 40 yesterday,'" Elliot said.
After hearing Ramsay and Bastianich talk about running the LA Marathon, Elliot decided to make his marathon debut at the Bank of America Chicago Marathon.
"Chicago is where I'm at and where I want to be and it definitely made sense for the first one," he said.
With the help of coach David Coligado, Elliot and Bowles started training for his first marathon. They've made appearances on the lakeshore path and races across the city, but there's a greater purpose to the miles.
Behind the training miles is Smile Train, the charity for which Elliot and Bowles are raising money. Smile Train works to create sustainable clinics across the globe to help children get surgeries they wouldn't otherwise have access to in order to repair cleft palettes and cleft lips so that they can smile, eat and breathe normally.
For Elliot and Bowles, the work that Smile Train is very personal.
"We first learned about Smile Train in 2012 when our son Conrad was born with a bilateral cleft lip. We did a lot of research about clefts and we found that Smile Train does a lot of work repairing clefts around the world," Bowles said, "We actually had the privilege of joining smile train in one of their clinics in Mexico City and we met the amazing surgeons there and they come into he country and create a self-sustaining clinic … They're trained to fix problem and treat the patient as they get older." You can donate to Elliot and Bowles' efforts here.
According to the race director of the Bank of America Chicago Marathon Carey Pinkowski, Elliot and Bowles will join the ranks of about a quarter of the finishers who run for charity.
"Last year we had over 10,000 runners [out of 40,000 finishers] that ran for our associated charities and we raised over $15.2 million," Pinkowsky said.
But with all of those miles for charity and his transition to a healthier lifestyle, Elliot and Bowles needed to find healthy food to fuel the training. At a recent event held at by the Bank of America Chicago Marathon and Mariano's Market, the couple showcased one of their favorite recovery meals (excluding the cupcakes that they work for and earn after their long runs).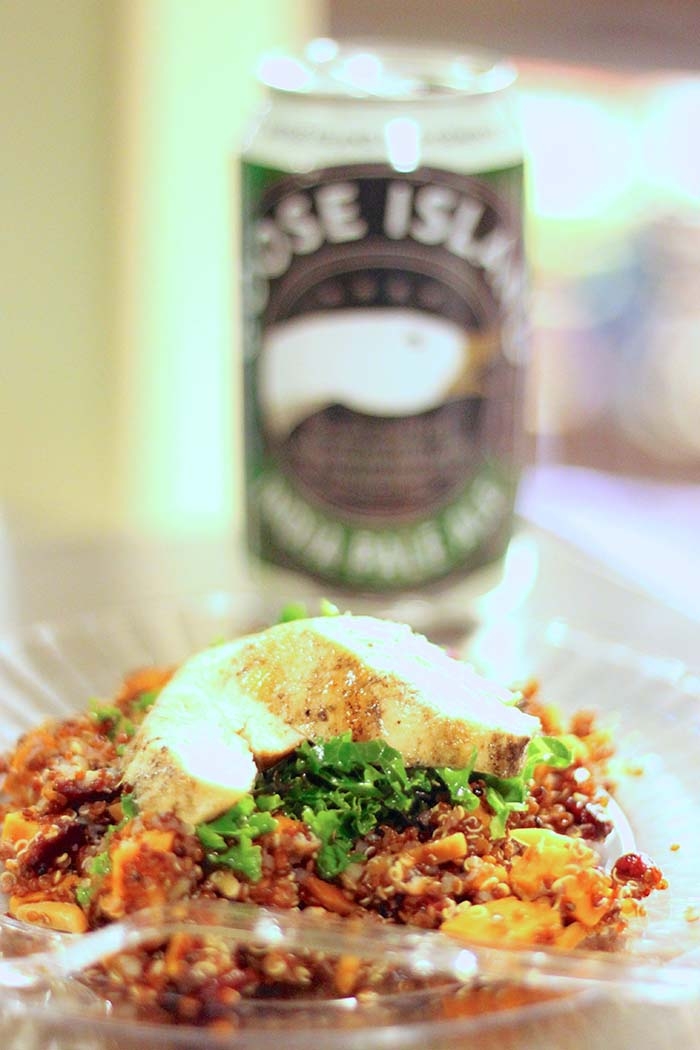 (Photos by Christiana Basso)
Try Graham and Allie's quinoa dish at home.