Marathon Monday: Cross Training for Runners
When you're training for a marathon, it's pretty easy to get caught up in running, and only running, for your daily sweat. I'm pretty guilty of that – the training plan I'm on calls for running 5 days a week, typically, and as they say, the only way to get better at something is to practice, practice, practice, right?
Well, to an extent. While running regularly will certainly help your body get used to the rigors of running a marathon (especially if you're an advanced runner following a plan such as the Hansons Marathon Method: A Renegade Path to Your Fastest Marathon

that focuses on "running while fatigued"), cross-training helps balance out your body, gives your legs a bit of a break, and provides just the right amount of muscle confusion so that your muscle development and training don't hit a plateau. As we like to say here over on A Sweat Life, variety is the spice of life, and that doesn't change whether you're training for a marathon or just trying to get out of a fitness rut.
To explain a little more about how cross-training can help runners, we called on one of our favorite Chicago trainers, Betina Gozo of Crosstown Fitness, who will be running her first marathon this fall here in Chicago. We're both training with Nike's 2SixPoints2 marathon crew,  so Betina knows a thing or two about why cross-training is important for runners. Here's what she had to say: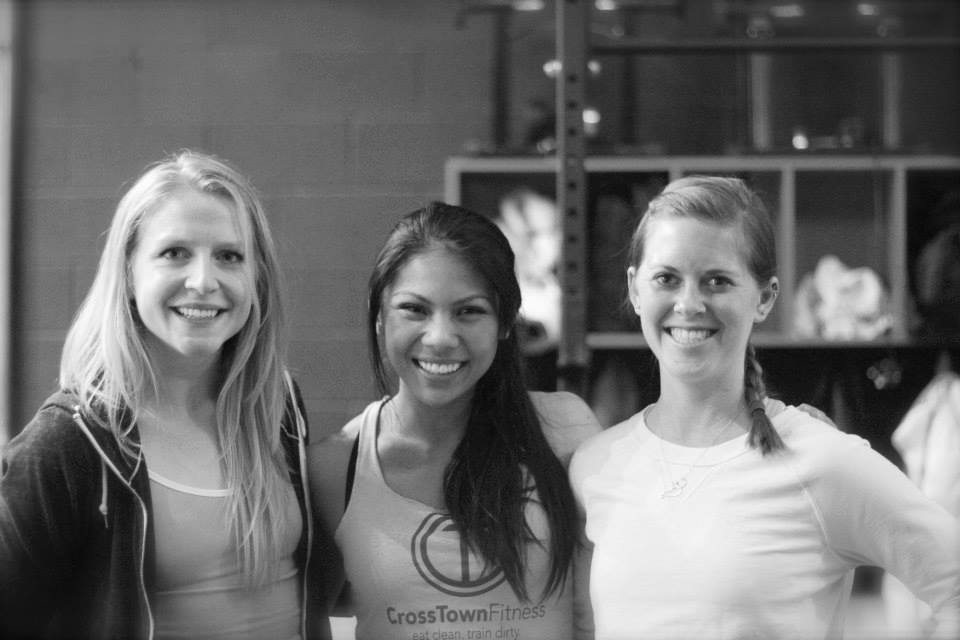 Why is it important for runners to cross-train during marathon training? 
Cross-training is another way to get your heart rate up without having the high impact on your body that running has.  You can mix weight lifting, spinning, swimming, etc, and your heart rate can work just as hard.  Running also causes muscle imbalances, so cross-training is important so that runners can give their posterior body parts and your upper body a lot more attention.
What kinds of cross-training are most effective for running? 
Runners should work on their hips, calves, glutes and shins- and you can do a lot of these kind of exercises with just body weight! For example, calf and toe raises, bridges, squats, side-lying hip abduction raises, and more are all exercises you can do at home on your own without the having to head to the gym.
Incorporating resistance training is also important so runners can strengthen their lower extremities along with their core. It's very important for runners to know how to activate their core to prevent injuries.  Runners should be doing planks, leg raises, side planks, etc.
At Crosstown Fitness, you focus on high intensity interval training (or HIIT). How is HIIT beneficial for runners?
HIIT is great cross training for runners because it will build up their cardiovascular endurance.  There have been many studies that have shown that doing intervals at a high intensity produces the same physical benefits as some long-duration endurance training even though it takes way less time.  You don't need to go "all out" – you want to make sure you can sustain your energy and form through your whole set of intervals, but you still want to be pretty gassed at the end!  I like to do 4 minute sprints, tabata style.  20 seconds on, 10 seconds off!
One of my favorite things in the world is having clients talking to me after class or sending me messages on Facebook letting me know they PR'd a race or had a more enjoyable time on a hiking trip, etc because of the HIIT cross-training they have been doing with me!
If you're ready to take a break from pounding the pavement, you can check out Betina and Crosstown Fitness in the West Loop, attend a free NTC class downtown, or check out our amazing map of fitness options around Chicago. Don't worry, the lakefront path will still be there after your cross-training day – and the next time you run on it, you'll be faster, better, and stronger.