Sarina Jain, the Woman Getting the World Up and Moving, Indian-Style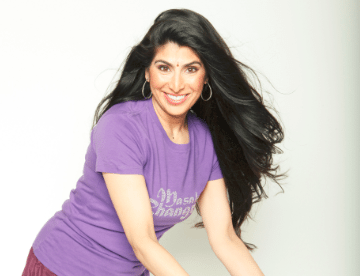 On a Sunday morning, I breezed into a Starbucks in the West Loop to meet Sarina Jain, the "Jane Fonda of India." With a suitcase in tow, she was riding a high from her weekend in Chicago, where she brought her Indian culture to thousands at Self Magazine's workout in the park.
I can say, in retrospect, that getting to spend an hour with Sarina was an honor not just because she's a big-wig in the fitness industry, but because she's the kind of person with such a remarkable story and such a tangibly good soul, it's easy to see how she's touched so many lives.
Fifteen years ago, Sarina knew that big things were to come for her Indian dance workout, Masala Bhangra, but she couldn't have imagined the global reach that she'd one day have.
As an Indian-American, Sarina's connection to her family and her roots is strong, which inevitably fueled her drive to expose the world to Masala Bhangra. Her father gave her roots in her culture and allowed her to embrace her home in the United States.
She remembers, "My dad was a very proud Indian man living in the United States. Dad was one of those Indian fathers that was very culturally open, he'd say, 'I want you to experience everything this country has to offer, but don't ever forget where you're from.'"
Tragically, her family lost her father when he was only 47 years old after he suffered cardiac arrest. She said, "To honor him and his existence … I decided to take on the biggest challenge of my life  – to get the world up and moving"
In a classic American-dream story, Sarina funneled her passion for fitness and her desire to share her culture into developing her program in her garage. She remembers meeting resistance and being pushed towards a real job, "All my aunties and uncles would say, 'Sarina, this is going to go nowhere. No one is going to do this. Who will get up and do this? Please go find a real job or go get married.'"
As she toiled by day at a desk job, the idea of Masala Bhangra wouldn't leave her. She said, "I worked one or two years in a PR firm because that's what I thought I was supposed to do, even though in the back of my mind, I was saying, "I've got to do the Indian dance workout. Of course I'm going to do the Indian dance workout.'"
Over fifteen years, she's built an empire that boasts over 12 workout videos and 500 Masala Bhangra ambassadors around the globe all earning her "one of the top 5 workout videos according to AOL and one of the top 8 workouts to try according to Glamour Magazine." Sarina joked, "I guess I was onto something."
The method that Sarina created fused the aerobic fitness that she'd come to love with the masculine Indian folk dance know as Bhangra and wrapped it all in the glamour of Bollywood. She said, "Masala Bhangra is the yang to yoga. We open up by saying "Namaste," we close by saying "Namaste." I honor the ground we walk our dance class on the same way that yogis do."
As she started to bring the method to fitness fanatics, she got "one of her first big breaks when she was offered a show on FitTV." She remembers, "As soon as I started doing the show, I started getting calls from other instructors who were like 'this is a great class, I'd love to teach this class.'"
The inquiries didn't stop. She decided to expand the network of Masala Bhangra teachers. Teacher training started with a class of two people and went up to 20 and eventually Sarina was crossing continents to share her method.
She carefully selected the teachers she trained to keep the quality of the class high all while maintaining the integrity of the cultural elements. Sarina teaches her ambassadors "about the little nuances of the Indian culture … and when Indians come to their classes, they're like – Blonde? Blue eyed? How did you know [how to do] that?"
Now this calorie torching workout is allowing people across the world at various fitness levels to experience a new culture and burn an average of 500 calories in the process. Sarina described the less coordinated ilk (so there's hope for me) who still pick up the class with ease, "What's cool is that we start with the base workout and we add on and they we learn this entire routine and it's easy to add on … If you're able to get that one move, add onto it and finish the whole routine, you'll walk out the door feeling accomplished. That's Masala Bhangra."
She uses an easy format to follow, known in dance and aerobics as the 32-count, which is easy to recognize when you hear, "One, two, three, four, five, six, seven, eight," over and over again. This format helps people to follow along more easily and she says, "By the end of it, you want to find me my husband just so you can get to my wedding [and dance]."
Sarina started the workout to inspire people like her father – her Indian "aunties and uncles"  – to experience a higher quality of life through fitness. She ended up introducing the world to her culture and a new way to be fit. As she continues her mission to get the world healthier, she challenges those fearful of trying her class or any other class, saying, "You know you want to get up and move. You know you want to be healthier. And when you know all of that, the only person who can help you is you."
For the female entrepreneurs on the brink of starting something new, Sarina's advice: "How many more days do you want to be fearful. How many more hours do you want to stay in this fear? How many more days do you want to stay in that state of mind. I'm going to ask you to get out of your comfort zone … step out of it. You've got nothing to lose."
Want to support Sarina Jain as she works to create the first Indian dance workout infomercial? Support or share her Indigogo campaign, which will allow her to involve real people in a Bollywood style dance in the heart of New York City.
Let us know!
Did this post help you get closer to achieving one of your goals?