Meal Prep 101: How to Plan for Healthy Eating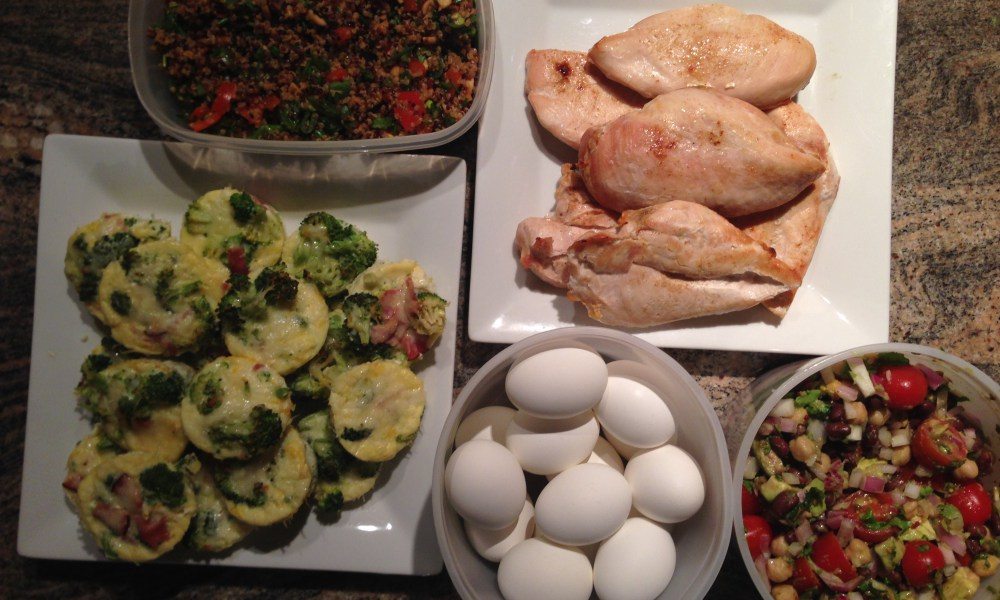 Meal planning sounds like a big job. It's two of the things I used to hate to think about on any given weekend: cooking and general domestic order. But like all things in life, you don't just HAPPEN to eat healthy. You have to have a plan. Your plan may be different than mine based on your own dietary restrictions, but here's how Fiance and I prep for a week of healthy eating.
Step 1: Figure our what you're going to eat  
Every week, I mix new flavors with staples to avoid getting stuck in a rut. If you're eating plain chicken, broccoli and quinoa for dinner every night, you're not going to make it far on your healthy eating plan.
I do a little bit of research every week to find new recipes to mix it up, but I will ALWAYS have things on hand like eggs and Fage Greek Yogurt (I'm not working with Fage, I just love the stuff) in my kitchen. Variety, will keep you interested and ease will help to you actually reach for the good stuff.
There are a few blogs and websites I look to when I'm adding something new to the menu including Cooking Light, Kalyn's Kitchen, Skinny Taste and my Mom's Pinterest board named "Healthy Food Even Wayne Likes"  as it is healthy food that she tricks my father into eating (bless her heart). Spend no more than 20 minutes on this.
New items on our menu this week:
Staples:
Chicken breasts (cooked all at once)
Lunch meat
Eggs (for hard boiling and other delicious egg activities)
Fruits
Veggies
Almond butter
Fage Greek yogurt
spices
Almond milk
Step 2: Make a list and shop
Once you've figured out what you want to each, make a list based on the layout of the grocery store. This helps you from forgetting anything or flat-out giving up on your recipes because you made it to the register and, of course, you forgot ginger.
A great tool for the tech savvy and repeat grocery buyers is ZipList. I can't share an exact link to my zip list with you, but I CAN show you exactly how ziplist compiled my shopping list based on the recipes and section of the grocery store. Talk about a life saver.
Produce
Apples
1 medium avocado, diced
Avocados
Baby Carrots
Bananas
Broccoli
4 cups broccoli florets
1 cup cherry tomatoes, halved
1/4 cup cilantro, chopped
1 cup diagonally sliced celery
1/2 cup diagonally sliced green onion
2 cloves garlic, minced
1 tsp. Spice World Ground Ginger Root or grated fresh ginger root
1/4 cup minced red onion, finely diced
1 red bell pepper, finely chopped
Limes
Condiments, Dressings & Oils 
3 T avocado oil (or other neutral flavored oil)
cooking spray
1 tbsp extra virgin olive
1 tsp olive oil
1 tsp. rice vinegar
1 tsp. sesame oil
2 T soy sauce (low sodium is fine; use gluten-free soy sauce if needed)
Meats
Canned Foods, Soups & Mixes
15 oz can black beans, rinsed and drained
1 cup canned chickpeas, rinsed and drained
2 cups vegetable stock (I used a 14 oz. can of vegetable broth and added a little water to make 2 cups)
Grains & Pasta
1 cup quinoa, rinsed well
Almond butter
Dairy
almond milk
1 cup egg whites
Eggs
4 whole large eggs
1/4 cup good grated cheese like pecorino romano
1/4 cup reduced fat shredded cheddar (Sargento)
Deli
Baking & Cooking
1/2 cup chopped peanuts
 pinch crushed red pepper flakes
1 tsp cumin
1 1/2 cups diagonally sliced sugar snap peas
1/2 teaspoon salt
 salt and fresh pepper
1 tsp. Agave Nectar (or other sweetener of your choice)
Step 3: Make and store your food 
You've got all of your groceries. Great. I know you're busy. If you just put all of that in your fridge and and pack it away along with your good intentions, it will go to waste in a week's time.
Pull it together all in one cooking session or all of that planning will, again, rot in your fridge. Follow these proper food storage procedures to keep you and your loved ones safe.
When you're all finished, your meals will be delightfully easy and made up of colorful foods like, Broccoli and cheese mini egg omelets:
Skinny Taste's Fiesta Bean Salad:
,
Two hours of work will make your entire week healthier and easier.