Bootcamps in Chicago with LivingFit
Bootcamp: Living Fit chicago
Edgewater

5:50 a.m.
Monday, Wednesday, Friday
St Gertrude Church Gym (Granville & Glenwood)

Andersonville

9:00 a.m.
Monday, Wednesday, Friday
Cheetah Andersonville (5248 North Clark Street)
Class Focus: These boot camps aim to give you a total body workout all while spiking your heart rate and torching calories.
Cost per class:  $25 for a drop in class
The Fab Fit take:
The Living Fit Chicago bootcamp has a unique advantage over outdoor-only boot camps. These classes take place come hell or highwater, year round because each class has an alternate location for rain, snow or anything else that may impede you in your pursuit of fitness (aka happiness). In Edgewater, classes take place at St. Gertrude Church Gym, who are we kidding, most of the year and move outside in the summer. In Andersonville, classes take place at Cheetah gym and have a steady outdoor location for the greener months. This is a great option for anyone researching bootcamps in Chicago and hoping to find a year-round fitness home.
When I stepped into Jen's 5:50 am boot camp class in Edgewater, she told me at a near whisper, "Our classes are known for being hard." She wasn't exaggerating and I was immediately into it. Within the first ten minutes of the 60-minute class, every face was covered in sweat.
We warmed up with 5 minutes of X-jumps, skaters and burpees and as soon as I realized that was only the warm-up, we were already into the "actual workout." The rest of class was made up almost entirely of compound exercises, or exercises that focus on two or more muscle groups and can burn more calories as a result.
The classes are BYOD – bring your own dumbbells. I took this as an opportunity to finally grab some dumbbells for my at-home workout needs. Twist my arm. I picked up a set of 5 lbs and 8 lbs weights at Target. Yes, Target does, in fact, have everything. These weights were used throughout the three sets of exercises that we rotated through three times.
One really challenging weighted exercise was a wide plank with weighted front raises.I'm still feeling that in my shoulders and back.Another crafty use of the gym space was a push-up variation that used basketballs to destabilize – you can also do these with med balls, but if you happen to have an entire bin of basketballs at your disposal – use those.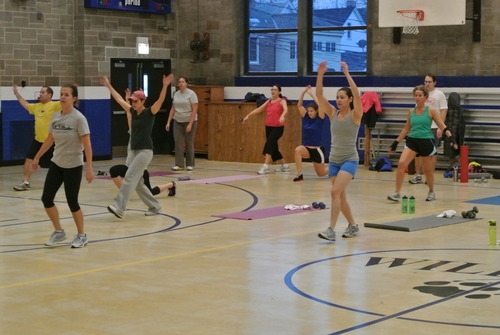 (Image courtesy of Living Fit Chicago)
The ab series closed out the workout with the only muscle-group specific section of class, but the targeted exercises were killer and were not the nice little cool down that I thought they'd be.
This class jump started my day with sweaty insanity and I loved every difficult minute. If you're just starting a new fitness program, the instructors will give you ways to scale every exercise to fit your level of fitness. If that sounds like your kind of morning too, you can register here.