Cardio Dance at Studio Fit {And a free week of classes}

Class title: Cardio Dance
Studio: Studio Fit, 1011 W Armitage
Class Focus: Dancing yourself fit with high-energy music
Cost per class: $13 for a single class, which, for the class type and the neighborhood is a complete steal
Money saving offers:
New students can get a free week of classes, visit the studio and use the code "FabFitChicago" in the referral field on the new member form during your first visit (see studio for details, offer expires 5/7/2013)
Packages can bring the price all the way down to $9/class
Sure Fit membership: $89/month if you work out 10 times in a month (Good and good for you)
Nike+ Fuel Points Earned: ~1,700 (about 500 calories)
The Fab Fit take:
I will try any class. Absolutely anything, but the only classes I get really nervous to try have "dance" in the title. So as I walked into Cardio Dance at Studio Fit, I was hoping for an instructor that would help me to feel comfortable enough to get into it. Luckily, in walked Jastine, a little spit-fire burst of sunshine who probably (in my honest approximation) wakes up dancing. Her energy made the class approachable and fun.
We danced to songs ranging from Shakira's Loca (which you should add to whatever playlist makes you the happiest immediately) to the Wiggle Dance.
The class was structured around the songs that played. Each song had a choreographed segment teaching  those with the least rhythm to dance a little rumba or to grape-vine across the dance floor. Even though the focus was getting the heart-rate up with cardio, we spent a lot of time toning as well. For all of Beyonce's Run the World, we did the hardest four minutes of abs I can remember in recent history.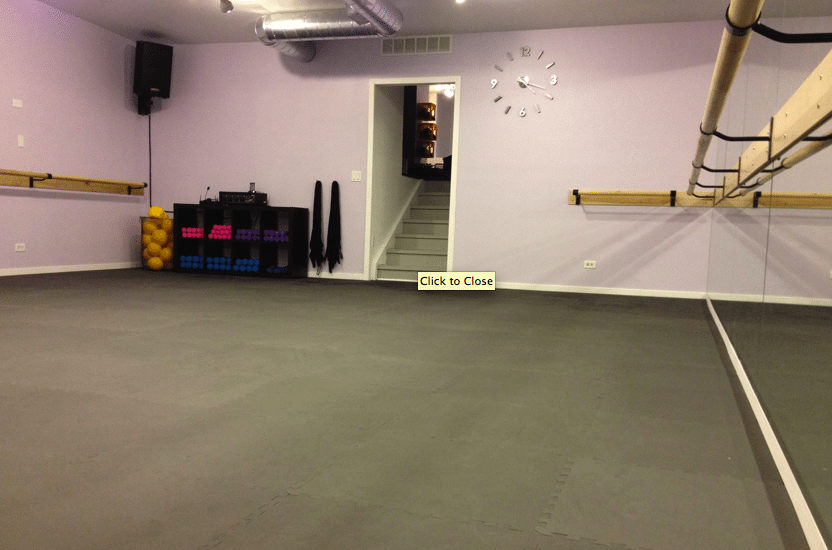 Don't think you'll make it out of class without doing squats. Jastine had us squatting in almost every dance segment. My thighs and abs felt this class the most.
I don't like dancing with the lights on, probably because my skills were birthed in dark gyms in high school and honed in the bars of Madison, WI. But that's neither here nor there. This class and the instructor were fun enough to make me stop being such a weirdo and let my hips do the talking  just dance.
Tips:
The studio is a 3 minute walk (at most) from the Armitage stop on the Purple/Brown line