Pilates at The Joffrey Ballet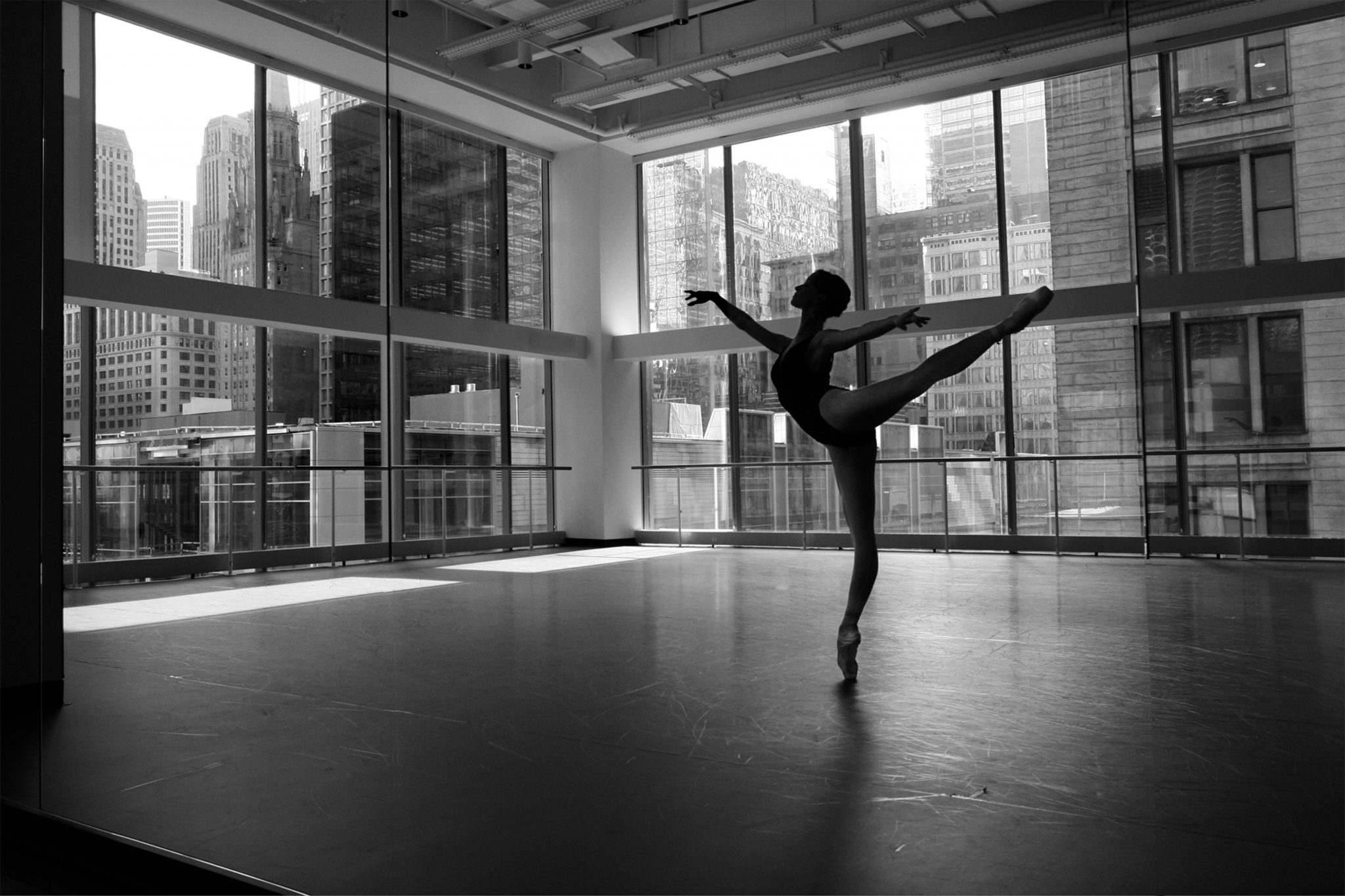 (Image courtesy of the Joffrey Ballet)
Studio: Joffrey Ballet, 10 E. Randolph St. 3rd floor, Chicago, IL 60601
Class Focus: Core challenging Pilates with a graceful, ballet flair
Cost per class: $15 for a drop-in class
Who should take this class:
Anyone who works in the loop – the price is very reasonable and the class time is perfect for after work. 
The Fab Fit take:
Walking to studio G through Joffrey Ballet's third floor (while dodging girls under the age of 15 in leotards and tights),  you'd have no idea you're walking into one of the city's hidden gems. With two walls of floor-to-ceiling windows facing the intersection of State and Randolph, the core-busting workout is punctuated by stunning views.
Held in a ballet studio Mondays at 6:30 PM, this class feels a little bit fancier than your average Pilates mat class because of its refined, yet approachable style. The instructor, Jocelyn, is an extremely accomplished dancer, and that translates into her emphasis on form and her rhythmic (yes, even more rhythmic than most Pilates) teaching style.
For nearly half of the hour-long class, we focused on the core. Pulsing through everything from boat pose to bicycle to c-curve to legs in a table-top, no part of the abdomen was left wanting more. The core series was a definite challenge, but as we worked the seat in a bridge with some pulses, I knew that the tough part didn't end with abs. We continued with some exercises that some call Donkey Kicks, but that doesn't sound very graceful, so for the sake of this post, we'll call them Sky Pushes (this is a move done on all fours with one flat foot pressing up towards the ceiling with the working leg in a 90-degree bend). Seat work also included clam exercises and straight-leg pulses on the side.
About an hour after class, I had that sharp feeling in my seat that let me know I'd be sore the next day. I highly recommend this class as both a great, toning workout and as an experience that will give you that warm-fuzzy, I'm-lucky-to-live-here kind of feeling.
Tips:
There's no where to sign up Online, but don't worry about walking in. The space is large, and can accommodate a sizable group.

When you arrive, take the elevator to the third floor and take a right when you exit the elevator. Walk  towards the receptionist who you'll pay and who will tell you how to find the studio (there are signs throughout the space). 
Date taken: 3/4/2013