Nike Women 10K with Olympic Gold Medalist Shawn Johnson at NTC Lincoln Park
I haven't signed up for a run in about five years.  I wasn't doing myself any favors by ONLY running in high school and college and my knees were not so happy with my repetitive routine.
But, when NTC Lincoln Park  (which offers free classes and recently doubled the number of classes offered) invited me to take part in the Nike Women 10K Sunday March 10, I took it as a great opportunity to test out whether the strength I've been building this year could help me to run again.
Before we left for the run, NTC planned an event with Olympic Gold Medalist and Mirror Ball Trophy winner, Shawn Johnson and her trainer Jeanette Jenkins.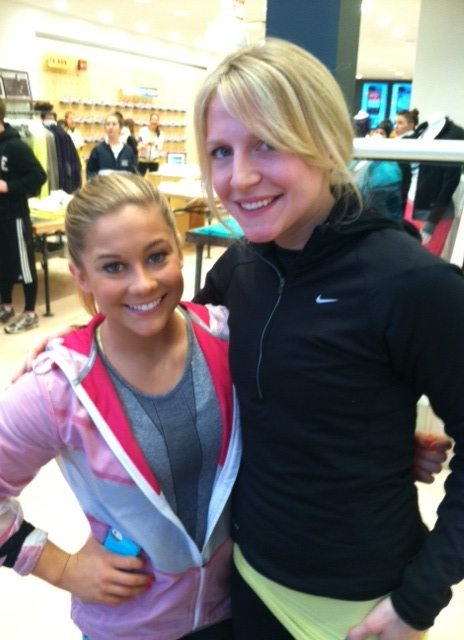 Jeanette also trains other celebrity hard bodies like P!nk and Kelly Rowland. Both of these amazing women were very humble and approachable and, more importantly maintained an incredible pace throughout the run led by  On Your Mark's own, Emily Hutchins (AKA Chicago's hottest Trainer).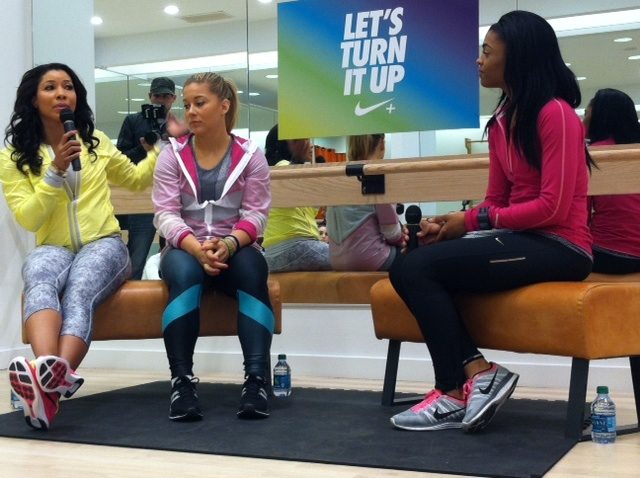 Jeanette and Shawn chatted with the small group of about 100 women about training, balance and nutrition. Shawn, like a lot of former competitive athletes, is working to find new ways to stay fit outside of her sport and through that, she found Jeanette at the 2012 Summer Olympic games.
Jeanette's passion for fitness and positive body image is completely infectious. I got a chance to ask her a question during the Q&A, which was, "What's one exercise that you would tell everyone in this room to do if they're not already doing it." Her answer was, "Look in the mirror and tell yourself you love what you see, stop trying to look like someone you see in a magazine." She's obviously my new idol.
After the Q & A, Shawn and Jeanette warmed us up and we all took to the streets of Chicago.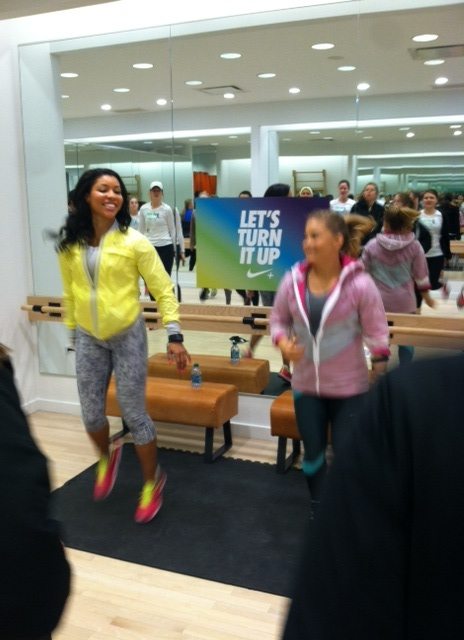 We used the Nike+ Running app to track our time and distance. This was my first time using the app (I only dip my toe in the running pond on occasion), but it was easy to set up and use.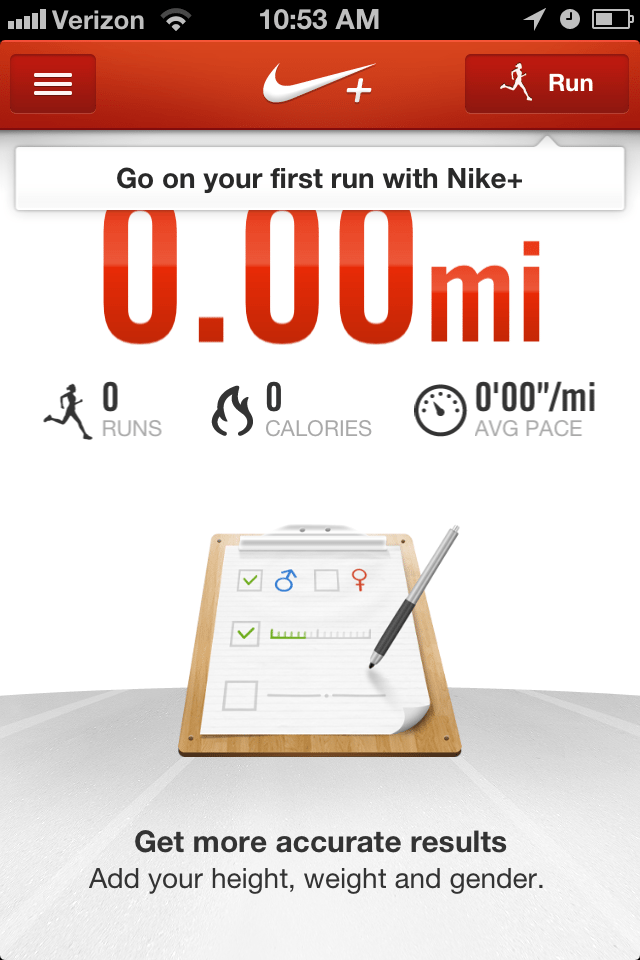 In a little less than an hour, I got through the 10K and my knees felt great, but I'm still going to avoid getting stuck in a running rut.
And with any run, there comes the gear. I snagged the Nike FlyKnit Lunar One+ for the run – going from the Nike Free to these shoes, I appreciated the extra cushion in the lunar white sole.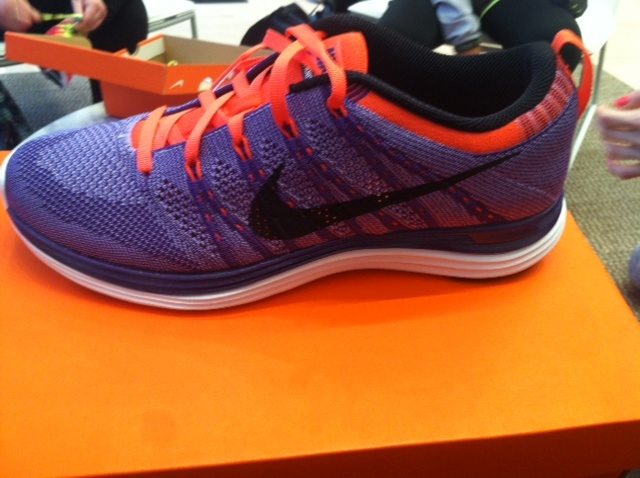 The race-day shirts were actually wearable! Long-sleeved Nike Dri Fit shirts with some amazing girl-power art will make this my go-to warm-up shirt.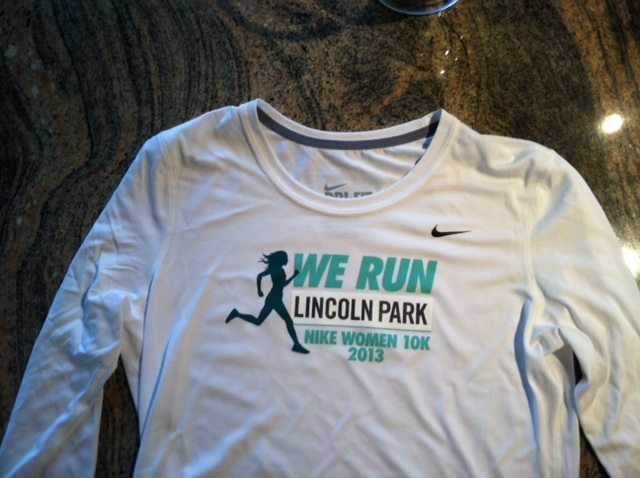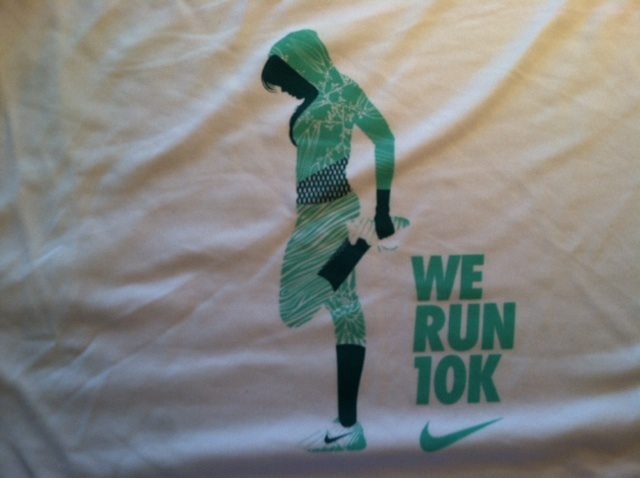 Not to say that Shawn and I are best friends now, but she DID give me (and everyone else who went on the run … whatever) these sweet NTC lincoln Park bracelets to celebrate the achievement of finishing the run.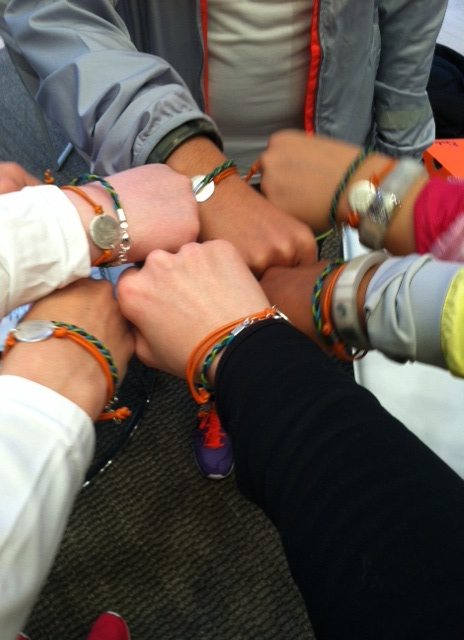 Disclosure: NTC Lincoln Park allowed me to take part in the race free of charge and gave me some sweet shoes, but did not compensate me to post about the run. I will always only post about events and classes that I like.