Nike Training Club opens in Lincoln Park
Nike Chicago has been keeping Chicagoans fit, but has started to take the Nike experience up a notch with its running clubs and the NikeFuel House, which offered training and a spot to play pick up games of basketball.
Last week, at 833 W. Armitage, Nike opened the Nike Training Club, where ladies can pick up the latest Nike workout gear AND take complimentary fitness classes.
Seriously. I just said that. Free fitness classes – up to 4 classes per week.
Take a look at the store's Facebook page to get a glimpse at the gorgeous studio space. Ladies can venture in to try classes with some great instructors who teach across the city, including Lina from BarreBeeFit (she could teach elsewhere, but I love me some BarreBeeFit) and Katie who I've taken a class with at Real Ryder Revolution.
Classes range from barre and yoga to the studio's signature workout NTC, which I can't wait to try Sunday. The NTC workout is described as, "Live instructor-led experience modeled after the popular smart phone Nike Training Club (NTC) full-body training app that caters to every level of fitness. Taking functional fitness training to the next level, NTC builds on the fundamentals of strength-, cardio- and core-training through multi-dimensional, multi-directional drills that continually challenge the body to maximize results."
Register (early) for classes here (log out of Mind Body if you're logged in elsewhere) and check out the current schedule below: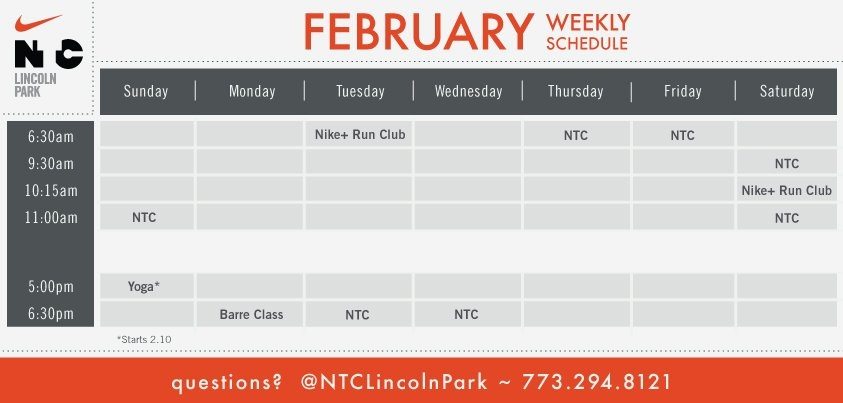 Let us know!
Did this post help you get closer to achieving one of your goals?