Class title: Mixed
Studio: The Bar Method, 3144 North Sheffield Avenue
Other Chicago Locations:
The Loop: 180 North Wacker Drive, Chicago, IL 60606
Wicker Park: 1271 N. Milwaukee Ave., Chicago IL 60622
Gold Coast: 1 East Delaware Street, Chicago, IL  60611
Class Focus: This is a meticulous toning class that works the total body in a low impact, but effective way.

Cost per class: $20
Money saving offers:
Who should take the class:
Any woman with the goal to tone, strengthen and increase flexibility. Barre classes are great to create long, lean muscles.

Anyone looking for some hands-on attention from a teacher
The Fab Fit take:
This barre class was the first that I took in which the instructor corrected and praised students by name over the microphone – in a class of 20+ women, that's quite the feat for the instructor. I found that it actually kept me a little more accountable – I kept my form on-lock, so that I could get that, "Good, Jeana!" from the instructor. You can imagine what I was like in 2nd grade based on that sentence.
The class was structured like many Lotte Berk barre classes, but as a part of the total body workout, the abs were emphasized. Stretching sequences were used throughout the class as active breaks between muscle groups.
We started off with knee lifts for a warmup, moving quickly into pushups. We did 3 sets and throughout, the instructor encouraged us to stay on our toes but offered the option to do push ups from our knees. Because I received praise for my form, I stayed on my toes for one or two too many push ups and felt the burn in my arms as we moved into bicep curls and triceps extensions.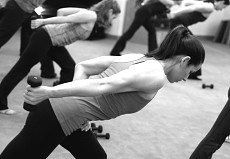 (image courtesy TheBarMethod.com)
The thigh sections was tough, but was a bit shorter than some barre classes. Conversely, we spent a lot of time on abs, which always helps me to feel a little bit more accomplished.
The moves we focused on for thighs included pencil and small V,  pulsing out our legs for around 5 minutes. We focused on calves after that, using calf-raises to burn below the knee.
For seat, we stood an arm's length away from the barre with our backs flat and out chests parallel to the floor. Planting one leg for support with a slightly bent knee, we lifted the other leg to make it parallel to our bodies. We pulsed that foot just slightly up and down and then side to side to work the butt, switching sides after that.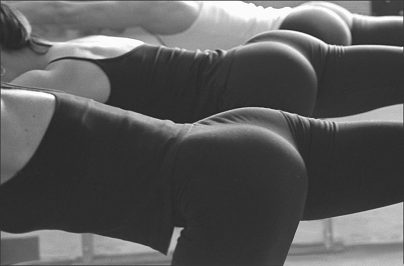 (Image courtesy TheBarMethod.com)
We finished the class with a long ab sequence starting with the one ab exercise that always makes me feel weak: abs below the barre. Lifting one leg at a time, we pulsed the leg up and down with a pointed toe, keeping the working foot from touching the ground. We repeated the same motion with a flexed foot and then switched to the other side. The more challenging move was when we transitioned to both feet held slightly off the floor. We moved through the following motions: feet together and apart, feet up and down, then bending knees slightly in and out.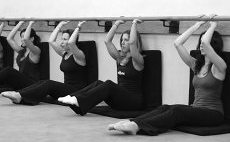 (Image courtesy TheBarMethod.com)
Moving onto the floor, we finished off class and abs in a c-curvefor about 5 minutes, working obliques and abs.
Tips:

This studio is extremely close to the Belmont stop on the Red/Brown/Purple line, so public transit is a great option.
This mixed class offers modifications for different levels of fitness. If you take every modification to make the class more difficult, you'll be working at a higher level, but if you're a beginner, the instructor will provide you with modifications to ease you in.
The verdict: I love barre classes and this is a great option in Chicago.

Date/time taken: 9/9/2012