Why You Should Wear a WHOOP Tracker While Pregnant
Being pregnant isn't easy. From getting everything prepared for when the baby arrives, dealing with nausea and other symptoms of pregnancy, and seemingly endless doctor's appointments — there's just so much to deal with and do.
Amidst all of this, it's really easy to miss things such as the signs of early or preterm labor. "Preterm labor occurs when regular contractions result in the opening of your cervix after week 20 and before week 37 of pregnancy," according to the Mayo Clinic.
While many wish the baby would come a little bit early, preterm birth is definitely something that needs to be avoided. Not only is it the second leading cause of infant death in the United States, but it can also lead to long-term cognitive and physical disabilities. 
This might sound absolutely terrifying, but the good news is that a recent study from WHOOP uncovered a first-of-its-kind digital biomarker to screen for premature birth. 
For those unfamiliar with WHOOP, it's one of the leading wearable fitness trackers. WHOOP can track a variety of stats from respiratory rate to heart rate to recovery to sleep and more. Knowing these statistics is a great way to improve your health and fitness. It's also great for motivating yourself to run that extra mile or knowing when it's time to give yourself some extra recovery time and take a day off from working out, among other things. And now, wearing a whoop tracker can be a valuable part of a pregnancy health plan.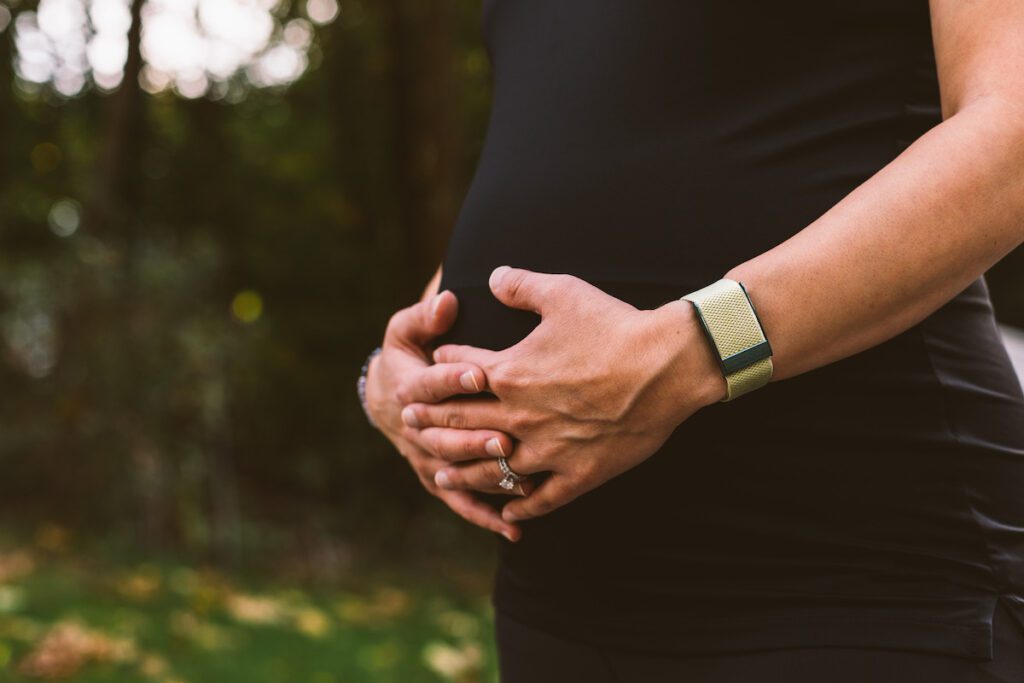 The study
A peer-reviewed study led by Emily Capodilupo, WHOOP senior vice president of data science and research, analyzed the physiological data of 241 pregnancies. The data showed that in singleton pregnancies (meaning the study participant was only carrying one child, as opposed to twins or multiples), maternal HRV (heart rate variability) inverted seven weeks prior to delivery. The timing of that inversion was the same in both full-term pregnancies and premature delivery dates. Researchers labeled this inversion the "WHOOP Inflection Point."
"The study that WHOOP has conducted is incredibly significant in light of the national public health concerns around premature births," says Elizabeth Cherot, MD, chief medical officer of Axia Women's Health. "WHOOP has identified a new biomarker that merits additional clinical research alongside the implementation of its wearable technology. Accessible, noninvasive screening options for premature birth can serve as early warning signs for pregnant people, giving them more time to find and administer interventions to improve health outcomes."
Keep in mind that not all pregnant people will experience an inverted HRV, but in all normal or healthy pregnancies, HRV is reduced. Still, it's important to consider having access to continuously monitored information about your body (especially when it's noninvasive).
Applying this finding 
Whether or not you wear a WHOOP during pregnancy, it's important to be aware of other signs of premature labor, including contractions, backaches, cramping, light bleeding, or spotting. If this happens, it's crucial to get in touch with your doctor immediately or possibly go to the emergency room. 
So, should all pregnant women consider wearing a WHOOP strap during pregnancy? If you have risk factors for preterm labor such as previous premature birth, physical injury or trauma, or chronic conditions including high blood pressure and diabetes, it's certainly a smart idea. After all, having access to more data about your health is better than having less. This can also help you feel better and ultimately ease pregnancy anxiety. Just keep in mind that WHOOP doesn't provide medical advice and its services aren't intended to be a substitute for advice from your doctor or other medical professionals.
But this isn't the only reason to consider wearing a WHOOP during pregnancy. The brand recently launched a new pregnancy coaching program. Toggling on the feature in the app can open up tailored insights as well as recommendations as part of the WHOOP Weekly Performance assessment. This includes needing more rest, increasing hydration, and exercise considerations. Having access to this data can be especially helpful for first-time parents who may not be aware if certain symptoms are normal or if it's something they need to discuss with their doctor. While this feature is currently in beta, WHOOP is working on adding more to it as well as increasing data accuracy. 
Photo courtesy of WHOOP