5 Myths About Menstrual Cups You Shouldn't Believe
About 15 years ago, I was in a pretty intense conversation with my friend Mandy. I don't remember where we were or what we were doing but I do remember she was going off about something new called a Diva Cup.
"You HAVE to try it," she said, listing off all the pros excitedly and trying to convince me to get one. (When I told Mandy I was writing this article, she sent me three long texts about menstrual cups ending with, "I'll stop now. Just super passionate about this topic.")
At the time, I was A-OK with my trusty Tampax Pearl. I told her maybe I would pick one up at the local health food store — the only place that sold them in the archaic days of 2007 — but I had no serious intention of ever using one (sorry, Mandy).
Fast forward to a few years ago when I was trying to not only lessen my carbon footprint but also eliminate as many toxins from my life as possible when I started reading about all the pesticides and insecticides sprayed on cotton.
And there's like, a lot of pesticides and insecticides used. In fact, conventional cotton is the third largest user of pesticides in the United States. All of those chemicals directly in my vagina for multiple days, every month? No thank you.
The environmental impact of period products is serious too. Take it from Zoe Mendelson, author of Pussypedia: A Comprehensive Guide. Mendelson says that over 24.5 billion menstrual products are disposed of each year and most of it is plastic and cotton. Mendelson also points out that this doesn't consider the amount of waste that goes into the production process of period products.
Finding all of this out was the push I needed to buy the dreaded cup. But I still had so many questions —and the more I talked to other people about it, the more I realized I wasn't alone. So come with me on a magical journey of the myths of the menstrual cup. By the end, guaranteed, you'll have one in your Amazon cart (and you'll be just as obsessed as Mandy is).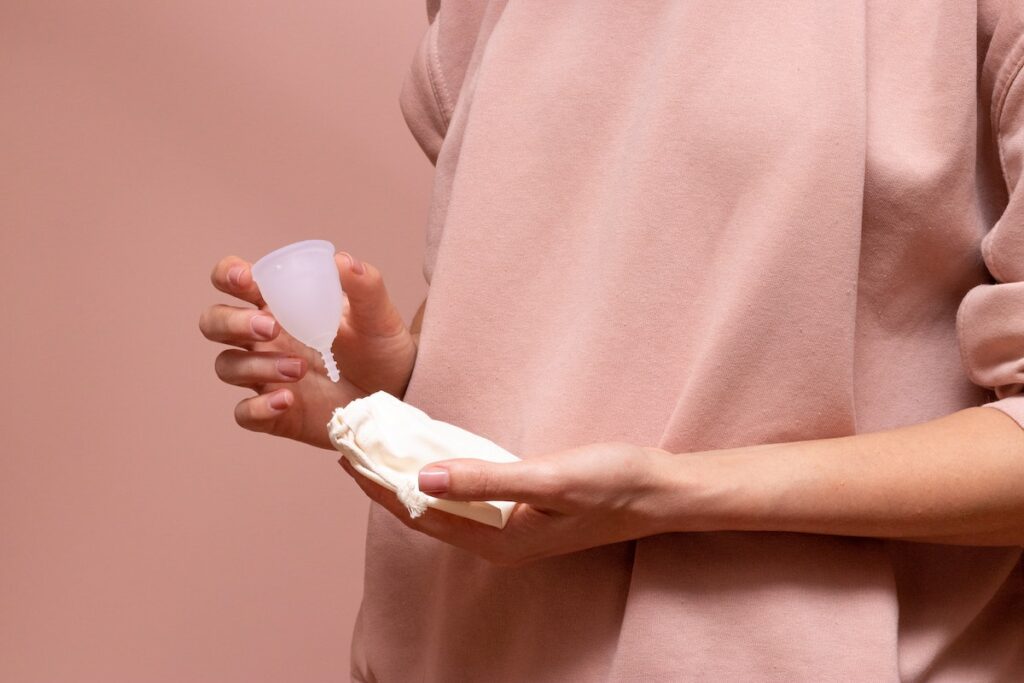 Myth #1: "It'll get lost!"
Before we get into it too much, let's discuss exactly what a menstrual cup is. These cups, usually made of flexible silicone, get folded and inserted into the vagina during your period where it opens and collects your monthly flow rather than absorbing it, like a tampon or pad.
Pixie Cup, a family-run business out of the Midwest, prides itself on educating people and breaking the stigma around periods and cups with its TikTok account, which has all kinds of questions addressed in candid ways to help set your mind at ease.
"Part of the hesitancy to use menstrual cups comes from cultural shame around women's bodies," says Kayla Martin, the content creation manager at Pixie Cup. "So many women aren't aware of their own personal anatomies!"
Stacy Landers, PA-C, a urogynecology specialist in Portland, Oregon, says contrary to what you may think, a cup can't get "lost" inside your body or float away. "I think the important thing to remember is the vaginal canal is generally closed off and there's no way for it to go up into the uterus," Landers says. "It takes some getting used to, but it will not get lost."
Once you familiarize yourself with inserting and removing a cup (and trying different techniques, Landers says), you'll feel more comfortable knowing that it cannot get stuck or do a disappearing act. You just have to be comfortable with your body and have some patience.
Myth #2: "I won't save that much money by switching."
According to the Chicago Period Project, a grassroots organization that distributes period products to shelters, schools, and crisis support networks, typical costs of menstruation products can be upwards of $1,700 in a person's lifetime. Cups are anywhere between $10 and $30 — and Martin says they're pretty much a one-time investment if you take care of it.
Myth #3: "They're hard to clean."
"Our menstrual cups are made from medical-grade silicone that lasts for 10 years when cared for properly," says Martin. Many companies, like Pixie Cup, offer fancy cup washes and even countertop steam cleaners for your cup, but a simple cleaning with soap and water will do the trick as well. Stains can be removed with peroxide, vinegar, or rubbing alcohol.
Myth #4: "They're not safe."
Cups were invented in 1937 and despite a bit of a rocky history through the 20th century (they were seen as "scandalous"), they really started flying off the shelves in the early 2000s. Designs and materials have only improved since then.
If you stick to a cup made with medical-grade silicone without dye, you should be good to go. Landers says it's perfectly safe to insert and use for many hours at a time. "As far as having a silicone device inside your body," Landers says, "that is not inherently dangerous."
She points out that there's always a risk of infection anytime you put anything inside your body but that unless you are prone to infections, the risk is pretty low. Making sure you take care of it and follow the manufacturer's directions will lower your risk as well.
Myth #5: "It's going to hurt."
A well-fitting menstrual cup shouldn't hurt at all. In fact, you shouldn't even be able to feel it. However, Landers says it's not a one-cup-fits-all situation. "The shape of the vaginal canal can change," she explains. "As you get older, the vaginal tissue can change and the way it can accommodate the size of the cup can change as well."
Guides on product websites, TikTok, and YouTube can be incredibly helpful for choosing the correct size and shape for your body. Flex cups even have a design that makes wearing cups more accessible for those with certain disabilities and mobility limitations due to a ring instead of a stem on their cups.
Once you discover the right fit, you can do almost anything while wearing it. Once you start using one, you'll completely forget you have your period (really!) so you can just rest easy and just, ahem, go with the flow.