Do Infrared Sauna Blankets Really Work?
I'm one of those people who loves to sweat on purpose. Steam rooms, saunas, hot yoga — give it all to me, especially if there's a tiny chance that I'll glow like J. Lo at the end. I'm a sucker for the latest wellness and beauty trends — the weirder the better — and I'll try anything once (fish pedicure, anyone?).
But as I tucked away my nearly $600 receipt for an infrared sauna blanket, pressed the heavy Velcro together, and lay in a puddle of my own sweat for almost an hour with a slightly claustrophobic feeling kicking in, I thought, "Have I gone too far this time?"
You've probably seen these giant sleeping bag-like devices on social media. You know the ads — the models donning a perfect messy bun, sweat glistening off their bodies, looking euphoric as they lay in a room full of bright greenery.
They promise to detox your body, boost your mood, and increase your glow factor — and yes, of course they're Gwyneth Paltrow-approved. Do they really do all that they claim, though? Here's what you need to know.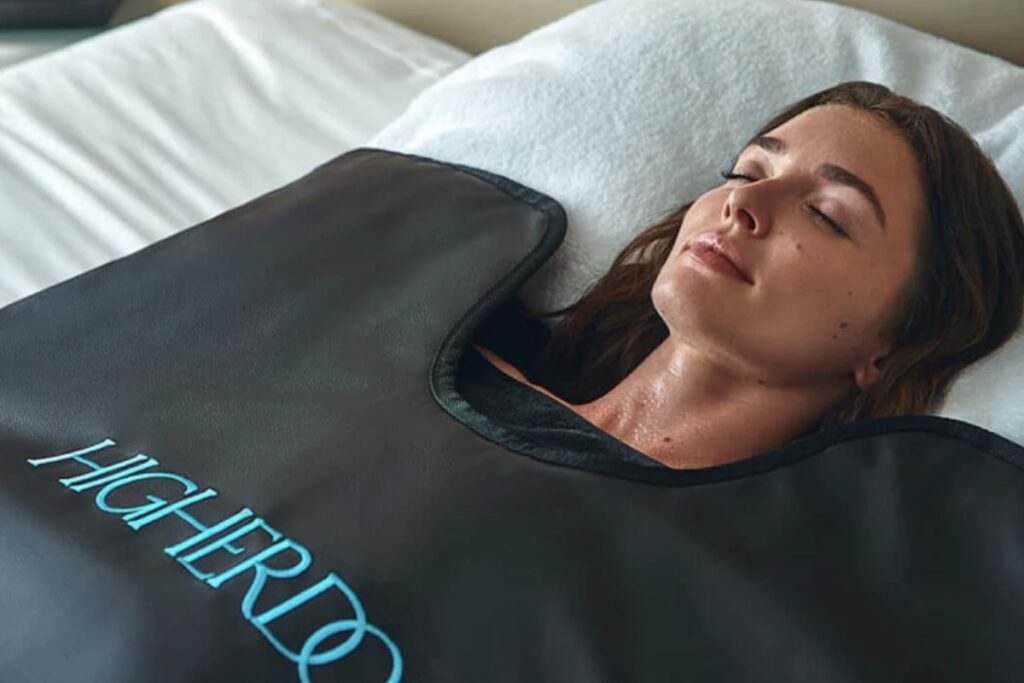 What is an infrared sauna blanket?
An infrared sauna blanket is basically a giant heated sleeping bag made of a nontoxic, water-resistant polyurethane that you lay out on either a bed or a floor, preheat (most of the bigger brands get up to around 170 degrees), climb into wearing socks, long pants, and long sleeves, relax for 20-45 minutes, and wipe down with a disinfectant wipe afterward.
It shares many of the same benefits as a traditional sauna but is private, portable, can easily be stored out of the way when not in use, and is way more cost-effective. (The average cost of a single infrared sauna session at a spa is around $50, making a sauna blanket pretty much pay for itself after about a dozen uses.)
Do infrared sauna blankets really have any health benefits?
Saunas are touted by many for their benefits including an increase in metabolism and energy, relief from stress, reduction in oxidative stress and inflammation, and aid in workout recovery. And, according to research, longer-term benefits of sauna use include a longer lifespan and fewer heart problems. It may even help counteract neurodegenerative diseases.
However, infrared saunas and infrared sauna blankets can penetrate more deeply at the cellular and tissue levels than a traditional sauna and deliver a deeper cellular detox effect according to Dr. Caley Scott, a naturopathic physician at WholeHealth Chicago.
"The major difference between infrared and dry saunas is the way the heat is processed inside the body," explains Scott. "Dry saunas heat the room the person is sitting in, which in turn, causes our body to sweat in order to release heat. Infrared saunas heat your body to raise your internal temperature, resulting in sweating."
Sounds pretty good, right?
In addition to the myriad of health benefits that have been confirmed or are currently being studied in relation to infrared saunas, Scott says sweating is a great way to help eliminate toxins from our bodies.
"We are exposed to chemical toxins in so many ways — pesticides in our food, chemicals in our skincare, cleaning products, and plastics, our water quality, [and] environmental toxins like VOCs or mold," she says. "A build-up of these toxins and chemicals can disrupt our hormones and contribute to a wide range of different symptoms and disease processes."
What's the best way to use an infrared sauna blanket?
Scott mentions that everyone is different when it comes to frequency of use but to reap the benefits, 30 minutes a couple of times per week for general wellness is fantastic.
Because of the amount of sweat released, Scott also reminds people that they need to stay hydrated when using a sauna blanket and recommends taking an activated charcoal supplement beforehand "to help bind any toxins the body is moving during the session."
Scott practices what she preaches as well, using her infrared sauna blanket to relax a couple of times per week. "I will make a cold washcloth compress with two drops of lavender essential oil to place over my eyes, turn on spa meditation music in my noise-canceling headphones, and lay in my sauna blanket for 20 minutes," she says.
The bottom line on infrared sauna blankets
HigherDOSE, the Goop choice for infrared sauna blankets, says using their blankets is like "working out, without the workout," which sounds too good to be true. While the jury is still out on confirming all of the health benefits, the initial research and studies that have been done look promising.
If you're curious about the blankets but not too keen on the price tag, look for a discount code online or shop when there's a sale, and keep in mind that many of the manufacturers, like HigherDOSE, have a 30-day trial period so you can make the decision about whether or not it's right for you without (sorry!) breaking a sweat.