Conik Runyon Talks about Building Culture at Basecamp Chicago
The 7th season of our podcast is a HUGE celebration of fitness – its creators, innovators and everything in between. We made sure to include goodies from the studios and brand we're chatting with for you, so make sure to listen, share with a friend and try something new. And also, make sure you don't miss a single episode by subscribing wherever you get your podcasts including Apple Podcasts and Spotify.
And on this week's episode, you can get a free week at Basecamp Fitness near you.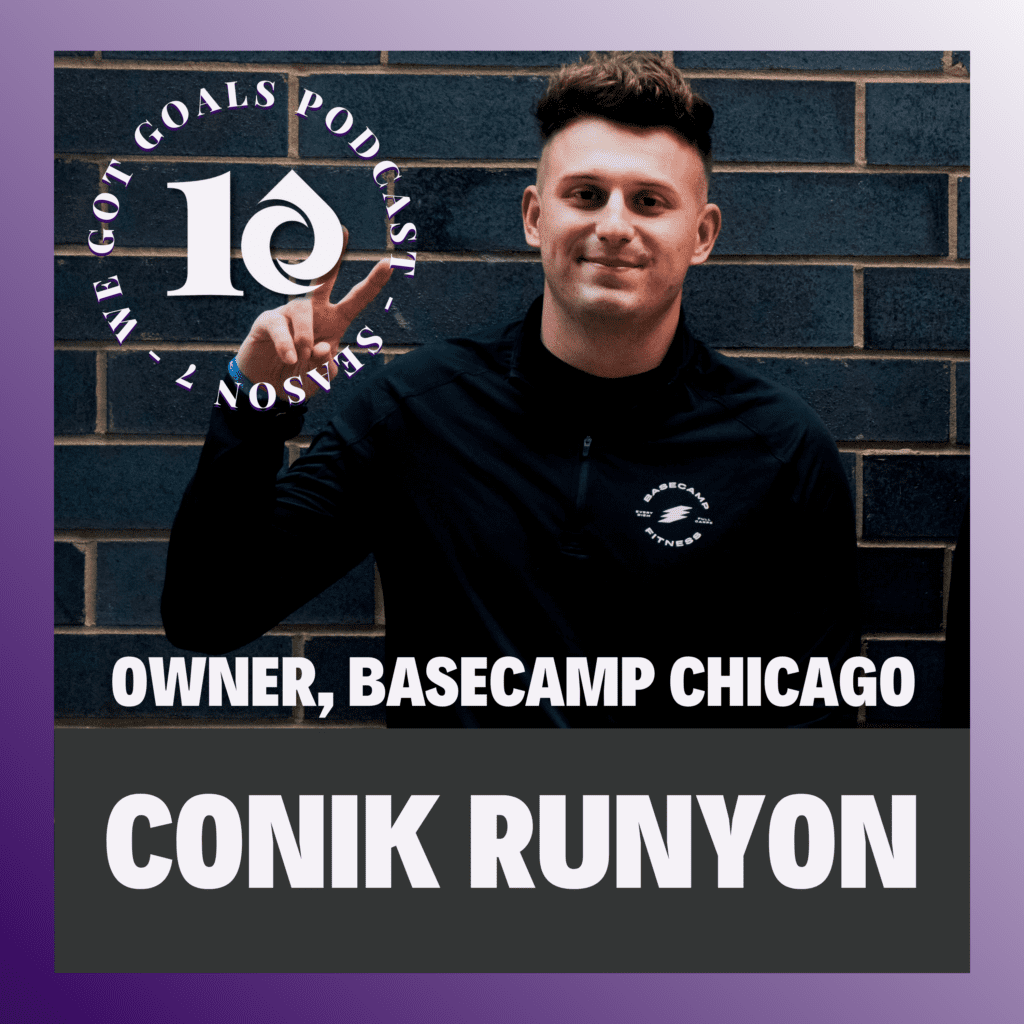 Conik Runyon's education in culture started as a kid, going to the Anytime Fitness conferences with his dad and seeing people who loved that brand so much that they tattooed the logo on their bodies.
And today, he's the owner of Basecamp Fitness Chicago, a newer entrant into the fitness scene. And I don't even really want to mention his dad except to say this: Conik was born into a world of fitness culture as the son of Chuck Runyon, Co-founder of Anytime fitness and CEO of Self-Esteem Brands (which owns and operates franchise brands like Anytime Fitness, The Bar method, Waxing the City and Basecamp Fitness). Conik graduated from college in 2021 and lobbied to open the first Basecamp fitness location in Chicago.
The education in culture under his dad served him as he set off to learn on his own and operate his own business. To read between the lines, Conik appreciates what he's learned, but has a fire in his belly to create something for himself.
You'll hear him share how he builds culture among the members at the newest Basecamp Fitness in Chicago. And honestly, it's like a textbook in community building that flows out of him, but at the heart of his methodology is making members the center of the universe at Basecamp, celebrating them and never letting them feel alone in class.
For example, I went to a class last week – I'm kind of there a lot – and in my class, there was a woman who was new to class on the bike next to me.
The manager, who was also taking class, singled me out and said, don't let her get lost. And then said, "Ellen, stick with Jeana." I felt responsible for her – I really did – so I checked in with her throughout class to make sure she was ok.
And that might feel like a small thing, but it's actually a really, really big thing if you're new to class. The management team made sure that someone checked in on her, learned her name, and had her back while she experienced something new.
And all of that was happening while Conik wasn't even there – he talks about how he leads in a way that empowers his time to try new things, solve problems on their own and be accountable for the members in the space.
For listening, you'll also have access to a special offer, which is good for one free week at all Basecamp locations nationwide. Check our show notes for the link and for more information on where you can find basecamp.
Resources: