What Is Structured Water — and Should You Try It?
If there's one wellness bandwagon that never stops, it's the wagon pushing the latest water trend.
Whether it's watermelon water, cactus water, coconut water, or alkaline water, it always feels like there's some new water that will make you super-hydrated even on your thirstiest day. If you haven't heard of structured water yet, it's about to be everywhere very soon.
After all, drinking more water is an easy way to instantly improve your health. "Water truly does impact all of our systems on a major scale," says Chelsea Stegman, MS, RD, LD, CPT. "This includes brain health, mental clarity and cognition, gut health, and delivering all of our nutrients to our cells for energy. Needless to say, it is non-negotiable."
Stegman explains that we should be drinking half our body weight in ounces of water per day. For example, if your weight is 200 pounds, you should be drinking 100 ounces of water daily.
But this is just a minimum. "Generally more is recommended for higher intensity exercise or fluid replacement for excessive sweating," she says.
So should you be drinking structured water instead of old-fashioned tap water or even bottled water? Keep reading to find out.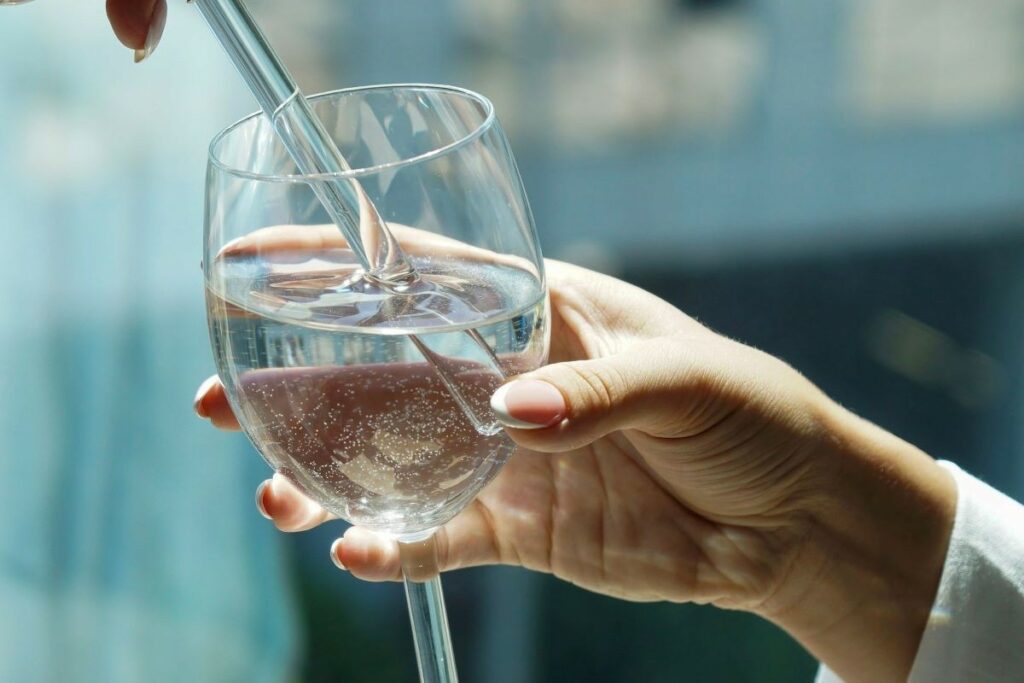 What is structured water?
"Structured water is essentially water that has been altered to form a hexagonal structure, allowing it to hold more energy, improve hydration, and be less prone to pollution, according to structured water supporters," says Stegman.
Why would water need to be structured, exactly? "Due to various environmental reasons, H2O molecules in drinking water behave chaotically, crashing into each other constantly," says Mario Brainović, CEO of Analemma-Water. "All of this happens on an atomic level so we're completely unaware of it."
The Analemma is travel-sized clear quartz, crystal tube wand filled with "Mother Water," which converts regular water or any beverage made with water, such as iced tea, into structured water. When used properly, the device causes H2O molecules to form a crystalline structure. The molecules start linking together and behave harmonically.
"It takes one full year for us to create the Mother Water," says Brainović. "Since water is a broadband absorber, receiver, and transmitter of frequency, it can change its structure and quality given its environment."
The Analemma, which is housed in a stainless steel cover (or you can upgrade to a more luxurious walnut one), is used the same way you would use a coffee stirrer. Entirely portable, you can easily keep the Analemma in your purse or gym bag to use on the go.
You can take it out in any restaurant and use it discreetly without strangers wondering what you're stirring into your water. And while it's not inexpensive, it doesn't need to be replaced or have any cost beyond the initial purchase.
However, there are also less expensive alternatives available on Amazon, such as the MAYU Swirl Water Pitcher Borosilicate Glass Carafe. You may also want to consider the Somavedic device, which has many additional features unrelated to structuring water, but it's more expensive and isn't portable. 
Structured water: less woo woo than you think
At first thought, structured water sounds like a "woo woo" trend. But it turns out there's some emerging research and literature to support the efficacy of it — although the research is still in its infancy.
"Many people are starting to look at additions such as electrolyte support to really help hydrate your cells and now structured water to actually look into the chemical structure of water to optimize hydration," Stegman tells me.  
There's even a book about it called the Water Puzzle and the Hexagonal Key: Scientific Evidence of Hexagonal Water and Its Positive Influence on Health by Dr. Mu-Shik Jhon. 
According to Stegman, coherent or "structured water has many benefits, including age rejuvenation (by 1-12 years), improved immune system, decreased stress and improved brain health, clearer, and softer skin, reduced wrinkles, increased energy levels, and better physical fitness."
Should you drink structured water?
There's no definitive answer as to whether structured water is a "must," but at the very least, experts think it's relatively safe to drink (so long as the water you're structuring is safe to drink).
"It is a fairly low-risk habit to try with keeping the habit of drinking regular water, in which you can check in and see how you feel anecdotally," explains Stegman. "Spring or purified water do have benefits over tap water, both having impurities removed for safer drinking."
So if you're drinking the recommended amount of water daily and are still having issues staying hydrated or you simply like to be on the cutting-edge of wellness, consider having a glass and saying "cheers" to structured water.