Understanding the Signs and Symptoms of Infertility
On one of the most recent episodes of Hulu's "Keeping Up with the Kardashians," Kourtney Kardashian had a bizarre encounter with her IVF (in vitro fertilization) doctor. The doctor recommends that Kourtney drinks her husband Travis Barker's sperm to improve their chances of becoming pregnant. While this now-viral moment seems weird AF to others, many couples are willing to try any method to become pregnant.
Over the years, infertility issues have become an essential topic of discussion amongst women. Many celebrities like Beyonce, Mariah Carey, Nicole Kidman, Chrissy Teigen, and others have bravely shared their stories of miscarriage and fertility treatments. Their willingness to openly speak about infertility struggles helps encourage millions of women to stay resilient on their conception journey. However, while celebrities have the funds to pay for IVF treatments or surrogates, ranging from $15,000 to $30,000, the average woman likely does not have the same privilege.
Before deciding to go the IVF route, you must understand your reproductive health and any possible warning signs that conceiving may be an issue for you. With this in mind, what exactly is infertility, and what signs and symptoms should women be aware of if they desire to conceive children?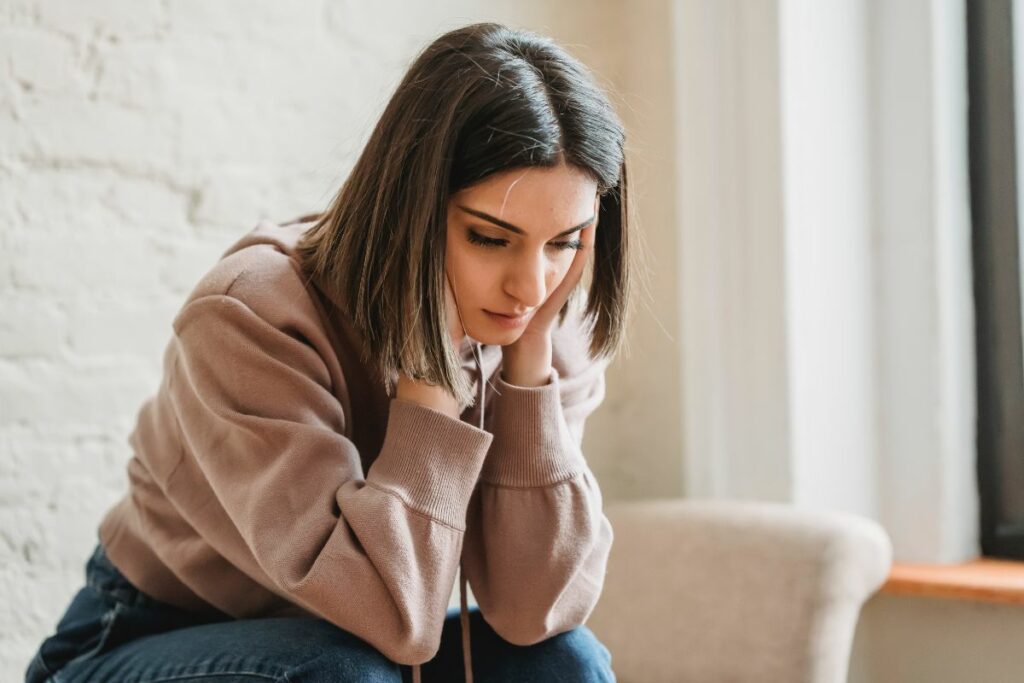 What is infertility?
Before discussing female infertility symptoms, it's essential to understand the health condition. According to the Mayo Clinic, infertility is at least one year of unsuccessful attempts to become pregnant, despite engaging in frequent and unprotected sex.
But just how common is infertility? In the United States, 11% of women and 9% of men within their reproductive age range are experiencing infertility issues. As reported by the National Institutes of Health, 12 to 15% of couples are unable to conceive after one year of trying, and 10% of couples cannot deliver a live baby after two years of attempting to conceive. 
Aimee Spencer, a Functional Fertility Health Consultant at Koseli Health Collective, shares her knowledge on the subject.
"6.1 million women in the United States struggle with infertility. Up to 30% of couples struggling with infertility fall into the "unexplained," says Spencer.
Fortunately, it's not all bad news for those trying to conceive. Typically, 40 to 60% of couples under the age of 30 and in good health can become pregnant within the first three months of having unprotected sex.
In addition, there are natural ways women can encourage conception by developing healthy habits. Spencer explains how women can make lifestyle changes to improve their chances of fertility.
"Lifestyle changes can make a huge impact on egg and sperm health. Stress reduction, sleep, eating a diet that promotes egg, uterine and cervical health, (and) moving your body all help with fertility," says Spencer.
Signs of infertility
Once you've developed a general understanding of infertility, it's also helpful to know the signs and symptoms of the condition. That way, you can become more aware and proactive in your family planning. Signs are any visible, objective evidence of a medical condition (i.e., skin rash or low body temperature). In contrast, symptoms are a person's subjective experiences of a disease (i.e., back pain or headache). 
Signs of infertility in women include:
Being 35 and older
Thinning or loss of hair
Excessive hair growth
Underweight, overweight, or obesity
Irregular periods
No periods
A previous or current cancer diagnosis
Active smoking 
Reduced sex drive
Skin issues (i.e., rashes)
Symptoms of infertility
While the leading cause of infertility is the inability to conceive, there are additional female infertility symptoms, such as:
Endometriosis
Previous miscarriage(s)
Severe menstrual cramps
Polycystic ovary syndrome (PCOS)
Pelvic Inflammatory Disease (PID)
When and how to get help for infertility
Women who've experienced any of the above signs and symptoms while attempting to conceive for six months to a year should seek medical advice from a healthcare professional. A primary care doctor, gynecologist, or fertility specialist can provide the appropriate care and treatment to help conception. Examples of possible fertility treatments include IVF, hormone therapy, medications, artificial insemination (AI), donor eggs, or surrogacy.
Before beginning any fertility treatment, always consult a healthcare provider to receive professional medical advice.