I Tried XPASS to Ease Back Into Group Fitness Classes [GIVEAWAY]
Scroll to the bottom for a chance to win a free one-month Gold XPASS Membership!
FYI: Christina received a free trial of XPASS in order to write this article. As always, we only write about experiences and brands we truly love!
I've always loved group fitness classes. Before the pandemic, I'd take three or four classes a week at various boutique fitness studios in New York City.
I thrived on the energy of the instructor and my fellow classmates. Plus, working out was one of the most common ways I socialized. I'd often take an indoor cycling or barre class with a friend, then catch up with them over lattes or smoothies afterwards.
So when things shut down during the pandemic, I found myself in a major fitness rut. Without a real live instructor in front of me, people woo-ing on the bike or mat next to me, or pals to take a class with, I couldn't muster up the motivation to work out at home on a regular basis.
While I'd occasionally take a virtual indoor cycling class on my at-home bike or do an online yoga or Pilates class, it just wasn't the same experience as working out in-person. I often got bored and mentally checked out halfway through an at-home class—and sometimes I didn't even break much of a sweat.
Then a couple of months ago, I had the chance to try XPASS, a premium fitness subscription service that offers access to the boutique studios operated by Xponential Fitness. Here's what happened when I started using XPASS and going back to in-person workouts.
Getting started with the XPASS app
XPASS has a few monthly membership options to choose from and uses a point system for booking classes.
Prices range from $19 per month for a starter membership (10 points, which are good for one off-peak class) all the way up to $249 per month for a ruby membership (125 points, which are good for 13 off-peak classes). You also have the option of pre-paying for a year's worth of classes, which works out to getting two months free.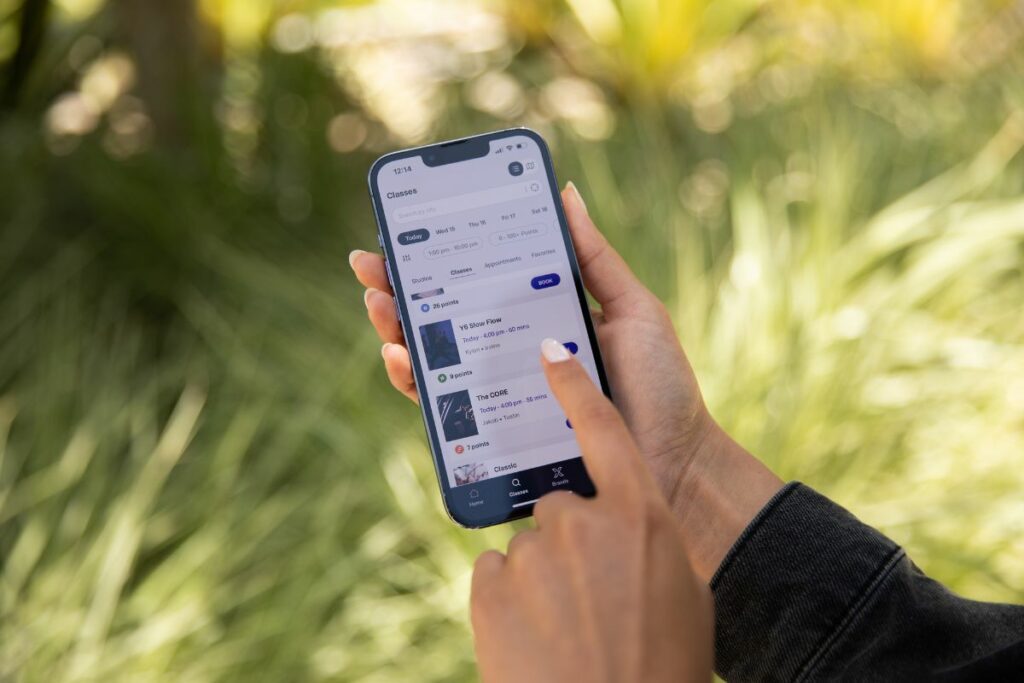 The XPASS team graciously gave me a free trial of their Silver+ plan so I could review their platform for aSweatLife. This annual plan has a $499 value and comes with 300 points to use over the course of a year.
I started by creating an account online and then downloaded the XPASS app. The app was really simple to use. I set my location as New York City and was able to scroll through studios nearby, view their schedules, and book classes.
XPASS offers classes at nine studio brands total, and five of their studios had locations near me. I ended up choosing CycleBar, an indoor cycling studio, for my initial class. I'm familiar with indoor cycling, plus these classes tend to have fun playlists—so I thought this would be the perfect way to ease myself back into in-person workouts. 
Battling nerves before my first class
Although I really missed going to boutique fitness studios, I'll admit I was a little bit nervous leading up to the class at CycleBar. After all, this would be one of my very first group fitness classes since the start of the pandemic.
At the time, the Omicron variant was surging in New York City and I didn't want to catch COVID-19 before heading out for an upcoming vacation. I was also intimidated because I had fallen out of a regular workout routine over the last six months. I didn't know if I'd be able to keep up with the instructor and my fellow riders at CycleBar.
However, I was comforted by XPASS's health and safety policies. In addition to supporting local regulations and mandates, they note on their website that many of their studios take extra measures, such as contactless check-in, air purification, and limited capacity. This eased a lot of my COVID-19-related fears and made me feel safer about doing in-person workouts again.
When I got to CycleBar for my first class, sure enough they had a contactless check-in screen and contactless shoe rental. Bonus: Because I didn't have to wait in a long line to check in and rent a pair of shoes, I had ample time to set up my bike and familiarize myself with the equipment before class started. The studio even had a welcome sign on one of the lockers for me since it was my first time there!
As for the class, I had a great time. The instructor was motivating, the energy of the people on the bikes around me was electric, and I was dripping in sweat by the end of the class. I walked out of the studio feeling happy, energized, and ready to book my next class.
Settling into a workout rhythm
After conquering my fears surrounding exercising in-person, I settled into a rhythm with XPASS. A few days after visiting CycleBar, I went to PureBarre to try their signature barre class.
I've always loved barre workouts, and PureBarre delivered. My legs were shaking while I pulsed at the barre, and I realized just how much I missed that feeling. The instructor did an excellent job of demoing moves and also offered helpful adjustments to make sure I had the right form throughout class. My muscles were sore for the next few days!
I rotated between regular CycleBar and PureBarre classes for a couple of weeks and then decided to branch out of my comfort zone and try a few of the other studios available on XPASS—all of which were new to me.
I took a dance cardio class at AKT, a restorative rowing class at Row House, and a reformer Pilates class at Club Pilates. The front desk staff at each location gave me a tour of the studio and equipment before class started, which I appreciated as a newbie.
In fact, each of these studios made me feel welcome as a newcomer. And because I mostly took classes at off-peak times (the perks of working from home), the studios I visited were never super-crowded. I had plenty of space around me during every workout, which added to my comfort level.
My final thoughts on returning to in-person fitness classes
While I was initially nervous about returning to in-person workouts, I had an overall positive experience using XPASS over the last couple of months. Each of the studios I visited had friendly staff and took adequate health and safety precautions, both of which made me feel more comfortable about working out in-person.
Additionally, I loved the wide variety of group fitness classes available on XPASS. Being able to try new workouts truly helped me get out of the fitness rut I had fallen into recently. I rediscovered my love of indoor cycling and barre and also found new favorite workouts, like dance cardio and rowing.
For me, nothing beats the experience of a group fitness class at a boutique studio when it comes to working out. I feed off the energy of the instructor and students in class and rely on adjustments to make sure I'm actually doing the workout correctly. I plan to keep up my routine as much as possible and will continue to take a couple of group fitness classes a week.
The bottom line: I believe XPASS is a great way to explore popular boutique fitness studios and find an in-person workout routine that works for you. Now excuse me while I hit the barre!