Pride Month Spotlight: How Fitness Changed Cassandra Grace
As told to David Robertson
Name: Cassandra Grace
Age: 50
City: Reston, VA
Occupation: Change Management Specialist (I know, right?!)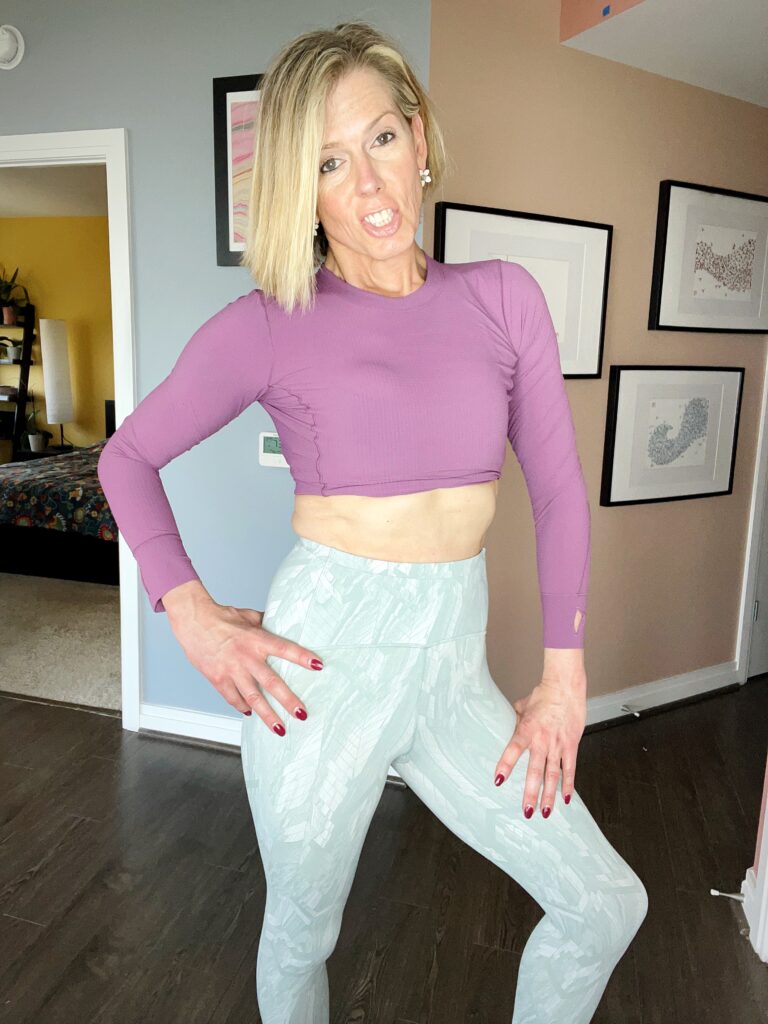 I exercised for a long time prior to my transition, but like so many things connected to my body— eating, for example, or sex, but for more about that you have to buy me a drink first — I came to understand that I was exercising for all the "wrong" reasons. I exercised to punish myself, exercised to try and force myself into accepting a body that I had been uncomfortable with my entire life, one that never really felt "right."
Like eating or sex or my choice of clothes or pretty much anything else related to my body, I was primarily driven by feelings of shame and self-loathing.
Instead of the harmonious and healthy mind-body connection that my fitness regimen currently supports, I only ever knew mind-body tension and mind-body disgust.
The worst part of it: Because I focused on weight training as a form of over-compensation, the more I exercised, the more masculine my body became, and the more I loathed it.
Estrogen's effect on bringing balance and harmony to my mind-body connection has been nothing short of miraculous and literally lifesaving. I began to notice the peace and tranquility in my mind almost immediately. As the physical changes of my second puberty began to unfold — skin tone, hair growth, body fat redistribution, etc. — I began to love my body in a way that I had never experienced before.
I waited over a year after I started taking Hormone Replacement Therapy before I socially transitioned — changed my name, got that sweet, sweet "F" on my driver's license, etc. However, once I did, and I started getting invited into women's spaces as "one of the girls," I started thinking seriously about what kind of fitness regimen I wanted to commit to. I asked around, did some research, and I became very intrigued by Pure Barre for a couple of reasons.
It looked like it was really, really hard, and I relished the challenge. I was pushing myself in every other aspect of my life and doing my best to overcome the fear that had kept me from blossoming as myself for so long. So, the more I researched Pure Barre, the more I wanted to take on what felt like an impossibly difficult task of earning my place in the studio.
I've been at my studio for nearly three years now and am coming up on 500 classes, many of which I have taken with Mollie, the instructor who was in the studio the first time I walked in and asked about taking a trial class. Bless Mollie for treating me with kindness when I stepped into that studio, because while I was doing something to overcome my fear, I was nevertheless terrified. She made me feel welcome, as she has done for literally everyone else at my studio.
The same has taken place at Club Pilates, where I have been a member for almost a year and am coming up on 300 classes. (Yeah, I'm a little obsessed.) But when you've waited a lifetime to feel the exhilaration of looking in the mirror and finally seeing yourself, well, I'd like to think of it as a healthy addiction.
It's been a rough couple of years for all of us. Everyone has experienced loss and hardship and faced challenges that none of us anticipated. I know the studios that I go to have been places of refuge and renewal for so many women over these last few years. I have found a very empowering sense of community in being a part of that, a reassuring perspective that everyone has gone through some kind of transition over this period. Mine just happens to have been really visible.
It's highly motivating to be alongside so many other women working just as hard as I am at taking care of their bodies, and it's been an honor to be welcomed into these fitness communities as an equal.
This experience has shaped my awareness of how sacred women's spaces are, how meaningful a place of safety and security they can be, and how much of a privilege it is to be part of them.
I am hyper-conscious of how hard women have fought to carve out these spaces in which they feel safe and welcome among each other. Being part of these communities is an honor that others have granted me, not a right that I have taken for myself. I appreciate every woman who has extended me the gift of sisterhood of her own volition, not because she felt compelled to do so through cultural pressures or someone's force of will.
I am grateful for each and every day that I get to experience life as myself, and it is my fondest wish that everyone has this experience, regardless of what that means to them. We can all be a part of making that happen for each other if we put more intention into reaching out across divides and showing compassion for perspectives and identities that are different than our own.
Cassandra's Fitness Advice: Share your fears.
It's been mind-blowing over the last few years to realize just how many of my negative thoughts about my appearance and self-image are the same kinds of things that pretty much every other woman suffers through.
For so long, I thought it was just about me being trans. I assumed that everyone else had their sh*t together and I was the only one who looked in the mirror and periodically hated what she saw. The more I opened up about these negative thoughts, the more others shared theirs, and the more we bonded. I still have these thoughts, but I wish I had opened up about them sooner because I would have formed those supportive bonds of connection earlier.