8 Summer Hair Tips That Work for All Hair Types
We hate to be the bearer of bad news, but it turns out your hair can take quite the beating during the summer months. Yep, all that fun in the sun, humidity, salt water, and chlorine can lead to dryness, damage, frizz, and color fade. 
"Firstly, the heat can steal the moisture from your hair and make it drier than normal," explains Allyson Carter, hairstylist and editor-in-chief at Hair Spies. "Your hair follicles may lose nutrients and crucial oils."
What's more, the summer's hot sun and humidity are the perfect combination for frizz, says Ghamina Abdullah, hair expert with TheRightHairstyles.com.  "The sun can dry out your hair and leave it seeking moisture in the air," she says. The result? Instant frizz. 
Dani Everson, hairstylist and owner of Clementine's Salon in Denver, meanwhile, says the biggest hair concern she sees in the summertime is color fading as a result of the sun, salt water, and chlorine. "Chlorine can even shift hair color to a green tint as a result of chlorine," she adds.  
So what can you do to protect your hair this summer? We've rounded up the best summer hair tips for all hair types. Follow this advice to keep your strands soft, shiny, and healthy all season long!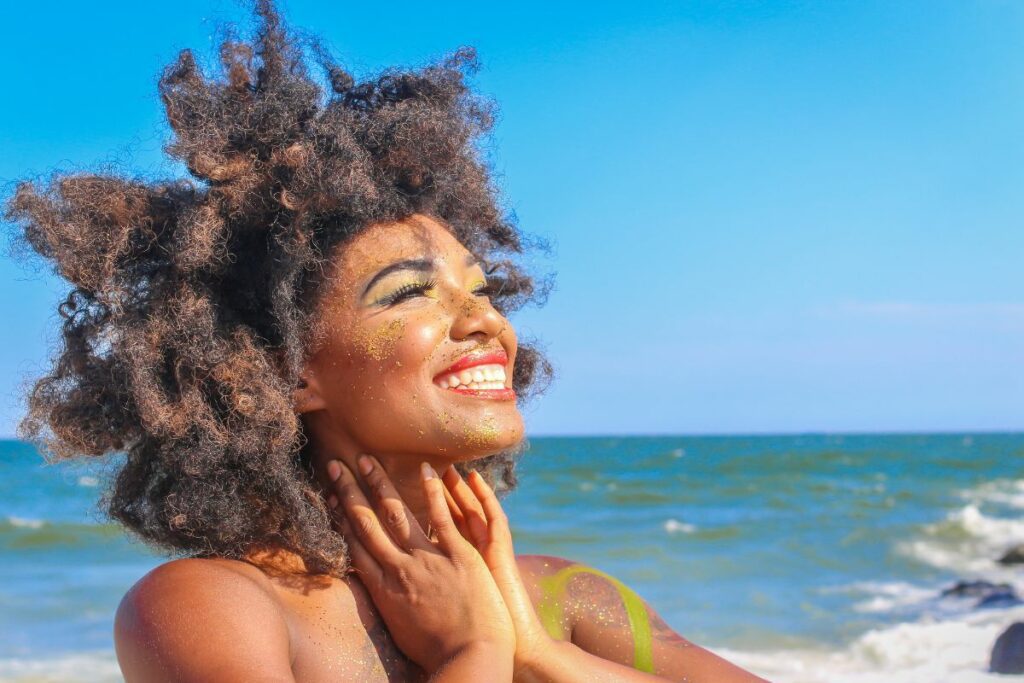 1. Get a trim to remove split ends
New season, new haircut: Carter recommends booking a salon appointment at the beginning of the season for a summer snip.
"I would say everyone needs a short trim when the hot season starts," she says. "It's a great way to get rid of your split ends and start off the summer with a fresh look."
2. Take special care before and after swimming
There are a few easy things you can do pre- and post-swim to minimize damage and color fade.
Before a swim: "Incorporate a leave-in conditioner to your hair prior to going to the pool or beach," suggests Everson. This can help prevent chlorine damage. We're fans of the Sun Bum Revitalizing 3-in-1 Leave-In Conditioner Spray ($13.29, amazon.com), which detangles, conditions, and protects hair.
After a swim: "After swimming in the pool or any body of water, always rinse your hair out well," says Carter. "Leaving buildup of chlorine or salt water in your hair can cause some serious damage in the long run."
For a swimmer's shampoo, Abdullah likes Paul Mitchell Shampoo Three ($14.50, ulta.com). "It removes chlorine and other pool minerals and has a great grapefruit scent," she says. 
If you're someone who swims in both the pool and at the beach, Abdullah recommends checking out TriSwim ($15.48, amazon.com), "a gentle but powerful shampoo that removes both saltwater and chlorine, among other minerals." (We've got even more ways to protect your hair from chlorine.)
3. Add a moisturizing shampoo and conditioner to your routine
To combat summer dryness and frizz, switch to moisturizing hair care products. "Use moisturizing shampoos during the summer and condition your hair, even if it's just from the mid-lengths to the ends," suggests Abdullah.
We're fans of the John Frieda Frizz Ease Beyond Smooth Frizz-Immunity Shampoo ($13.49, target.com) and John Frieda Frizz Ease Beyond Smooth Frizz-Immunity Conditioner ($12.49, target.com) because they're loaded with reparative and nourishing coconut oil. 
4. Use a nourishing hair mask weekly
Consider adding a hair mask to your routine too. "All hair types can benefit from using a hydrating hair mask once a week, at the least," says Abdullah. "Hair masks provide nutrients and moisture so that your hair stays soft and elastic, even in the heat." The hydration provided by a hair mask also helps keep frizz at bay, adds Abdullah.
She likes Briogeo Don't Despair, Repair! Deep Conditioning Hair Mask ($38, sephora.com). "It contains a lot of botanicals to help protect and restore your hair," says Abdullah. Bonus: This one's a particularly excellent choice for curly and coily hair types. 
5. Slather on the frizz-fighting serums and oils
"Anti-frizz serums and oils are also some products that will not only reduce frizz but also benefit your hair health," notes Carter.
Try the Color Wow Pop + Lock Frizz Control + Glossing Serum ($20, sephora.com), which provides heat and UV protection, adds shine, and smooths frizz. It's formulated to work on all hair types, including curly and coily hair. 
6. Shield your hair from the sun
"If you live in a sunny area and are always outside, UV filters like sprays, gels, or creams should be applied before you go out for the day," says Carter. "This will maintain your hair color and protect the strands from being damaged by the sun."
Carter also recommends wearing a hat whenever you can to protect your scalp from the sun. Coolibar makes a variety of cute sun protective hats with UPF (ultraviolet protection factor, the measure of how well a fabric provides protection against the sun). 
As for hair care products, Everson likes the Kerastase Soleil line for sun protection. "It's equivalent to using SPF for your skin but for your hair," she says. "The line features a shampoo, leave-in conditioner, a hair mask, and a styling balm that leaves the hair smelling like the best day at the beach." 
Spritz the leave-in conditioner from this line into your hair if you know you'll be lying out at the pool or beach all day, says Everson.
7. Skip the heat tools
Summer is a great time to ditch the heat tools to avoid extra damage. "Sunlight provides quite a lot of heat," says Abdullah. "If you compound that by using heat tools, you're leaving yourself wide open to considerable damage."
Instead, know that your hair will likely be dry within minutes of stepping out into the hot weather, notes Abdullah. You can air dry your hair to perfection in the summer with the following tips, courtesy of Abdullah:
If you like a straight look, apply a leave-in conditioner and brush your hair once it's halfway dry. The Rahua Hydration Detangler+ UV Barrier ($34, amazon.com) is a favorite of Abdullah's because it has built-in UV protection and works well to detangle when you're air drying your hair. 
Use an oil and try the "wet" look. It looks great and helps condition your hair. We like the OUAI Hair Oil ($28, sephora.com) since it also offers UV protection in addition to taming frizz and adding shine. 
Embrace your curls by scrunching in a curl definer and leaving our hair to dry. Twist by Ouidad Weather Up Lotion ($9.39, target.com) is our drugstore pick because it leaves curls soft and defined, never crunchy.
8. Rock a braid or bun
"One of the best things you can do for your hair during the summer months is to braid or bun it," says Abdullah.
Both styles help protect your hair from pollution, heat, and wind damage. These styles will also help protect some of your strands from the sun until you're able to pick up products with sun protection, she adds.