How Failing A Minimalism Challenge Changed The Way I Organize My Home
I am not a minimalist. I am the kind of person who could move into a home the size of a Super Target and still say "I wish there more storage here." Still, I have a strange obsession with minimalist YouTube channels. I could watch "Things I No Longer Buy," and "Capsule Wardrobe" videos for days. While I wouldn't want to live a minimalist lifestyle, I confess: I find clutter to be a source of irritation and stress in my life.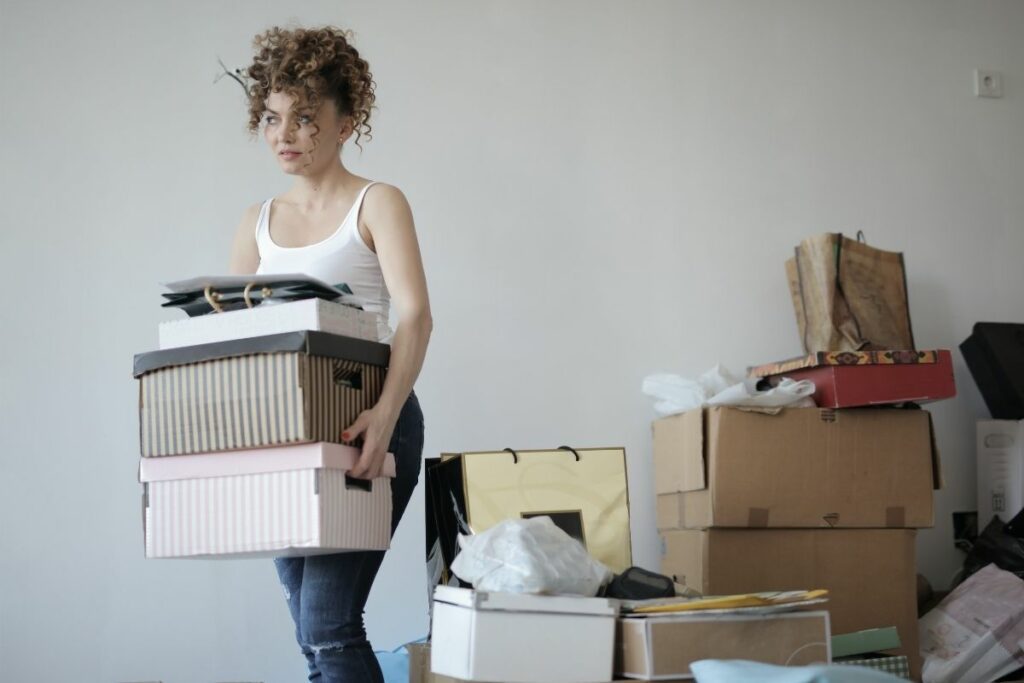 What is a minimalist lifestyle?
A minimalist lifestyle can mean owning fewer possessions, such as four pairs of leggings instead of 20 (no thank you). It can also mean living in a home with undecorated walls or less furniture. For example, The Minimal Mom chooses not to have nightstands in her bedroom. I think about this a lot, wondering where she keeps a bottle of water, her phone, or even an old-school alarm clock? Parts of minimalism just don't feel practical for my life.
However, there is one aspect of minimalism I became extremely fascinated with. Thanks to the algorithm, I began to come across Minimalism Challenge videos. Here's how it works: For thirty days, you throw out one thing each day consecutively (one thing the first day, two things the second day, etc). However, someone people prefer to work backward, throwing out 30 things the first day.
Everything was fair game for my version of the challenge, meaning a business card (remember those?) had equal weight to a t-shirt.
(Read this: Five Lessons Learned from a Decluttering Challenge)
My minimalism challenge approach
The first fifteen days of the minimalism challenge were easy. When I started the challenge I knew I had a few old bottles of shampoo I didn't want, lipsticks that were unflattering, and some clothing to get rid of. But I had no idea how many useless objects I had that took up space in my life and created clutter with absolutely no purpose. For example, I had a cashed check from 2018. How was that still even in my possession? How did I have two tubes of Neosporin that expired last year? Getting rid of those things was a no-brainer.
After five days or so, I'd tackle a different area each day, such as a kitchen cabinet, or a nightstand drawer. I highly recommend this strategy to anyone doing a minimalist challenge because it keeps things moving and makes the process manageable.
The failure
Then things started to go wrong. At beginning of the challenge, I ordered some new bedroom furniture and thought this was the smartest idea ever. This would allow me to get rid of clothing that likely wouldn't fit in a new dresser. Then like most people buying new furniture these days, I hit a supply chain snag. Months later, I still don't have a new dresser. But I am going slowly going through the clothing I don't need and giving it away. When my dresser arrives (hopefully this decade), I plan to par down even further on my wardrobe.
How I'm changing my relationship with objects
One terrible habit I've gotten into is not finishing beauty products before opening a replacement or buying a new one. This clutters my bathroom with everything from body lotion to hair serum and sunscreen. Since trying the minimalist challenge, I've become highly aware of this pattern.
These days, when I catch myself wanting to replace a product early, I wait longer. This doesn't come naturally to me at all.
I've made decluttering a regular part of my life
I might have "lost" the challenge, but I won better control over my space. For example, when I notice my closet getting cluttered, I'll take an hour on a Sunday afternoon to re-organize it. If there's an old piece of paper or note in my desk drawer, it must go immediately. I'll also scan the space for other things I don't need anymore. I'm constantly taking inventory, throwing things out, and tidying up, but it doesn't like a burden. Cleaning small areas gives me a sense of satisfaction instead of lettings things go and feeling stressed.
I'll never be a minimalist
Realistically, my home will never be clutter-free. I'll never have a capsule wardrobe or five pairs of shoes (you should see what I pack to go away for a weekend). I have lots of beautiful art on my walls and a nearly offensive amount of small objects that look pretty and collect tons of dust on tabletops and shelves. But regular decluttering continues to be a great habit I've established for myself. While I didn't finish what I started, I can admit the minimalism challenge changed my life for the better.