Everything You Wanted to Know About Sex Therapy (But Were Afraid to Ask)
In fall 2020, I was scrolling through my Instagram stories and found a funny and surprising reel captioned "How to Work out with a Sex Therapist." The video featured sex therapist Casey Tanner, who has made waves on social media by providing resources about sex, gender, and relationships, specifically for the queer community. I was intrigued. Even for a therapist, I knew surprisingly little about sex therapy and even less about sex therapy in queer spaces. Through following Casey and other sex therapists like Vanessa Marin, I was able to learn about this valuable, but somewhat taboo, resource. 
Prior to finding these unapologetic and empowering resources, I had a deeply limited understanding of what sex therapy provides. If asked the question, "What is sex therapy?" or, "Why go to sex therapy?" my responses at the time were naïve and likely unhelpful. Thankfully, I can now answer these questions and support you in seeking sex therapy if you're curious about it.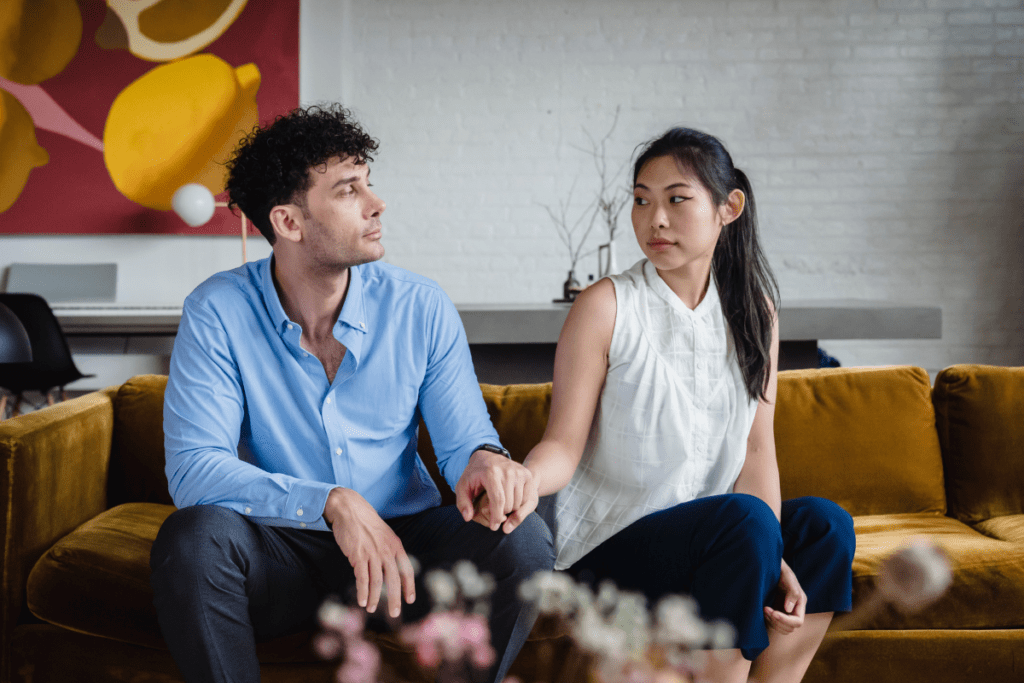 What is sex therapy?
So first things first, what is sex therapy? Sex therapy is a type of talk therapy for individuals, couples, and/or polycules that may be experiencing dissatisfaction with their sex life. Sex therapists are trained to support people in uncovering what issues may be at play in challenges with sexuality, like medical problems, psychological challenges, or interpersonal difficulties. Some common issues that are discussed in sex therapy include: erectile dysfunction, overly low or high libido, change in interest in sex, unwanted sexual fantasies, difficulties with orgasm, sexual trauma and low confidence. 
Research shows that 43 percent of women and 31 percent of men experience some amount of sexual dysfunction in their lifetime. Unfortunately, though this is a common growth area for many people, there are still many misconceptions about what sex therapy is that may dissuade people from seeking support.
Common misconceptions about sex therapy
From time to time, I have clients that may benefit from sex therapy either by themselves or with their sexual partners. Unsurprisingly, some of their fears about sex therapy are connected to misconceptions that have become commonplace in our culture. Below are some common questions that you may have about sex therapy that are rooted in misconception: 
Am I going to have to have sex in front of the therapist? The short answer is absolutely not. Though sex therapists will likely assign homework that is related to physical intimacy, the therapy space will not involve any kind of sexual activity or nudity.
Why would I need sex therapy if my problems aren't that bad? Much like any mental or physical health problems, difficulties in sex are easier to resolve if addressed early on. When you begin experiencing dysfunction, it's easier to identify a simple solution earlier through sex therapy. On the other hand, you may not have access to that solution if the problem gets worse.
 Will my relationship end if I need sex therapy? Not necssarily. The truth is, if you are experiencing sexual dissatisfaction in your relationship, you are more likely to have success in your relationship if you seek sex therapy. 
Will my problems with sex be too weird for a sex therapist? As sex therapists specialize in supporting people with problems in sexuality, they've seen it all. In training, sex therapists are exposed to and learn about a wide variety of challenges. It is almost guaranteed that they have worked with other people who have had your same problem.
Can I even see a sex therapist if I am alone? Of course, you can. Sex therapists work with all different types of people. This ranges from people who are single, to those who are partnered, to those who are in polyamorous relationships. If you are single, seeking support can help you address your needs prior to engaging with future sexual partners.
What happens in sex therapy?
If you've worked with an individual therapist, you can expect your sex therapy session to be similar. When you first meet your therapist, you will likely engage in an intake session. Here, the therapist will ask you to describe why you're there and what you want to work on. After the first session, your therapist will support you in discussing your challenges and provide guidance on possible solutions or interventions. 
If you are in therapy with a partner or numerous partners, the therapist will support the pair or group in working together to implement solutions. If there is a possible medical issue related to your sexual dysfunction, your therapist may encourage you to seek care. Generally speaking, sex therapy – like all therapy – is designed to provide support and education while encouraging change and growth. When the goals of therapy have been met, you and your therapist can decide when to end therapy.
How do I find a sex therapist?
You can find a sex therapist through avenues that you may typically utilize to find a general therapist. Websites like Psychology Today allow you to put filters on the type of therapist that you are looking for. Filters may include gender, insurance, type of education, cost, and specialization that you are seeking in a therapist. Two other resources that have directories of sex therapists include the Society for Sex Therapy and Research (SSTAR) and the American Association of Sex Educators, Counselors, and Therapists (ASSECT).