How to Get Over Post-Pandemic Gym-timidation
Ten years ago, I walked into my first studio fitness workout. As quickly as I stepped in, I almost stepped right back out. Lucky for me, Ariana Chernin, co-founder/co-CEO of The Barre Code, was in the studio that day. She saw my face (terrified), showed me around, and convinced me to stay.
Not only did she calm my nerves making me feel comfortable that I belonged in that space, she probably changed the trajectory of my life. If I hadn't stayed for that workout – the first workout I wrote about for aSweatLife – who knows if I ever would have started this thing at all.
It turns out, this phenomenon has a name: "gym-timidation." A study by ISOPURE and OnePoll found in 2019 that 50% of Americans were too intimidated to even visit a gym.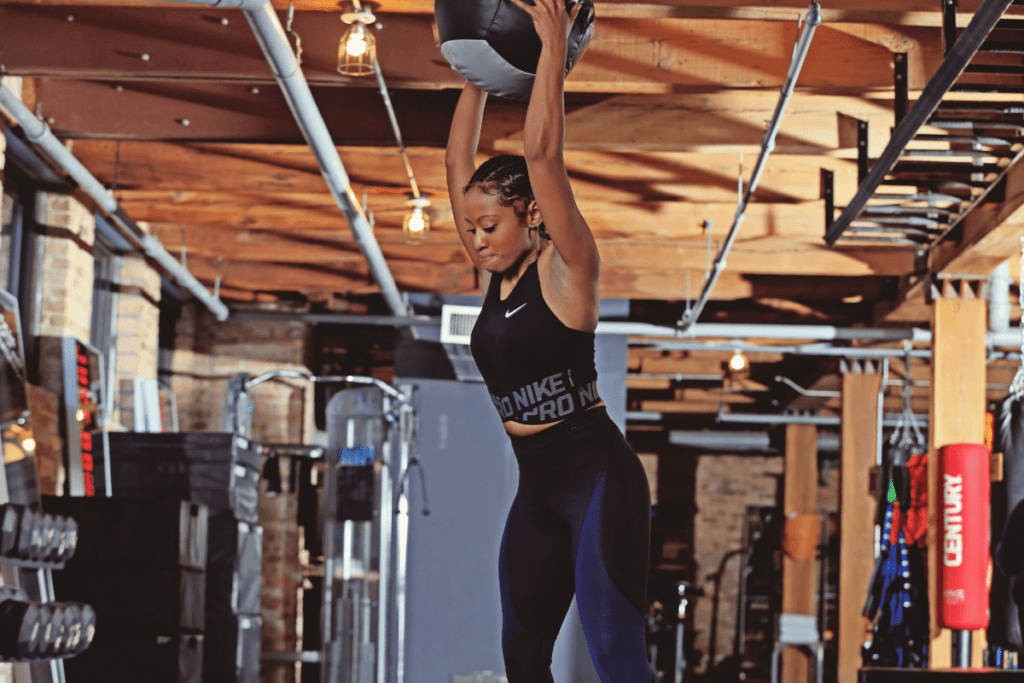 Pre-pandemic, that was something we at aSweatLife worked hard against by inviting people into gyms and studios monthly to try new things through our #Sweatworking events. And the proliferation of platforms like ClassPass made walking into new fitness spaces a muscle we were collectively more comfortable flexing, gym anxiety be damned.
Do you see where this is going? The pandemic is where this is going. With mask mandates lifting and humans resuming *normal* activities, a lot of us are starting from scratch, coming out of our living room routines, wondering what weights we can even handle these days.
This week, I experienced gym anxiety not unlike that very first trip to The Barre Code.
Here's where gym anxiety comes from
My husband and I are in Austin for the month, and even though we've been here before, we know a few people, and we've both visited, we are – without question – new to most places we go. I've hardly left Chicago for the past two years. And when it comes to workouts, I've barely left my 10 foot by 10 foot home gym.
I completely forgot what it was like to be new in a fitness space until this week, when my husband and I went to The Kollective, a brand new space just off of South Congress. It's immaculate, it's beautiful, and it's a like a Candyland of fitness equipment. It's what I would describe if you asked me to tell you what I would put in the perfect gym: turf, plenty of strength equipment, recovery tools everywhere, and all of those awful Assault treadmills and bikes.
When I was there, a group of athletes on the professional spectrum were working out together, doing something I'll describe as this: explosive movements and heavy weights. It was the kind of workout I wanted to do, but with a doctor nearby in case I did, in fact, die and need to be brought back from the light.
There was only one problem with my plan to steal their sprint repeats: the second we walked in the door, my hands started shaking and I felt that same get-me-out-of-here feeling I did when I walked into The Barre Code for the very first time. Why? Let's go back to that 2019 study for a second. In it, 32 percent of those who experience intimidation at the gym do so when they are exercising near someone who is extremely fit.
I know this was a me problem. How do I know? Instead of twirling through that perfect space like Julie Andrews at the start of The Sound of Music, I compared myself to literal professional athletes.
Once I realized I was robbing myself of an incredible workout, I pulled myself out of my gym anxiety by remembering how to be new with confidence. Can you have nerves and confidence at the same time? Absolutely, confidence just gives you a plan so the nerves can't knock you off your path.
Here's what to do next time you find yourself with "gym-timidation"
Ask for a tour.
Whether you're walking into a group fitness experience or onto a performance floor with squat racks and more, a tour gives you the time to ask a person all the questions you may have, like do I need to reserve that? Where are the towels? And any other important info you may need for your workout. If you're taking a class, try to arrive early, so you're not rushed through this part. Make sure you learn this person's name and tell them yours. This way, you'll have someone to check in with next time
2. Make a plan for your workout.
This is especially important for a strength or performance floor. Putting a plan to your workout allows you to set an intention. If you've never programmed your own strength workout before, start with David Carson's guide or purchase a plan through a coach or a program like Ladies Who Lift. However you plan your workouts – by yourself or with help – making a plan is much easier once you know what exactly is in the space.
3. Do your favorite things.
My plan included some of my favorite things: A great squat warm-up, barbell back squats, lunges, push-ups and rows. I finished the workout with sprint repeats on an assault treadmill and I had to take a little walk to the drinking fountain between sprint three and four to make sure last night's Tex-Mex didn't end up on the immaculate black turf. Doing a workout packed with movements I loved gave me a good first experience to look back on when I think about going back.
4. Focus on you.
I used to avoid dance workouts, expecting that people would discover that I'm basically a robot from the chest down. Eventually I gave in and started dipping my toe into dance cardio and what I found there changed how I approached every other fitness space: I was so wrapped up in myself that I didn't really notice anyone else. Once I inverted that, I realized everyone else was so wrapped up in their own thing, that they don't spend their workouts worrying about ME. Sure, everyone glanced at each other, but when you're trying not to throw a kettlebell through a mirror, concentration is key.
Net-net: pay attention to your own workout, and chances are that everyone else will too.
5. Be kind to your post-pandemic body.
Remember, your body may need you to take it easier than your 3-day-a-week barbell days. Ask me how stairs feel three days after finding my soulmate, the barbell, again. The answer: a resounding not good.
6. Make a plan to return.
Now that you have your sea legs under you, your confidence can continue to grow, sans gym anxiety. Mentally, and in your calendar, commit to your next visit. You'll have time to plan for your next workout in the space now that you know what's there and you can add some new movements and pieces of equipment with a little more time to research and plan.