I Worked Out With An Olympian- Here's What Happened
When a friend of mine asked me if I wanted to go to F45 with her and take a class with Olympic athlete Morgan Mitchell, I initially thought she was perhaps trying to kill me. After all, Mitchell is a professional runner who has competed in both the 2016 Olympics in Brazil and the 2020 Tokyo games. It was going to be intense and intimidating. But, when it comes to fitness classes I'm up for almost anything, especially a challenge (even if that involves working out in a dress). 
The F45 Workout
Founded in 2011 by Adam Gilchrist and Rob Deutsch, F45 has nearly 3000 franchises in 63 countries. F45's circuit-based workouts are ideal for someone who likes to be consistently challenged or simply gets bored doing the same thing every time they go to the gym. Mondays, Wednedays and Fridays are cardio days, while Tuesday, Thursday, and Sunday are strength training days. Saturdays are called "Hollywood Days" and have a live DJ.
While I worked out with Mitchell in Santa Monica, I had previously been to the West Hollywood location. Both locations had some of the same equipment and some different options as well. F45 offers a variety of different workouts and every session is unique in its own way. There are thousands of different workouts that can be done at F45.
My experience 
However, the first few minutes of every F45 workout are the same. The instructor goes through every exercise and thoroughly explains everything. Because there's a lot to remember, all the circuits that aren't self-explanatory (such as a spin bike, for example) also have a screen that shows participants what to do, the number of reps, or any other essential information to know. This is smart and makes the program much easier.
However, there are plenty of trainers that come around during the workout to demonstrate form, make adjustments, etc. While a lot is going on because everyone is doing something different, there isn't a moment of feeling lost or alone during the process.
While I worked out, I couldn't help but feel like a total creep watching Mitchell. I've watched professional athletes on television, but seeing someone a few feet in front of me was something different entirely. But in short, her form was perfect. It's also nice to see a woman honored for athletic accomplishments based on her strength and capability, not how she looks.
The fact that she was there training (alongside us regular people) also shows what a great workout F45 is. While she is now the Lead Training Athlete for the brand, she originally learned about it through her sister Britney. "She invited me to a workout a few years back and I was hooked," Mitchell revealed to me.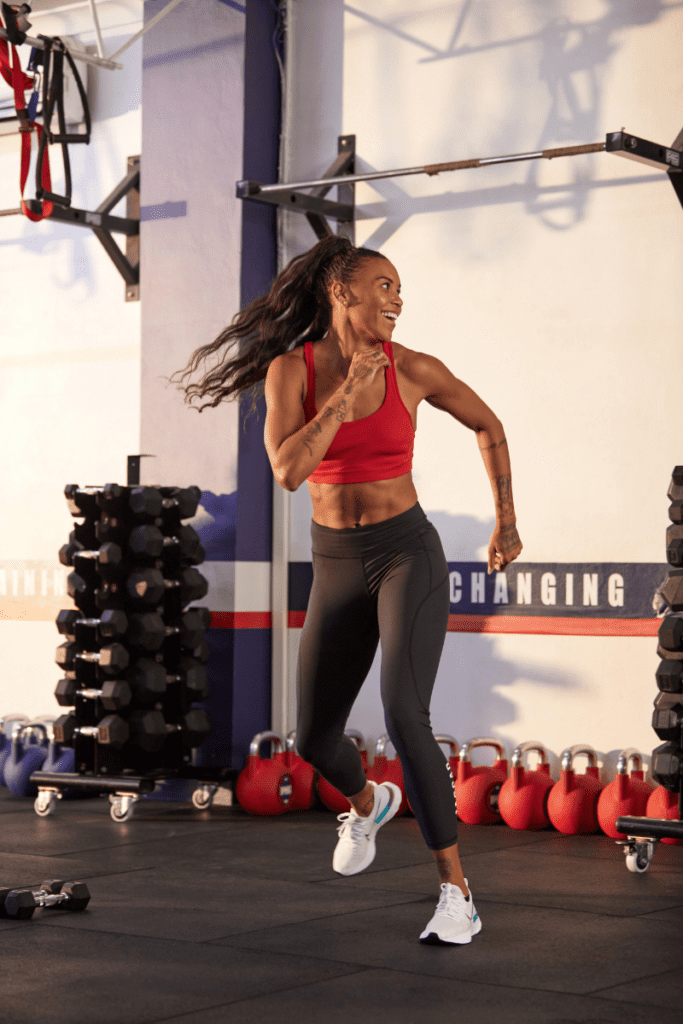 I asked her what made F45 such an effective program and she told me, "Every workout is different. That's what I love. You have days that are specific to cardio, resistance, or hybrid so you can pick and choose what it is you want to work on. I also love the community, that's what keeps me coming back. I've met some incredible members and trainers who really do push me to the limit all while having fun!"
F45 Tips From An Olympian 
The one thing that Olympians have that the average person does not is a serious amount of discipline. But not everyone is a born athlete. Mitchell recommends finding that discipline by setting small goals for yourself along the way. "At the end of each goal- once you hit it, reward yourself with a spa day, a night out with friends, or whatever it is you're interested in. I think we tend to forget that it's okay to have incentives and to treat ourselves. It's so important to keep the mind and body happy, that's how we stay focused." Sounds like a great idea to me.