Can You REALLY Work Out in an Exercise Dress?
Exercise dresses have started to become a fashion trend, especially during the pandemic. But are they as functional as they are stylish? I learned the answer to this by trying four different workouts in four different exercise dresses. What happened was quite surprising. Just think of me as your fashion guinea pig…
I decided to start this assignment with the easiest workout and one of my personal favorites, walking twice around the Silver Lake Reservoir loop in Los Angeles. With 4.4 miles total and a few hills, this mostly flat power walk is usually my recovery workout for the week.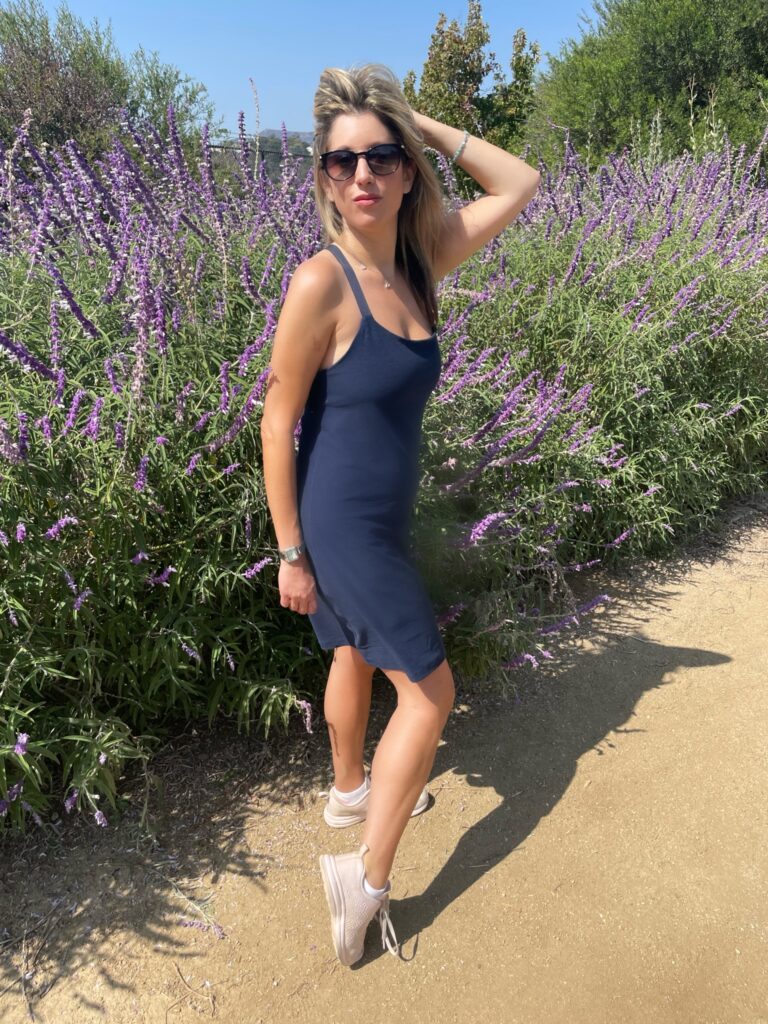 I wore a Beyond Yoga Spacedye Move It Dress, which turned out to be super comfortable and easy to move around in. It has built-in shorts and a bra, so it feels as if you're wearing a bodysuit underneath. I felt very supported and completely comfortable for the entire walk. This dress is also a great alternative to leggings and a sports bra for yoga or perhaps even a Pilates class.
It is also one of the most versatile exercise dresses I tried. Well on its way to becoming a favorite wardrobe staple, I've worn it a few times with a denim jacket to run errands and work from home.
Can you box in a dress? Yes, you can. I took a class at Prevail Boxing in West Hollywood. This was my first time wearing a dress for a workout that most people don't often (and by often I mean ever) do in a dress. The Aerie OFFL/NE Dress is super cute and has built-in shorts, which was perfect because there were jump squats and crunches involved in this workout. There isn't really a built-in bra, so I wore one underneath it. While I think going semi-braless for fine for yoga or neighborhood walks, I wasn't going to risk a potential wardrobe malfunction while boxing, which is horrifying enough in itself if you're trying it for the first time.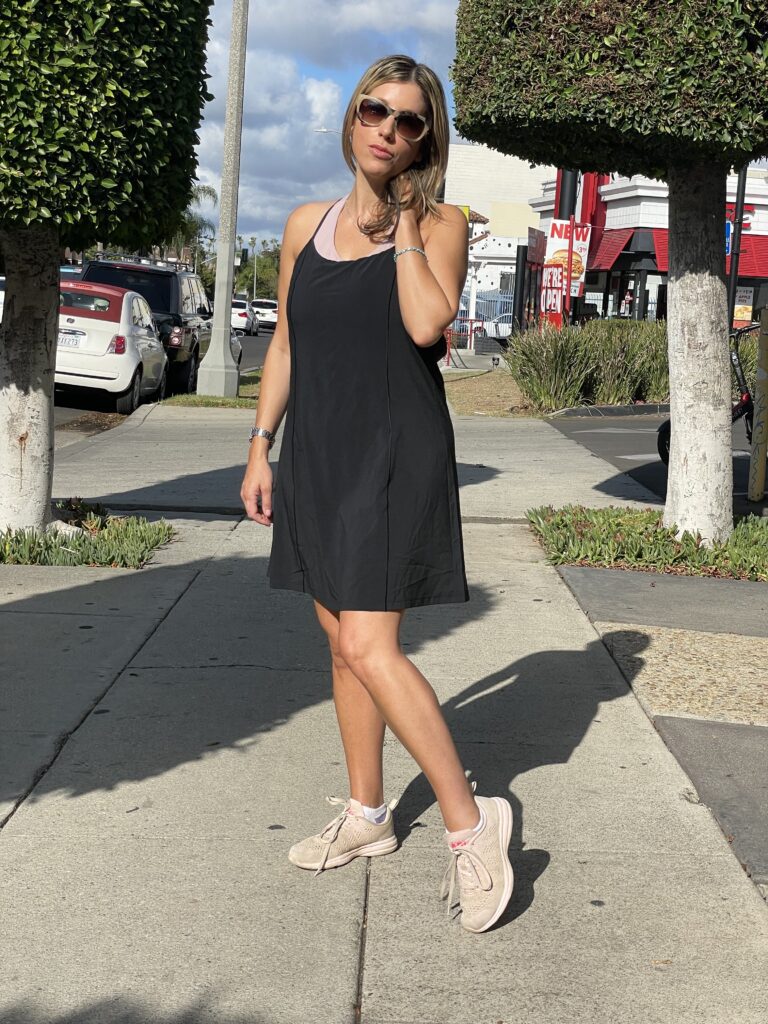 I was surprised at how easy the dress was to move around in. I didn't worry about showing anything I shouldn't or feel self-conscious at all, which is good because whether you wear a dress or not, Prevail is a challenging workout.
Like the Beyond Yoga dress, this one is also versatile, but more affordably priced. You can easily wear it with boots and a leather jacket.
I love the Athleta Balance Dress! It's available in regular sizes up to 2X as well as petite and tall. Sort of like wearing a big sweatshirt, it has long sleeves and pockets, making it ideal for brisk fall days. More modest than the other options here, my only complaint is that it runs a little large. But was appropriate for F45's intense HIIT circuits? That's a different story.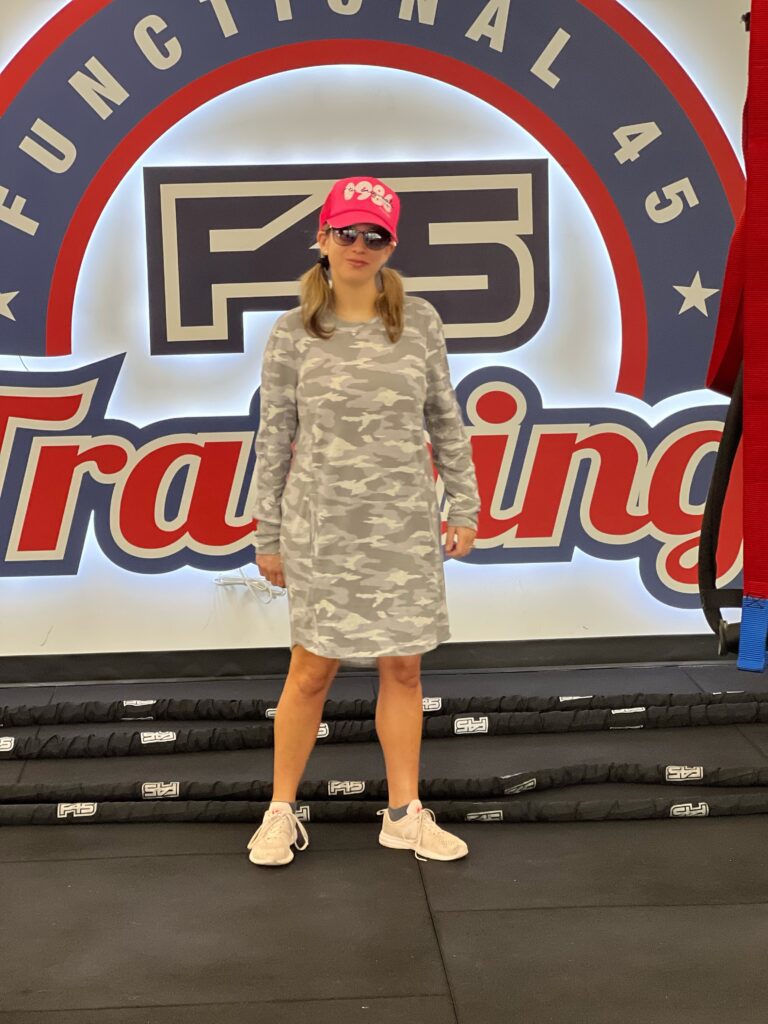 I initially didn't feel awkward or uncomfortable in this dress. Being adjacent to an Orthodox Jewish neighborhood, it's not uncommon to see women working out in skirts or dresses. But I guess those who regularly wear dresses or skirts to exercise know the importance of wearing leggings underneath. Now I know why. I'm just happy I didn't wear a thong.
While I was able to do many of the circuits including spinning, lifting weights, and TRX, I wasn't able to do raised leg crunches at all or attempt burpees without a precipitative anxiety attack. Ultimately, I was grateful to get through an entire workout without flashing anyone. But that wasn't the dress's fault!
So, is this dress good for HIIT workouts? Not really. Is it the perfect dress to wear over leggings or shorts and a sports bra? Absolutely!
The L'Oeuf Poche Cloud 9 Dress was designed for tennis, not a HIIT workout on a Power Plate, which is what Platefit essentially is. The fabric is SPF 30 and has pockets, so it's great for anything outdoors. With a stylish scalloped neckline, this dress is available in both white and navy blue.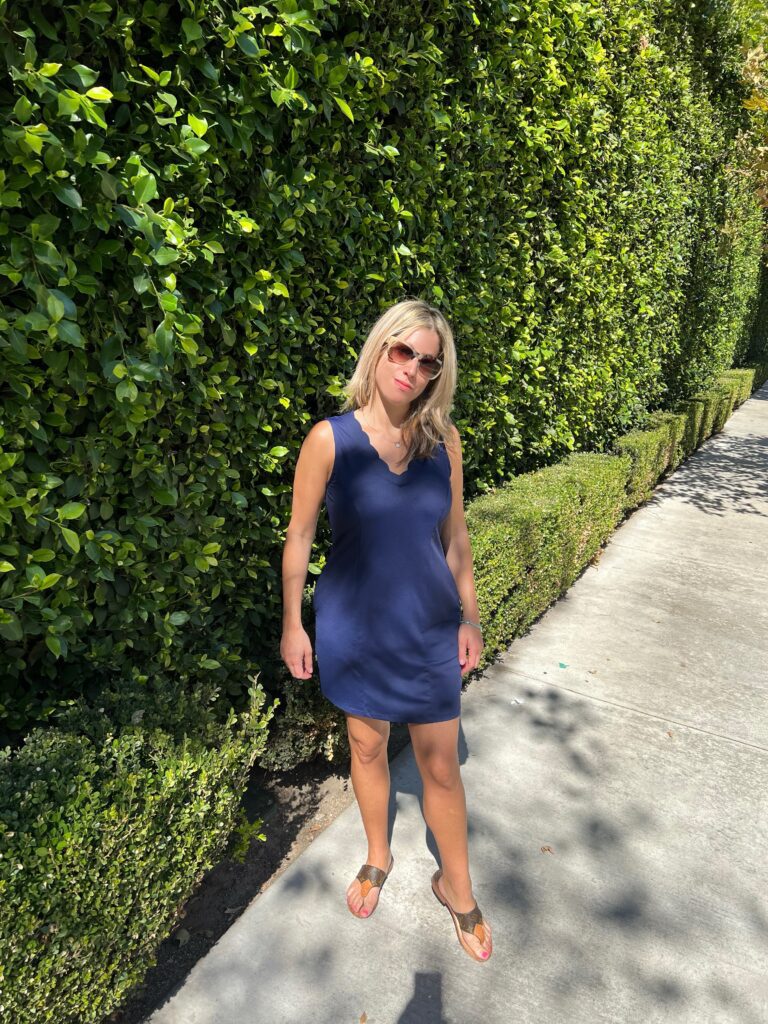 After avoiding a major incident at F45 the previous day, I felt it was a smart idea to wear shorts underneath the dress. As the class progressed, I was surprised at how easily it moved with me during jumping, squats, etc. In fact, everything was perfect until I had to lie down on the plate, put my legs up and reach to do bicycles. Then I was very happy I wore shorts. While this dress was designed for a different activity, I might wear it to Platefit again.
So can you work out in a dress?
The short answer is yes. But the more realistic answer is that you can work out in a dress depending on the activity, location, and the dress itself. If you want to do a streaming workout at home with no one around, by all means, wear a dress, then go back to your Zoom call for work. But if you're taking a super intense HIIT class, leggings are easier.
Still, I think exercise dresses are ideal for a class and brunch situation. You could also wear a dress over leggings or shorts and a sports bra as a layering piece in colder weather. Would I run a marathon in a dress? No, but I had no plans on running a marathon anyway.
However, if you want to mix up your workout wardrobe or better integrate it into what you wear away from the gym, you should probably give exercise dresses a try.