10 Ways to Use Your Thanksgiving Leftovers
Thanksgiving is by far one of my favorite holidays. Probably because in my family, we spend the entire day in our pajamas watching football and eating our Thanksgiving Day spread. (Yes, it is just as comfy and cozy as it sounds).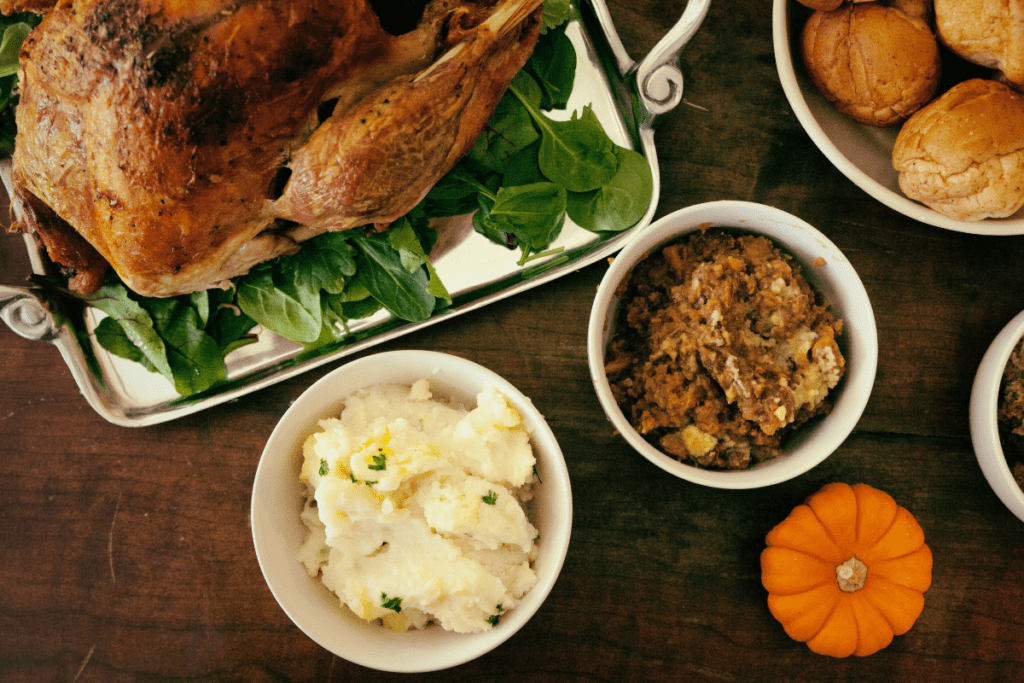 But besides family, food and football, the next best thing about Thanksgiving is the Thanksgiving Day leftovers. This year, instead of repeating your Thanksgiving Day plate for multiple days in a row, get creative with these Thanksgiving leftover recipe ideas including some delicious leftover turkey recipes.
Recipe ideas for Thanksgiving leftovers
1. Baked stuffed avocados
One of the easiest ways to repurpose Thanksgiving leftovers is to stuff everything in an avocado and bake it. Some great go-to filling options include dried cranberries, roasted potatoes and shredded turkey. You can even top it off with some chopped walnuts or pumpkin seeds for an added crunch.
Mix all of the ingredients together in a bowl then scoop into halved avocados. (Make sure the pits are removed!) Fill each half with a generous portion of filling, then drizzle with olive oil and a dash of salt and pepper. Bake at 400 degrees for 15 minutes and serve.

2. Dairy-free cranberry "milkshake"

Desiree Goodwin, Holistic Nutritionist specializing in allergy-free, plant-based foods and desserts, recommends repurposing that leftover cranberry sauce by creating a dairy-free cranberry milkshake. "Full of antioxidants and Vitamin C, this recipe makes a gorgeous smoothie that protects our immune systems in the most delicious way!"
All you need is the following ingredients:
8 oz fresh squeezed orange juice
2 oz soy or oat milk
1/2 frozen banana
1/2 cup leftover cranberries or cranberry sauce
A few frozen strawberries
Add all ingredients to a blender, and pulse until smooth. For a thicker shake, continue blending for 30-60 seconds. Cheers!

3. Layered soup

Executive Chef Kevin Templeton, from San Diego's Barley Mash and The Smoking Gun, is a pro when it comes to Turkey Day leftovers. He jokes that leftovers are probably his favorite part of the holiday and describes a delicious way to enjoy everything not gobbled up on Thanksgiving Day.
"I love to layer a soup bowl with all the leftovers—mashed potatoes, stuffing, turkey—and bake it in the oven for about 30 minutes or until it's hot all the way though. The best part is that you can add more or less of any leftovers you'd like. Then I top it with some warmed-up gravy and a couple of over easy eggs and enjoy!"

4. Pan seared stuffing pancakes and turkey pot pie

Chris Mentzer, Chef and Director of Culinary at Rastelli's, recommends repurposing leftover stuffing to create Pan Seared Stuffing Pancakes.
"Throw an egg in the leftover stuffing and mix it up with a handful of grated cheese. Make pancakes and sauté them in a pan until crispy on both sides."
Another delicious idea Mentzer mentions is to take all of your leftover gravy, pie crusts, turkey and vegetables and transform them into a homemade turkey pot pie. I mean come on, genius!

5. Thanksgiving breakfast burritos

In a rush to hit the stores for all of that Black Friday shopping? You'll need to fuel up first. Try some breakfast burritos, perfect for all of those turkey leftovers.
Simply select a tortilla wrap then choose your favorite Thanksgiving Day side dishes. Top with turkey or an egg and you have a complete meal perfect for breakfast, brunch, or a delicious and nutritious on-the-go snack.

6. Thanksgiving breakfast frittata or quiche

If you accidentally purchased one too many cartons of eggs put them to good use the day after Thanksgiving with a Thanksgiving Breakfast Frittata. The best part about a frittata or quiche is that anything goes. The ingredients can be as unique as your Thanksgiving Day menu, so raid the fridge, grab the eggs and channel your culinary creativity to create a mouthwatering masterpiece.

7. Thanksgiving leftovers breakfast hash

After Thanksgiving dinner, get excited for Black Friday brunch with this recipe for Thanksgiving Leftovers Breakfast Hash. It's incredibly delicious and super simple to make.
Just throw all of your favorite Thanksgiving leftovers like dressing, gravy, potatoes, roasted vegetables and turkey into a skillet and simmer. Top with a fried egg and a splash or two of hot sauce, and you have the ultimate day after Thanksgiving breakfast or brunch recipe.
8. Thanksgiving leftover pizza

Pizza is a favorite food loved by many, and what better way to watch all of those college football games than with a slice (or two) of Thanksgiving Leftover Pizza?
Select a base for your crust (like a cauliflower pizza crust or maybe a whole wheat option). Spread on a sauce like homemade gravy, mashed potatoes or sweet potatoes, but avoid cranberry sauce as its concentrated flavor can muddle the other flavors of your meal.
Next, add some cheese or skip it. Chef's choice!
Finally, shred some turkey or slice up some leftover Brussel sprouts, then pop in the oven and bake at 350 degrees until the pizza is golden brown.
Add some leftover greens from that fall harvest salad or a spoonful of cranberry sauce for a savory topping and you've got a Thanksgiving leftover recipe everyone will enjoy. Someone pass me a slice!

9. Thanksgiving leftovers waffle sandwich

Imagine everything you love about the Thanksgiving Day menu—except in a waffle. Pause for reaction.
Carve up some turkey, grab those green beans, slather on some sweet potatoes and top with some of that homemade cranberry sauce and enjoy a Thanksgiving Leftover Waffle Sandwich. All we can say is yum.
10. Turkey and Kimchi Potstickers

Kate Shongu, food blogger, suggests another fun and tasty way to repurpose Thanksgiving leftovers with this recipe for Turkey and Kimchi Potstickers. Simply place finely chopped turkey and a small spoonful of kimchi in a wonton wrapper, seal with a beaten egg, and pan fry until golden brown. That's it!