How to Speak Up in Zoom Meetings
Since the beginning of the COVID-19 pandemic, many corporate employees have had to adjust to working from home. But even though the corporate world has pivoted to WFH, certain aspects have not changed. Namely, people in corporate roles have just as many meetings as they did when going into the office.
The difference is that now, those meetings are all done virtually.
Faced with the daunting prospect of several video meetings per day, introverts in particular are feeling anxious about public speaking on Zoom video meetings. Here's how introverts looking to speak up can find their voice on video calls.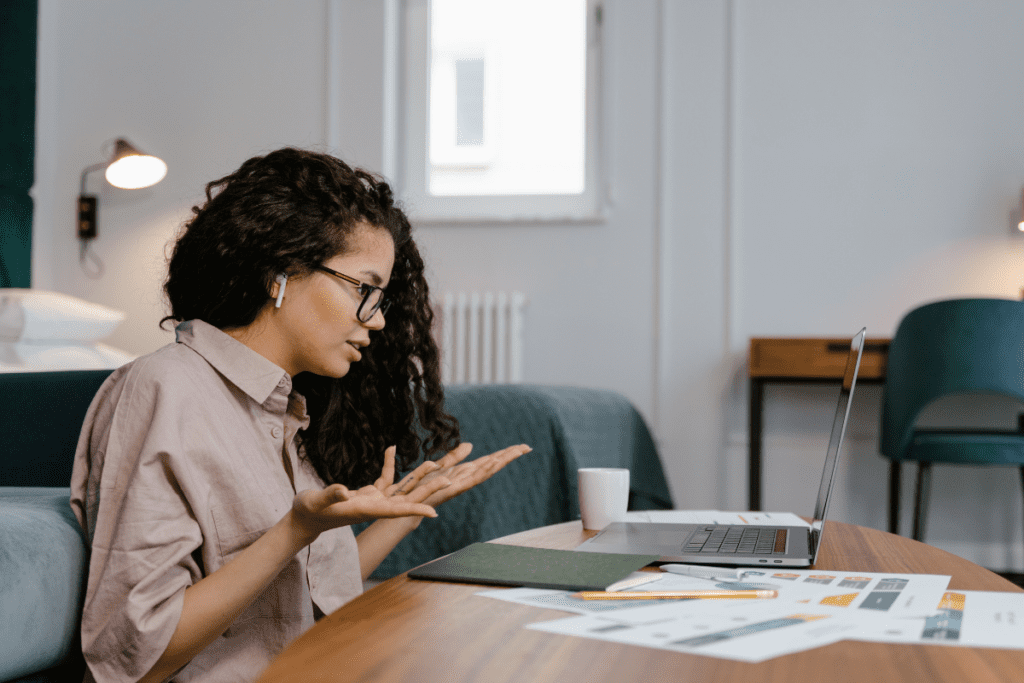 What is an introvert?
According to VeryWell Mind, introverts reportedly make up an estimated 25 to 40 percent of the total population. However, many people don't fully understand what the difference is between introverts and extroverts.
The biggest difference is that introverts re-energize when they spend time by themselves, while extroverts re-energize when surrounded by others.
In a corporate environment, introverts often find it more difficult to climb the career ladder when compared to more outspoken colleagues. This can create feelings of frustration. Introverts often have expertise and opinions, but they find it challenging to articulate those points of view.
Marilyn V. Santiesteban, a career services and private consulting professional, points out that in the workplace, introverts have a superpower: compiling information and presenting it clearly.
"Sometimes introverts wish they could start conversations. They certainly could if they floated a half-baked idea for further refinement," Santiesteban said. "But their power is to put all the ideas presented together, dismiss those that don't work, and provide a clean plan that integrates what has gone before."
How to speak up in meetings as an introvert
Working from home may be here to stay, at least in a hybrid capacity. Some companies are even allowing employees to work from home permanently.
If you're an introvert struggling with this new way of working, there are adjustments you can make to ease the feeling of video meeting burnout and discomfort.
Talk to your boss if you're struggling to speak up in video meetings, and ask for their help "teeing you up." For example, in a video meeting, they can say something like, "Julie, I know you had several thoughts on this topic. Can you share them with the group?" Having an ally in the meeting can help ease anxiety about finding an opening in the conversation.
Another tip is to craft an itinerary in advance of each meeting and share it with your colleagues beforehand. Establishing a clear agenda helps set clear speaking roles. As an introvert, this allows you to thoroughly prepare your thoughts in advance of the meeting, which gives you more confidence to interject.
Remember there is a power in introversion, and you have great contributions that are worthy of being heard.
"Introverts like to have all the facts, assess them and then present a well-thought plan. The power of the introvert is that they bat clean up," Santiesteban said. "In baseball, your power hitter bats fourth. Hopefully the bases are loaded with the first three batters and the power hitter brings everyone across the home plate. That's what introverts do: they listen, evaluate, and assess and come up with a really well-thought out proposal."
Video call features to take advantage of
Many popular video meeting platforms have several built in features you can use—once you know they exist, that is! Here are a few of our favorites:
Raise Hand button: If you have an idea you want to share with the group but are scared of interrupting someone, push the "raise hand" button. This lets the meeting host know you want to speak and gives you a clearer opening to share your thoughts.
Chat: If you're in a video meeting with a lot of participants and have something to say but aren't sure where to interject, use the chat feature! This empowers you to chime in with your point of view and collaborate with your team–without even needing to come off mute.
Emojis: Did you know that Zoom has emojis? If someone else is speaking and you want to show your support, like giving a thumbs up, you can click this emoji and it will flash on the corner of your zoom screen. This is a great way to share your support in a non-obtrusive way.
Even if you take all of the advice above into consideration, sometimes the fact just is that video meetings wear you down! And after a long day of video calls, take some proactive steps to fight Zoom fatigue.
Video meetings may be here to stay, but you don't have to be uncomfortable with them. Instead, use these tips to help empower you to raise your hand (virtually!) at work and use your unique, one-of-a-kind voice.