Here's Why Gluten-Free Food Is So Expensive
When I was diagnosed with celiac disease last year, the first thing I did was hit up my local supermarket to stock up on gluten-free pastas, cereals, cookies, and more. While browsing the aisles, I had major sticker shock. I couldn't believe how much pricier these items were than their gluten-filled counterparts.
Of course, the journalist in me wanted to know: Is gluten-free more expensive, really—and how could I save money on my grocery bill? I chatted with a few food and nutrition experts to get their insight.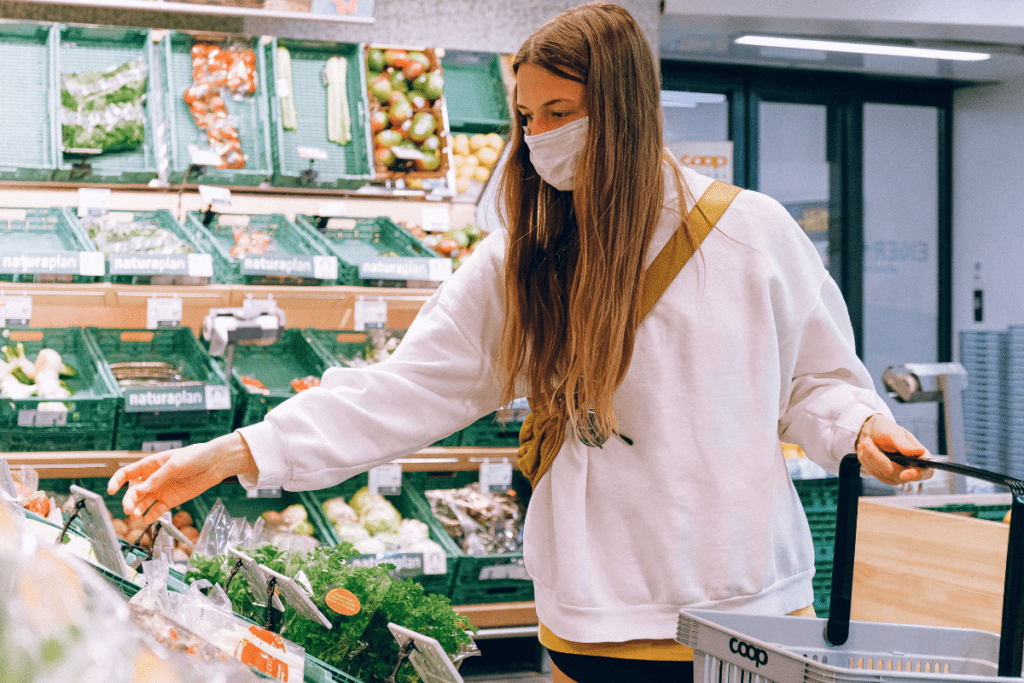 Why is gluten-free food so expensive?
According to a 2019 study published in the journal Nutrients, gluten-free products can cost up to 183% more than conventional foods. And that's actually down from 2006, when gluten-free products were a whopping 240% more expensive than traditional, wheat-filled items.
There are quite a few reasons why gluten-free food comes at a premium.
Gluten-free certifications
First, it's important to understand that there are different claims manufacturers can put on labels. Each one is associated with varying costs.
The most expensive option for a manufacturer is getting their products certified gluten-free by a third party, like the Gluten Free Certification Organization (GFCO). Certification can cost anywhere from $500 to $5,000, depending on the size of the manufacturer—and fees need to be renewed each year to keep the certification.
In order to be certified gluten-free, a food product must contain less than 20 parts per million (ppm) of gluten, "the lowest level that can be consistently detected in foods using valid scientific analytical tools," according to the Food and Drug Administration. It's generally accepted that foods that contain less than 20 ppm of gluten can be eaten safely by people with celiac disease or non-celiac gluten sensitivity.
"These certifications typically require several additional procedures to be put in place to ensure a food is truly gluten-free and safe, such as regular product testing, plant audits, and specialized staff training that require resources," explains Maya Rose, certified nutrition specialist and expert in celiac, gluten sensitivity, and gut health.
It's much less expensive for manufacturers to label their products gluten-free without the third-party certification, notes Tayler Silfverduk, RD, who specializes in celiac disease and other gluten-related disorders. 
"They just have to confirm that their product is gluten-free through their own testing of less than 20 ppm to be federally acceptable," she says.
But if a manufacturer isn't third-party certified, they "may have to pay for extra space in a facility to process their gluten-free products away from gluten-containing ones," says Rose.
Expensive raw ingredients
Then, there's the fact that many of the raw ingredients in gluten-free products—like sorghum, brown rice, tapioca, amaranth, quinoa, and buckwheat—are more costly and not subsidized in the same way wheat is, points out Rose.
"There is also a significant overlap between gluten-free products and those that exclude other allergens or include more 'natural' ingredients, which can further drive up costs," she adds.
Shorter shelf life
Another culprit behind the high cost of gluten-free items?
"A lot of gluten-free foods also have a shorter shelf life and often require freezer or refrigerator space to preserve freshness," says Jenny Levine Finke, certified integrative nutrition coach and founder of Good for You Gluten-Free. "Cold shelf space in a supermarket comes at a higher cost, no doubt—so does food waste."
High demand
Finally, there's the demand factor.
"The steep prices of gluten-free products can partly be chalked up to the increasing demand for them," says Rose. "As the popularity of gluten-free diets has continued to soar in the past decade—for medical and non-medical reasons alike—supply is barely keeping up with the demand for these products."
How do you budget for gluten-free food?
The good news is? "It is definitely possible to be on a strict food budget and to be on a gluten-free diet," says Carrie Forrest, who has a master's degree in public health and runs the blog Clean Eating Kitchen, where she shares tips for maintaining a gluten-free diet.
The next time you hit up the supermarket or place an order for grocery delivery, put these expert-approved tips to use:
Make a meal plan before you shop.
"Try meal planning so you know exactly what you are going to make throughout the week," suggests Forrest. "Make a grocery shopping list so you only buy what you need." This will help ensure you don't waste food—or money.
Try one new gluten-free alternative a week.
"When you're first starting out [on a gluten-free diet], it can get really expensive because you're buying all of the different alternatives trying to find something that you like," says Silfverduk. Instead of purchasing a ton of items at once that you might not even like, "I would start with trying to find one alternative a week—buy it, see if you like it, and if you don't, buy another similar alternative the next week," she recommends.
Ask brands for samples.
"A lot of brands are willing to send newly diagnosed celiacs samples because they want you to be a loyal customer," says Silfverduk. "So if you reach out to them and let them know you were newly diagnosed and you've heard about their product, they might be willing to send you some free product or at least some coupons that can help alleviate some of those budget concerns."
Hit up discount stores.
It used to be the case that you'd only find gluten-free packaged foods at high-end retailers. Due to the rising demand for these items, though, many bargain stores now sell plenty of gluten-free products. "Walmart has tons of gluten-free products in its Great Value line," says Levine Finke.
She adds that Trader Joe's and Aldi also offer great prices on gluten-free baking mixes and packaged foods. "And Costco continues to carry so many gluten-free products including gluten-free bread, crackers, and pasta from name brands," she says.
You can even find some quality and inexpensive gluten-free items at places like Grocery Outlet and in the food section at stores like TJ Maxx and Marshall's, adds Rose.
Stick to a diet of mostly whole foods.
Fruits, veggies, beans, meat, fish, poultry, eggs, and dairy are all naturally gluten-free. "These are typically much less expensive than packaged items because they haven't had to go through processing and all the costs it entails," says Rose. "Whole foods are also more nutritious, which is especially important for celiacs who often struggle with nutrient deficiencies and a damaged gut lining."
Bake your own gluten-free breads and desserts.
Since my celiac diagnosis, I've been enjoying gluten-free baking—and it turns out this is a major money-saver. "Some of the most expensive gluten-free products to buy are baked goods, including bread, cookies, and crackers," says Rose. "Save money by making these at home instead."
Cook in batches and freeze leftovers.
Yes, frozen meals are super-convenient —but gluten-free ones are expensive. "Frozen gluten-free entrees are pricier than conventional ones—but if you make large batches of meals, you can freeze leftovers to make your own ready-to-heat meals," says Rose.
Get a medical tax deduction.
"For those diagnosed with celiac disease, the IRS has now recognized the budget burden of a gluten-free diet and allows you to file for tax deductions," says Rose. "It does take time and careful documentation to go through the process, but this can be a way to offset expenses."
Levine Finke explains that the tax deductible part is the difference between the cost of a regular item and its gluten-free equivalent. For example, if a loaf of gluten-free bread is $6 and a regular loaf of bread is $2, you can deduct $4. "This can really add up, especially if multiple people in your household have celiac too," she says. It can be difficult to track expenses, so you'll want to work with an accountant to see if this makes sense for you.
Keep everything in perspective.
Living on a gluten-free diet often comes with a high price tag—but it's a good idea to look at the bigger picture. "Sometimes we have to spend more now to buy foods that help us heal and contribute to our wellbeing so this way we don't have to pay in the future in the way of hospital visits, prescription drugs and illness-care," says Levine Finke.