7 Pro Tips to Help You Master Gluten-Free Baking
I've been an avid baker ever since I was in high school, but being diagnosed with celiac disease in early 2020 seriously threw me off my game. No longer could I be confident that the cookies, brownies, or cakes I put into the oven would come out flavorful, fudgy, and moist. Instead, many of the first gluten-free treats I whipped up from scratch were dry, crumbly, and borderline inedible. 
Luckily, over the past year, I've learned quite a few useful gluten-free baking tips. Now I'm much more confident in my skills and have made everything from banana bread to pumpkin pie to raspberry thumbprint cookies.
Whether you've recently gone gluten-free and don't know where to start, want to bake for a gluten-free family member or friend, or are simply interested in experimenting with alternative flours and ingredients, this is the guide for you.
I chatted with a few experts (they've all been living the gluten-free life for years) for their best gluten-free baking tips. I have a feeling some delectable treats are in your near future.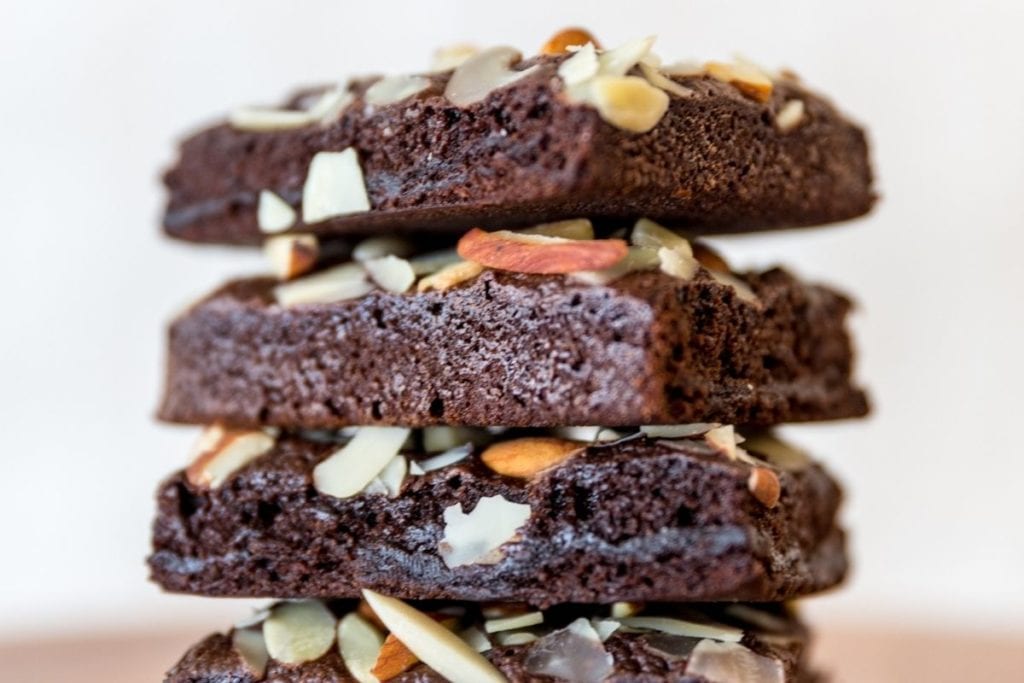 1. Invest in a digital kitchen scale.
Baking, especially gluten-free baking, is all about precision.  The easiest way to be precise is to use a digital kitchen scale—and many gluten-free recipes note weights in the ingredient list to make things super-easy to follow. (I recently bought this one from Amazon for under $30, and it's been life-changing.) 
"I always encourage others to cook with a kitchen scale," says Tara Rylie, founder of RylieCakes, a gluten-free baking mix brand, and author of Lick The Bowl: RylieCakes Essential Guide to Gluten Free Baking. "The best way to ensure accurate measurements is to weigh your ingredients—both wet and dry." Using weight measurements will ensure your baked goods come out scrumptious each time.  
2. Find your favorite gluten-free flour blends.
"Gluten-free flour is actually a combination of starches, flours, and xanthan gum, which means not one brand is exactly the same—and neither is the result," says Carolyn Truett, founder of the gluten-free recipe blog Caramel and Cashews. 
As Truett, who was diagnosed with celiac disease five years ago, notes—and as I can also attest to from personal experience—some gluten-free flour blends taste like chalk. Her go-to is Bob's Red Mill 1:1 All-Purpose Gluten-Free Flour.
"The texture is on-point and there isn't the strange aftertaste you get with some of the other brands," she says. 
Rylie, who's been living with celiac disease for more than a decade, created her own line of gluten-free baking mixes after being disappointed with dry, crumbly cookies and overly-dense brownies. She currently offers seven flour blends, for everything from biscuits to vegan cookies. (Through January 31, 2021, A Sweat Life readers can get 15% off all RylieCakes products that aren't already on sale using the code THESWEETLIFE15.) 
3. Utilize alternative flours.
While gluten-free baking has posed some challenges for me, it's also opened me up to a whole new world of ingredients I probably never would've used otherwise. My cabinets are now stocked with almond flour, coconut flour, rice flour, and more—and I've had success creating sweet and savory foods using all of them. 
Don Baiocchi, who creates recipes for the Paleo Gluten Free Guy, is a big fan of almond flour in particular.
"As a gluten-free baker, I am never without a bag of superfine blanched almond flour," says Baiocchi, who's been gluten-free baking for almost 10 years. "It's just peeled, ground almonds so they retain their healthy fats, fiber, and protein and help create moist, buttery baked goods."
Baiocchi also likes coconut flour.
"It's defatted coconut ground into a powder and creates fluffy foods," he explains. To lighten up some of these alternative flours and create a more "regular" texture in baked goods, he often adds arrowroot starch or tapioca starch to recipes. 
4. Start with simple recipes.
Making gluten-free soft pretzels from scratch? That can be a daunting task for a gluten-free baking newbie. If you're just starting out, stick to the easy stuff right now.
"Start simple, [with things like] brownies or chocolate chip cookies, get used to baking with gluten-free flours, and then work your way up," suggests Rylie. 
Truett agrees that brownies are a great place to start. Due to their low flour content, they're hard to mess up.
"They need very little flour, which, in turn, makes them fudge-y," she says. Flourless baked goods are also ideal for beginners, she adds. 
5. Read the recipe in advance.
Anytime I've gone into a recipe blind, I've had bad results. That's why I now always read the directions well ahead of time.
"By reading the recipe in advance, you're better prepared for what steps are coming next, leaving far less room for needless mistakes," says Rylie. 
5. Be wary of substitutions.
"Don't substitute a single-ingredient flour like almond or coconut into a recipe calling for all-purpose flour and expect a good result," says Truett. That's because every ingredient in a gluten-free all-purpose flour serves a purpose. "The starch is to emulate the structure and tenderness of gluten-filled treats, and the xanthan gum binds it together," she explains.  
Baiocchi adds that you can't substitute alternative flours for each other either.
"If a recipe calls for brown rice flour, you can't use almond flour just because they're both gluten-free," he says. "All flours have different qualities that react differently to the other ingredients."
You also shouldn't substitute any gluten-free flour, whether all-purpose or alternative, for regular, gluten-containing flour. Instead, Baiocchi suggests finding a gluten-free recipe and following it exactly, versus trying to adapt a regular recipe.
6. Add much-needed moisture to baked goods.
You know how I said gluten-free baked goods could be dry and crumbly? There's an easy fix. Rylie recommends adding an extra egg yolk to cookie dough and cake batter.
"Egg yolks are an emulsifier, which means they have the unique ability to bind liquids and fats," she explains. "This emulsion allows batters to hold more moisture and creates an extra rich flavor."
7. Don't be afraid to fail.
Gluten-free baking is full of trial and error. Eventually, you'll get the hang of things—but in the meantime, don't get discouraged, says Baiocchi.
"Some recipes might not work, which can feel frustrating when you just want to eat like a 'regular' person," he says. "But remember, not all 'regular' recipes work either." 
Now that you have all this knowledge, it's time to put it to good use! I asked Rylie, Truett, and Baiocchi to share some of their favorite recipes that are perfect for gluten-free baking novices and more advanced bakers alike.