This Year's School Supply List Should Include Period Products—Here's Why
As the back-to-school season rolls around again, students around the country are gearing up for the fall semester. Over the course of the COVID-19 pandemic, poverty was widely exacerbated—especially among students. When people are struggling to afford necessities, that certainly includes period products. A potential unaddressed natural need that we must talk about is the lack of access students have to period products.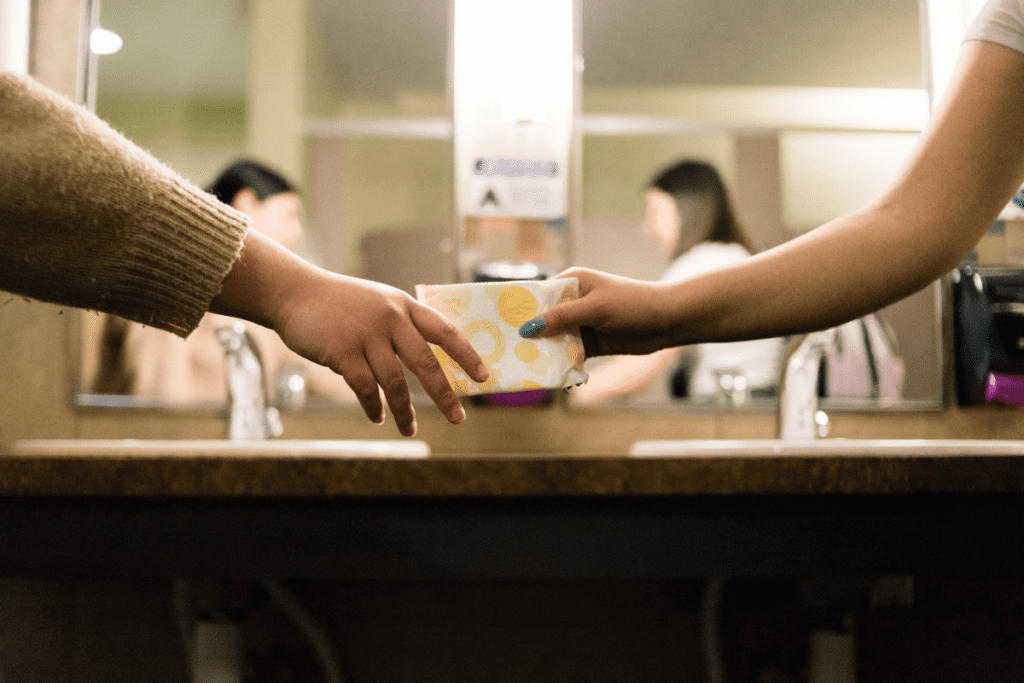 Here's how many students lack access to affordable period products
The State of the Period, a national research study commissioned by PERIOD.org and Thinx, tracks the impact of period poverty in the US. The results depict the startling truth of how inaccessible period products are. Below are some of the most shocking statistics from their findings:
23% of students have struggled to afford period products.
16% have chosen to buy period products over food or clothes because of the pandemic.
Latinx, rural, low-income, and college students are most impacted.
3 in 5 students say they rarely or never find free period products in school bathrooms (59%) or public bathrooms (62%).
82% of students agree that if there is free toilet paper in bathrooms, there should be free menstrual products. 84% think menstrual products are just as important as toilet paper or soap in public bathrooms.
85% of students agree that public schools should provide free period products.
57% of students feel their school doesn't care about them if they don't provide free period products in the bathrooms.
Furthermore, students do not think schools foster an environment in which they feel comfortable discussing menstruation or participating in class while they are on their periods. This stigma and lack of access can have a significant influence on a student's education, particularly for low-income or students of color, who are disproportionately affected.
How to improve access to menstrual products in schools
So, what can we do to take action? There are so many ways you can get involved with the menstrual movement! Using social media to raise awareness of the scope and impact of period poverty can be a powerful tool. You can also start by hosting a period product drive in your community and advocating for free period care. Lobbying and creating policy (both on the local and state level!) is also a great way to establish long-standing change.
In some cases, legislation already exists for period products to be accessible in schools. For example, in New York City, former Councilwoman Julissa Ferreras-Copeland proposed the first-ever bill to advocate for free period products in schools. That budget is there, but sometimes school administrators don't even know about that bill being passed. In this case and others, student activation and pressure do really make a difference.
Meet the organizations that are ending period poverty
Period poverty can be such a barrier in not only education but all spheres of a menstruator's life. Knowing this, when building my company August, I made sure that we were giving back to schools and making an impact. For every month you bleed with August, we donate period products to an underserved school, creating a buy one, give one mode. 
Our company also launched the August Advocates Program, where students can nominate their school and/or a community space, and August will stock free period care! For the schools/spaces that are already required to stock products, we will switch them over to August period products as a more sustainable and affordable option. If the school/space isn't yet required to stock period care, we think that they should be! So, August will then take an approach of trying to make that happen from a policy level and support any potential pilot program to help the school/space get started. Here is the link to our interest form where you can nominate your community today.
No More Secrets — August's nonprofit partner — targets the period poverty crisis head-on by working directly with nurses in schools to get period products into schools. They also opened the nation's first menstrual hub, "The SPOT Period", located in Germantown Philadelphia, PA all through crowdfunding efforts. This hub provides free menstrual products, educational materials, and healthcare resources.
Another organization fighting against period poverty is PERIOD.org. They have chapters in over 40 states and 20 countries! These chapters work on combatting this problem both in their own schools and with local school districts/national advocacy.
It's inspiring to see the action many organizers and communities are taking to eliminate period poverty and stigma. I am more committed than ever to democratize the accessibility of period products; I encourage you to act within your own school and community today!