11 Songs You Must Add to Your September 2021 Workout Playlist
With hundreds of songs dropping across music streaming platforms every week, it can be challenging for fitness enthusiasts to stay on top of all the new releases for their personal workout playlists. As a fitness instructor who is always scouring the depths of Spotify and Soundcloud, I want to save you from digging for the latest bangers and remixes so you have more time to focus on breaking a sweat. Check out 11 songs below that you absolutely need on your September 2021 workout playlist, along with suggestions for how to utilize them.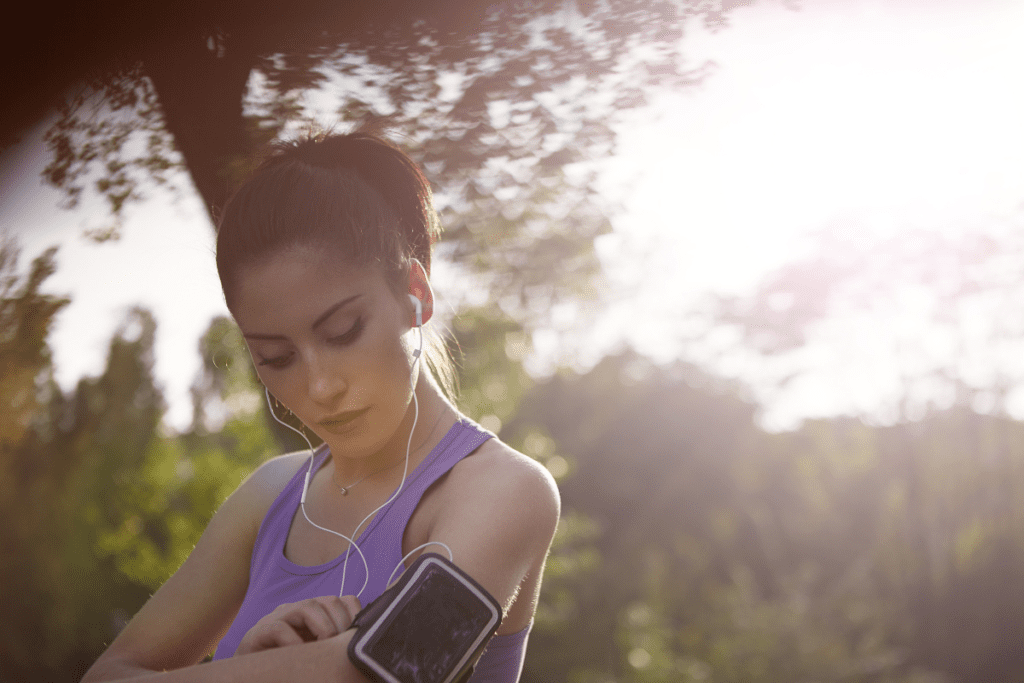 1. "Take My Breath"- The Weeknd
The Weeknd continues his 80's-inspired streak of hits ("Blinding Lights," "In Your Eyes" and "Save Your Tears") with his latest single, "Take My Breath." Warm up to this track and "take your breath" to the working zone. The driving baseline and funky melody are the perfect way to set the tone for your workout.
2. "Joan of Arc on the Dance Floor"- Aly & AJ
The sister duo and former Disney channel starlets digress from their usual sound with this dance track that also leans into 80's influences. A chorus that kicks off with "We don't stop until mascara's on the dance floor" followed by a bouncy synth line could motivate anyone to keep grooving during an aerobic workout. This one is optimal for riding to the beat on your stationary bike – a solid 115 RPM's (revolutions per minute).
3. "Oxytocin" – Billie Eilish
"Oxytocin" feels like the sonic successor to "Bad Guy." Billie's breathy vocals over the pulsating beat make for an ominous vibe that sounds just right in a dimly lit fitness studio. I love cranking this up on a long run or spin session and getting totally lost in the soundscape.
4. "Bad Habits" (MEDUZA Remix) – Ed Sheeran
MEDUZA reinvents Ed Sheeran's new single for the dancefloor, and the remix works extremely well for cardio intervals too. Push your pace a little when the beat drops and leave all your "bad habits" from the weekend behind.
5. "Run It" (feat. Rick Ross & Rich Brian) – DJ Snake
Featured on the soundtrack for Marvel's "Shang-Chi and The Legend of the Ten Rings," DJ Snake's newest release will make you feel like a superhero at the gym. Even though it's called "Run It," the intense trap instrumental and fiery rap verses feel best suited for strength training. Play this one when it's time to power through an extra set of crunches or up another flight of stairs on the Stairmaster.
6. "Good Things" (feat. Kyan) – Cedric Gervais & Just Kiddin
When you're feeling fatigued toward the end of your cardio sweat session, "Good Things" will bring you back to life. This disco-inspired bop has all the right ingredients to get your endorphins flowing and help you shave a few seconds off your average split time during a long run.
7. "Home Sweet Home" (feat. ALMA & Digital Farm Animals) [Tom Nan Club Mix] – Sam Feldt
Built on two verses and two euphoric beat drops, "Home Sweet Home" is perfect to play during interval training or a fartlek run. Whether you're running, spinning or rowing, give it an all-out, maximum effort during the 30-second beat drops and find yourself "home sweet home" in no time.
8. "Drip" (feat. Desiigner) – Boombox Cartel & Dillon Francis
"Drip" is a relentless banger that is ideal to soundtrack any heavy lifting session with its explosive beat drops. This is a great one to blast when doing heavy squats. In no time, your muscles will be pumped and you'll feel the "drip" of sweat across your brow.
9. "Titanium" (MORTEN Remix) – David Guetta & Sia
As if David Guetta & Sia's 2011 club banger wasn't already empowering, this MORTEN remix takes the classic to a whole new level. Your sets of chest press or bicep curls don't stand a chance against the booming sirens and uplifting lyrics everyone knows – "Shoot me down and I won't fall; I am titanium."
10. "Best One Yet" (feat. Little League) – Madison Mars
The energy of this track screams "party!" Whether you're busting a move in your living room or looking for a pick-me-up during mile 18 of marathon training, "Best One Yet" will energize you to make your workout exactly that.
11. "Electric" – Katy Perry
Take a victory lap to Katy Perry's latest empowerment anthem. As you bring your heart rate down with a light jog or cool down stretch, be proud of the workout you just accomplished and recharge for the day ahead.
Check out the full playlist here and stay tuned for 11 new tracks next month.